The Deadliest Hurricanes In US History: Amid The Carnage, A Human Cost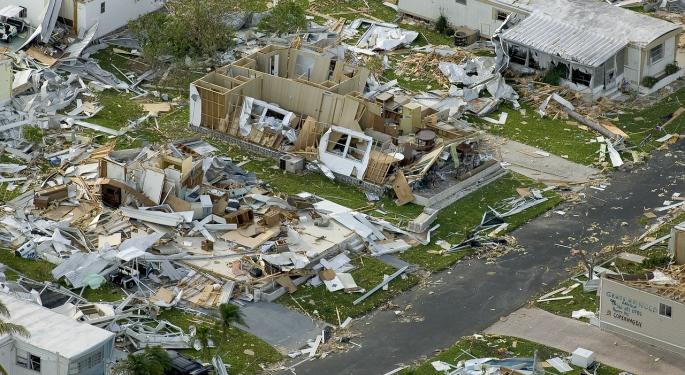 Natural disasters leave people homeless, penniless, without photos or mementos that enshrined a special time. Such calamities physically tear families apart and leave them traumatized, with wounds both physical and psychological that often never heal.
They're the lucky ones.
Hurricane Harvey, which slammed Houston and east Texas just before Hurricane Irma began bearing down on Florida, could cost an estimated $180 billion in damages, eclipsing the inflation-adjusted toll wrought by Katrina in 2005.
But here's one thing to consider when assessing the ruins: Harvey killed at least 70 people, a minor miracle considering the sheer scope of the destruction. But you can't put a price on a life, and once Houston is repaired, nobody will be able to replace a loved one lost.
Related Link: Will Hurricane Harvey Be The Costliest Storm?
The New York Times has an interactive guide to the dollar tolls, adjusted for inflation, that have hit the United States since 1980. The National Hurricane Center also has interactive guides going back to 1900.
But here is the human cost of the dozen deadliest U.S. storms.
12. Hurricane Floyd, 1999, 57 deaths ($9.7 billion)
Floyd hit the Bahamas before traveling up the east coast from Florida to Maine.
North Carolina saw the most devastation, with 51 deaths in the state. Some 2.6 million residents across five states were evacuated.
11. Hurricane Agnes, 1972, 128 deaths ($2.1 billion, unadjusted)
Agnes hit seven states, with Pennsylvania bearing the brunt. Flooding forced 100,00 people out of their homes. Three reporters died in a helicopter crash reporting on the disaster.
10. Hurricane Ike, 2008, 195 deaths ($34.8 billion)
Ike first hit Haiti, killing 74 people died, then travelled up The Bahamas and through the US before hitting Canada and Greenland. At least 113 were killed and 16 others were never found.
9. Hurricane Sandy, 2012, 233 deaths ($70.2 billion)
Sandy formed in Jamaica, tore through the Bahamas and then battered the east coast of US. Twenty-four states were affected, particularly New York, where 53 died in the flooded city. The stock exchange closed for two days.
8. Hurricane Camille, 1969, 256 deaths ($1.42 billion, unadjusted)
Forming in the Gulf of Mexico and traveling through the US as a Category 5 storm, Camille destroyed 3,800 homes and businesses in Mississippi and sent a 24-foot tsunami that permanently cut a coastal island in half.
7. The Great Atlantic Hurricane, 1944. 300-400 deaths. ($100 million, unadjusted)
It made landfall on Long Island and Rhode Island. Five ships, including a U. S. Navy destroyer and minesweeper, two U.S. Coast Guard cutters, and a light vessel, sank in the storm, causing 344 deaths.
6. Hurricane Audrey, 1957: 416 deaths ($150 million, unadjusted)
Audrey hit near the Texas-Louisiana border and unleashed storm surges that traveled up to 25 miles inland. It spawned 23 tornadoes across the country.
5. New England Hurricane, 1938, 682 deaths ($308 million, unadjusted)
The lack of the technology meant that most people never knew what hit them until it was too late.
4. Florida Keys/Atlantic/Gulf Hurricane, 1919, 600-900 deaths ($22 million, unadjusted)
The storm pummeled the Caribbean, the Keys and Texas, killing 500 people when it sank 10 ships in its path.
3. Hurricane Katrina, 2005, 1,833 deaths ($160 billion)
A moment of reckoning in America, when so many of the victims were poor and black that the botched relief efforts were seen as a reflection of race. The poorest sections of New Orleans flooded when badly maintained levees gave way.
2. San Felipe Okeechobee Hurricane, 1928, 4,000 deaths ($75 million, unadjusted)
It tore through Puerto Rico and up through Florida. Around 75 percent of the fatalities were migrant farm workers, making identification of many dead and missing almost impossible.
1. Galveston Hurricane, 1900, 6,000 to 12,000 deaths ($30 million, unadjusted)
The deadliest disaster in U.S. recorded history. There was no warning when it bore down on the city of Galveston, Texas, on Galveston Island, which was up to 15 feet underwater.
View Comments and Join the Discussion!
Posted-In: Hurricane Harvey Hurricane IrmaEducation Politics Psychology Travel Top Stories General Best of Benzinga