How Trump Has Alienated The World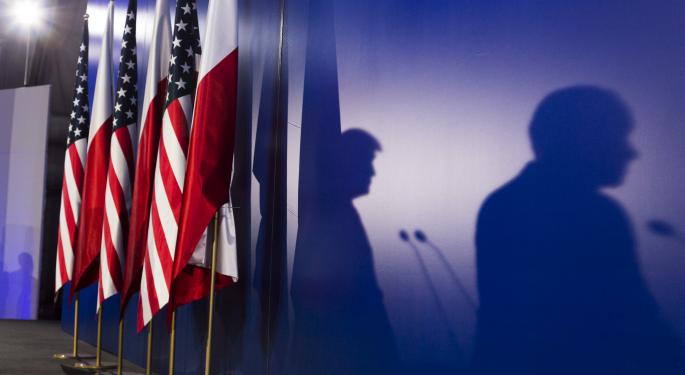 President Donald Trump has made America, for the first time since the Vietnam war, grate again — grating the nerves of the rest of the free world.
The Pew Research Center published a study showing that the world's view of the United States has plunged from 64 percent favorability to 49 percent since the end of the administration of President Barack Obama to the opening days of his successor.
"The sharp decline in how much global public trust the U.S. president on the world stage is especially pronounced among some of America's closest allies in Europe and Asia, as well as neighboring Mexico and Canada." the study says. "Across the 37 nations polled, Trump gets higher marks than Obama in only two countries: Russia and Israel."
One only has to go back in time to Southeast Asia, when the U.S. intervention in Vietnam was considered by allies worldwide as less a fight against Communism than an advancement of American imperialism.
The Sullying Of America's Image
Even the right-wing tabloid, the Rupert Murdoch-owned New York Post, published the Pew research results with the impudent headline: "Trump Is Tanking The World's Opinion Of America."
So, you may ask, what? Anti-American sentiment hinders the planet's preeminent superpower's ability to set a moral standard and back it up with a measure of muscle.
"The United States has had unpopular presidents. But not one — not Richard Nixon in the Watergate crisis; not George W. Bush at the worst moments of the Iraq war — inspires the sort of hatred that Trump does," Bret Stephens wrote in an op-ed piece Friday in the New York Times.
Countries Offended, Admirers Maligned
Here's a list of continents and their countries that Trump has insulted before and during his presidency.
Africa
On July 8, in the middle of a G-20 high-level "Partnership with Africa, Migration and Health" session, Trump left the gathering to attend a bilateral meeting, letting one of his kids take his seat. Africa is on the front lines of an ideological struggle that has fueled terrorism around the world.
At the G-7 meeting in Sicily at the end of May, as Niger's President Mahamadou Issoufou started to speak, Trump removed his headphones and opted out of the French-to-English translation. In those remarks Issoufou said, "Be it Niger, a transit nation, or the countries of origin, it is only through development that we will prevent illegal migration."
Europe
Oh, where to begin. From refusing to shake German Chancellor Angela Merkel's hand to getting caught in a vice-grip handshake with a steely President Emmanuel Macron of France, Trump's most oblivious blunder seemed to be his refusal to commit to the NATO alliance, which arose out of the ashes of World War II in order to prevent a World War III. He also trolled the mayor of London after that city suffered a terrible terrorist attack.
Asia
Trump has been all over the map, accusing China of currency manipulation and then calling its authoritarian leader a pretty good guy. Trump seems to be in the mode of "past presidents (who) make conflicting statements," about the region, Forbes observed.
From telling South Korea to go defend itself to threatening to defund think tanks devoted to the paradoxical quandaries of Amerasian issues, Trump's stand on places like Vietnam — site of a war he dodged through dubious draft deferments — seems mostly based on the sweatshops that churn out his Trump-branded products.
Australia
Shortly after he was elected, Trump had a noxious phone call with Prime Minister Malcolm Turnbull, during which he reneged on a deal to take in some of the Land Down Under's refugees.
Related Links:
Former Nixon Library Historian Has Familiar Feeling About Trump
Biggest Reasons Trump Detractors Don't Like Him? He's Ill-Tempered, Arrogant And Obnoxious
__________
Image Credit: By The White House from Washington, DC - President Trump's Trip to Poland, Public Domain, via Wikimedia Commons
Posted-In: News Emerging Markets Eurozone Futures Politics Psychology Topics Events Best of Benzinga
View Comments and Join the Discussion!