The Sound And The Fury: Trump Threatens To Shut Down Government If Congress Doesn't Fund Border Wall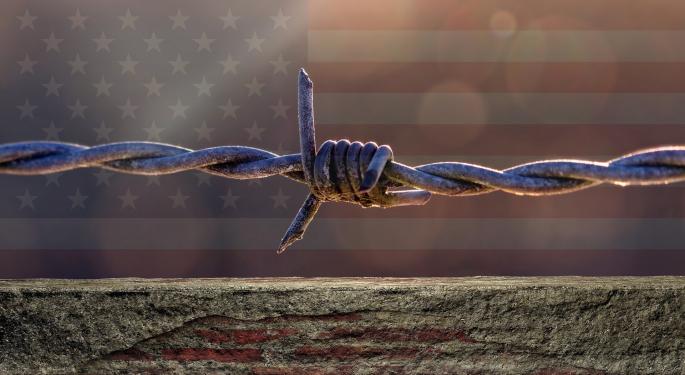 It was almost a throwaway line, a casual aside, except it looks so much different in print.
"If we have to close down our government, we're building that wall," President Donald Trump told supporters at a surreal rally Tuesday night in Phoenix, Arizona. "One way or the other, we're going to get that wall."
Whether it was defending his comments about Charlottesville, deriding the "crooked" media as "sick" or slamming the two Republican senators from Arizona, the comment that carried the most weight might be this one: The president vowed to shut down the government unless the GOP-controlled Congress let him build a wall along the Mexican border.
"Trump's going to shut down a government that's controlled entirely by his own party," Jon Favreau, the former speechwriter for President Barack Obama said on Twitter Inc (NYSE: TWTR). "Very cool."
The Mexican peso is weaker Wednesday morning, although it's still up nearly 20 percent since Trump's inauguration. Gold jumped higher in reaction to his comments.
See Also: Never Mind The Blue-Collar Base: Trump Is Losing The Elites
Realm Of Possibility?
Trump has asked Congress for $1.6 billion for the wall. Congress must pass a spending bill by Sept. 30 to avert a government shutdown. Trump's promise of sweeping tax cuts - and demands for that wall - only makes the GOP agenda that much more difficult.
The threat of a government shutdown was one of the most remarkable parts of the president's 77 minutes of discursive, angry, mostly unscripted speech before supporters, who began filing out long before he was finished.
Afterwards, CNN anchor Don Lemon abandoned all hope of objectivity. "This is a person divorced from reality," he said. "This is crazy. This is lunacy."
One of his guests, James Clapper, former director of National Intelligence, seemed rattled.
"How much longer does the country have to, to borrow a phrase, endure this nightmare?" Clapper said.
The "nightmare" was a reference to inaugural speech given by newly sworn President Gerald R. Ford after his predecessor, Richard Nixon, was forced to resign in disgrace.
"Our long national nightmare is over," Ford told the nation, seeking to heal its wounds.
View Comments and Join the Discussion!
Posted-In: border wall Donald TrumpNews Politics Forex Psychology Markets General Best of Benzinga