Boon Or Boondoggle? Wisconsin Won't See A Return On Investment In Huge Foxconn Plant For A Quarter Century, Study Shows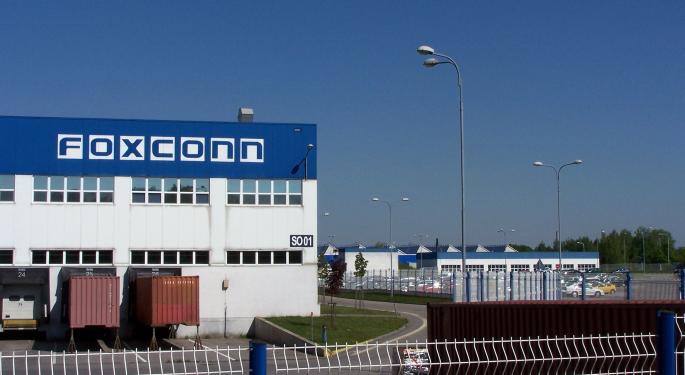 Wisconsin won't break even on the huge incentives it's offering Taiwan's Foxconn to build a new plant in the state until 2042, a study concludes, and local media report that the proposal now may not even have enough votes to pass the legislature.
President Donald Trump had trumpeted his influence on job growth when Foxconn said last month that it hoped to build a $10 billion plant in 2020 in southeastern Wisconsin employing 3,000 workers initially and ultimately 13,000 in the long run.
But a legislative analysis says it will take at least 25 years for Wisconsin to break even on the $3 billion in tax and other incentives it was offering. There also have been environmental concerns voiced about the impact the LCD screen plant would have on the 1,000-acre site.
Considering how quickly tech companies are moving into robotics-driven manufacturing, some critics consider the job estimates to be speculative.
Legislative Approval Looking Grim
The Milwaukee Journal-Sentinel already has reported that the GOP-controlled state Senate doesn't have enough votes to approve the $3 billion package.
"We should be cautious," Senate Majority Leader Scott Fitzgerald told reporters after meeting with Gov. Scott Walker, the plant's biggest booster. "That's what we're doing right now, is the due diligence to make sure this is a good deal for the state and a good deal for locals — and ultimately creates this kind of high-tech campus that everyone's hoping for."
The nonpartisan Legislative Fiscal Bureau, the state equivalent of the Congressional Budget Office, also notes that the bill offering Foxconn a basket of incentives would waive certain requirements regulating the water basin of the Great Lakes, which are protected by a compact involving all the states that border the five bodies of water.
Then there are those generous tax breaks. "DOA (Department of Administration, the state taxing authority) estimates that the project's break-even point would occur during the 2042-43 fiscal year," the report said.
Warning To Other States?
Some politicos in other states, such as Michigan, have been clamoring for tech giants to build in their backyards. But Crain's Detroit Business has argued that the package Walker was offering would result in the state subsidizing work salaries to the tune of more than $15,000 per head.
And with the state's jobless rate only 3.1 percent, the plant would cannibalize workers from other factories and perhaps even other states.
Related link:
Trump's Tendency To Take Credit Extends To … Everything?
_________
Image Credit: By Nadkachna - Own work, CC BY 3.0, via Wikimedia Commons
View Comments and Join the Discussion!
Posted-In: Congressional Budget OfficeNews Futures Contracts Politics Markets Tech General Best of Benzinga