Trump's Tendency To Take Credit Extends To... Everything?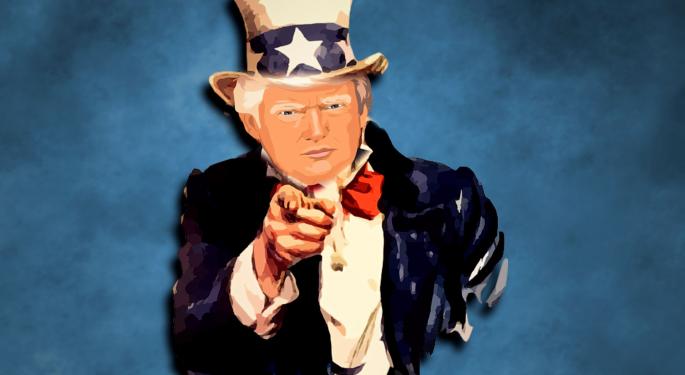 It's not a stretch to say that President Donald Trump, his agenda stalled before it got started and his administration in flux, will take credit for almost any bit of good news that manages to make headlines.
Such was the case Wednesday when Trump claimed victory after Taiwanese manufacturer Foxconn said it would invest $10 billion in an LCD screen plant in Wisconsin, which is expected to employ as many as 13,000 workers.
It's unclear what tax incentives the state may have offered the tech giant, and it's not impossible that foreign companies are seeking to curry favor with a White House to head off its protectionist leanings.
With health care mired in the U.S. Senate, an overhaul of the tax code seemingly far off in the distance and infrastructure investment only a distant memory, here are some of the things that the president said he made happen.
SoftBank
Before he took office, the president-elect took credit in December when he claimed that the CEO of Japanese company SoftBank pledged to invest $50 billion in the United States and create 50,000 new jobs. Politico noted that the plans appear in line with what SoftBank announced before the election: That it would create, with Saudi Arabia, a $100 billion fund to finance tech around the world.
Related Link: How Trump Has Alienated The World
Ford
Ford Motor Company (NYSE: F) said in March it would invest $1.2 billion in three facilities in Michigan where it will build trucks and SUVs, and store electronic data. Trump took to Twitter Inc (NYSE: TWTR) to take credit. The problem? The investment announced actually stemmed from a 2015 deal negotiated between Ford and the United Auto Workers union.
Ford Redux
Sometimes, his claims backfire. Ford canceled plans to build the Focus in Mexico in January after Trump repeatedly criticized the move and threatened to impose tariffs on U.S. carmakers for taking production south of the border. The president later said that he'd saved American jobs. Last month, Ford announced it was moving production of its next-generation Focus to China.
Toyota
Trump boasted in April that Toyota's plan to invest over $1 billion in its largest manufacturing plant in Kentucky would "not have been made if we didn't win the election." A Toyota spokesman told FactCheck the car company had long been planning to make the investment and that the president was not a factor in the company's decision.
Hostages
When the U.S. and Iran agreed to a prisoner swap in January that brought home, among others, Washington Post journalist Jason Rezaian, officials said the agreement came after more than a year of tightly-held negotiations "accelerated" by parallel nuclear talks.
"So I've been hitting them hard and I think I might have had something to do with it," he said at the South Carolina Tea Party Convention. "You want to know the truth? It's a part of my staple thing, I mean, I go crazy when I hear about this, you go absolutely wild because how is it possible?"
The Economy
He fixed it. Bob Bruner, economics professor at the University of Virginia, said presidents can indeed bump up the markets if they promise pro-business tax reform and other things. But the president ultimately has to deliver on the agenda. "Markets react to sentiment but they are sustained by facts and commitments," he told Fortune.
Posted-In: Donald TrumpFutures Politics Opinion Markets Media General Best of Benzinga
View Comments and Join the Discussion!