Jared Kushner Admits To 4 Meetings With Russians, Denies Campaign Collusion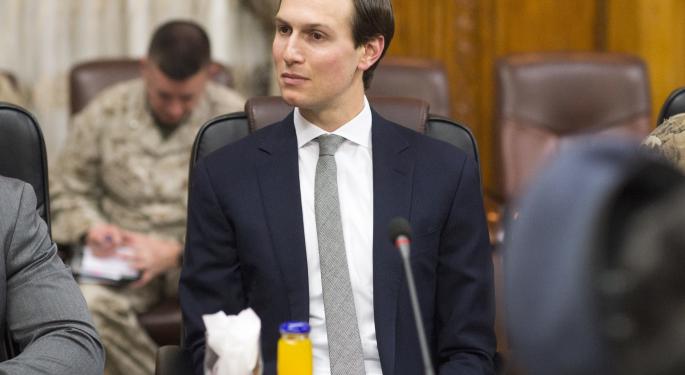 Jared Kushner is taking his turn in a hot seat increasingly crowded with people close to President Donald Trump, whose team is under investigation for ties to Russia and, in Kushner's case, dealings with China.
Before he was to meet privately with the U.S. Senate Intelligence Committee — part of a deal he struck in which he will not be put under oath — Kushner admitted having four meetings with Russians but denied colluding with the Kremlin to defeat Democratic presidential candidate Hillary Clinton.
"I did not collude, nor know of anyone else in the campaign who colluded, with any foreign government," he said in an 11-page statement. "I have not relied on Russian funds to finance my business activities in the private sector."
Campaign, Transition Very Busy Time, Kushner Says
Throughout his statement, Kushner alluded to his lack of political experience, the huge workload attached to his rapidly growing portfolio, a memory that needed periodic jogging, and the rapid pace of events related to the campaign and subsequent transition of power.
"I ultimately worked with the finance, scheduling, communications, speechwriting, polling, data and digital teams, as well as becoming a point of contact for foreign government officials." he said. "All of these were tasks that I had never performed on a campaign previously."
"I share this information because these actions should be viewed through the lens of a fast-paced campaign with thousands of meetings and interactions, some of which were impactful and memorable and many of which were not."
"The transition period after the election was even more active than the campaign."
Kushner admitted to meeting then-Russian Ambassador Sergey Kislyak in April 2016 before a Trump speech; a meeting with a Russian lawyer at Trump Tower in June; a second meeting with Kislyak during the transition; and a meeting with Russian banker Sergey Gorkov.
He said his initial failure to disclose the meetings was an oversight during a hectic time.
Gifts From Gorkov
Kushner said the Gorkov meeting was arranged by Kislyak, who told Kushner that Gorkov was "someone with a direct line to the Russian president," Vladimir Putin.
Gorkov was once deputy chairman of a bank that has been sanctioned by the United States because of the Russian invasion of the Ukraine in 2014.
During their Dec. 13 meeting, Kushner says Gorkov gave him two gifts: one "a piece of art from Nvgorod, the village where my grandparents were from in Belarus, and the other was a bag of dirt from that same village."
"There were no specific policies discussed," said Kushner. "We had no discussion about the sanctions imposed by the Obama Administration."
He said he could find no evidence confirming a Reuters report that he had two telephone meetings with Kislyak "I am highly skeptical these calls took place," he said.
Report: Chinese Investors Still Advertising Kushner Link
In a related development, CNN reported last Friday that Chinese investors in the Kushner family real estate business have continued to advertise their connection to Kushner.
References to Kushner are part of online promotions by two businesses that are working with Kushner Companies to find Chinese investors willing to invest in the 1 Journal Square development in exchange for a U.S. visa, CNN said.
The promotions are posted in Chinese and refer to Kushner Companies as "real estate heavyweights," going on to mention "the celebrity of the family is 30-something 'Mr. Perfect' Jared Kushner, who once served as CEO of Kushner Companies."
Related Link: Biggest Reasons Trump's Detractors Don't Like Him? He's Ill-Tempered, Arrogant And Obnoxious
__________
Image Credit: By Chairman of the Joint Chiefs of Staff from Washington D.C, United States - 170403-D-PB383-034, Public Domain, via Wikimedia Commons
View Comments and Join the Discussion!
Posted-In: News Futures Politics Legal Events Global Markets General Best of Benzinga