Zombie Pioneer George Romero Dead At 77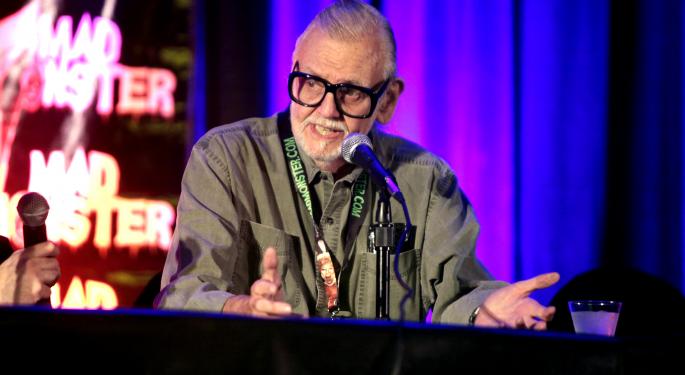 A group of people escape a zombie apocalypse by barricading themselves in a shopping mall in suburban Pittsburgh, where they live a life of hedonistic materialism before the undead crash the party in a burst of gore.
An African-American man is gunned down by police who make a wrong assumption. Rich people live in high rises while the less-fortunate struggle for survival.
These were all allegorical scenes from the filmography of George A. Romero, who re-invented the zombie genre with "Night of the Living Dead" 1968 and kept it alive with a string of sequels.
On Sunday, the influential filmmaker joined the ranks of so many of his characters, dying of lung cancer at the age of 77.
Major Influence On Pop Culture
"What Romero did in 'Night of the Living Dead' was to reinvent zombies by stripping them of almost every quality but aggression," writes Variety's Owen Glieberman. "He turned them into ravenous cannibals who made up in appetite what they had lost in consciousness. And it was the aggression — the sheer reptile-brained, flesh-chomping spectacle of it — that proved revelatory."
Romero's relentlessly violent, defiantly low-budget movies were enormously influential. AMC Networks Inc (NASDAQ: AMCX)'s "The Walking Dead" and movies ranging from "Shaun of the Dead" to "28 Days Later" to "World War Z" arguably would not have existed without Romero's influence.
"Night of the Living Dead" was shot in Pittsburgh on a budget of just $114,000 and went on to make $30 million. At a time when racism led to riots across the country, Romero cast a black actor, Duane Jones, as the film's hero. The imagery of the character's fatal shooting by a zombie-hunting sheriff's posse was particularly resonant.
Many consider his sequel, "Dawn of the Dead" to be his masterpiece. The movie revolves around a group of people who barricade themselves in a shopping mall and live a life of excess until the moment of reckoning.
He followed with "Day of the Dead" in 1985, "Land of the Dead," in 2005, "Diary of the Dead" in 2008 and "Survival of the Dead" in 2010.
Among his non-zombie films was the anthology "Creepshow," written by Stephen King, and "Martin," about a wannabe vampire who has to rely on syringes.
Romero is survived by his wife, Suzanne, and two children.
Related link:
7 Ways American Malls Are Dodging A Zombie Apocalypse
Image credit: Gage Skidmore, Flickr
View Comments and Join the Discussion!
Posted-In: Dawn of The Dead George A. Romero George RomeroNews Education Psychology Media General Best of Benzinga