The Footwear Industry Has A Hispanic Problem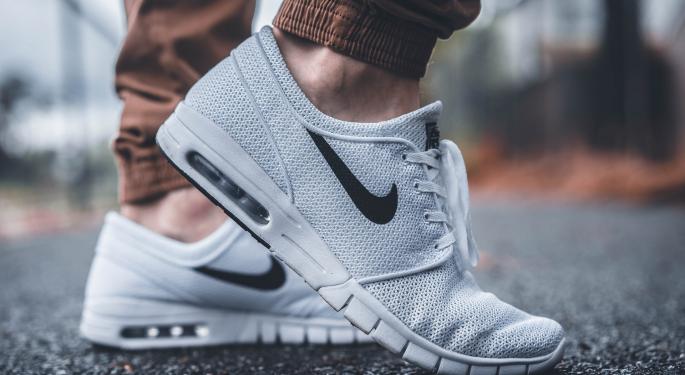 As we gear up for the back-to-school season, a struggling footwear and apparel market is seeing significant promotional activity and discounting.
"In my 17 years of doing research, this is the most promotional back-to-school I have seen," Matt Powell of NPD Group told Benzinga. "The business overall is not very good. It has been tough all year."
Nike Inc (NYSE: NKE) increased discounting and promotional activity has been a cause for concern of investors. The brand has always been known as an aspirational brand and discounting could potentially tarnish the world's biggest footwear company's reputation.
Powell previously told Benzinga that to "to my eye, Nike is on sale now more than ever, our industry was built on aspiration and inspiration, not on price."
Promotional activity ultimately sets up footwear companies for a vicious cycle, creating a difficult compare in subsequent years that may force additional discounting in the future.
"If you are on sale a lot you are, (the) next year you are going to go up against those numbers. Unless the fortunes for any brand changes it's going to be tough to offset those numbers," said Powell.
Footwear Industries 'Hispanic Problem'
One of the biggest factors pressuring the footwear industry? The slowdown of Hispanics buying shoes has been significant.
Hispanics currently represent 23 percent of the footwear market. In 2015, Hispanic sneakers sales grew 15 percent.
This year? Sales are down a whopping 18 percent.
It's unclear whether this dramatic shift is due to macro-economic factors or a style preference shift.
"The data doesn't give us a reason, but it is there," said Powell.
Most of the other ethnic categories have remained relatively stable. It may be in the brands best interest to address this issue head on.
Nike + Amazon Not Expected To Have Material Impact
Although Nike has placed a significant commitment on growing their direct-to-consumer business, Powell doesn't expect Nike's recent "pilot program" with Amazon.com, Inc. (NASDAQ: AMZN) to have a material impact.
"There is no question they are growing their DTC, but I don't think the deal with Amazon will have a big impact initially. I think every brand is focused on DTC, particularly on the e-commerce aspect," he added.
As Benzinga reported earlier in the year, adidas AG(ADR)(OTC: ADDYY) and Puma SE NPV (OTC: PMMAF) continue to be the brands experiencing the greatest growth numbers. While the rate of growth from adidas is slowing a bit, it's still growing at an incredible pace and Powell expects this trend to continue.
Puma has been the fastest-growing brand, as the current style preference aligns perfectly with the brands casual athletic image. Puma is the only brand showing significant growth at scale currently.
As far as the industry as a whole, Powell expects challenges to continue.
"I think it is going to continue to be challenged. I think the Hispanic impact is material and I don't see it changing anytime soon."
Related Links:
Top 10 NBA Rookies And Their Earnings Potential
Nike's US Business 'Disturbing': One Analyst Remains Cautious Despite Earnings Beat, Stock Run
View Comments and Join the Discussion!
Posted-In: Adidas Amazon Matt Powell NikeRetail Sales Top Stories Exclusives Interview Best of Benzinga