Top 10 NBA Rookies And Their First-Year Earnings Potential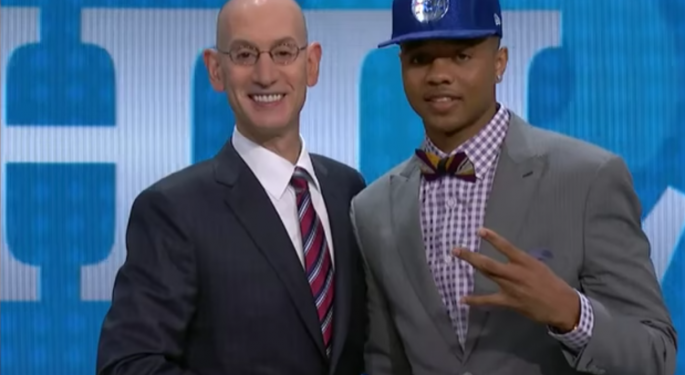 The NBA draft drew quite the interest this season with the entrance of Lonzo Ball and his quirky father LaVar Ball into the association.
While LaVar Ball and company received a ton of heat for alienating nearly every team in the NBA, Lonzo Ball was chosen as the No. 2 pick for Los Angeles Lakers — as opposed to the higher-paying first pick — it may have been a smart financial move.
Lottery Pick Payouts
The top pick, Markelle Fultz, is expected to earn around $5.9 million in his first year in the league playing for Philadelphia, not much higher percentagewise than the $5.2 million Ball is expected to earn in his first season as the second pick.
With the Ball family trying to build their own shoe empire, media exposure is crucial — being located in the Los Angeles TV market is a better play than being in Philadelphia for the Big Baller Brand.
The storyline for Lonzo Ball has played out well thus far, making the Lakers a team to watch in the 2017–2018 season.
The Top 10
Markelle Fultz (Washington) - Philadelphia 76ers - Projected First Year Salary: $5.855M
Lonzo Ball (UCLA) - Los Angeles Lakers - Projected First Year Salary: $5.238M
Jayson Tatum (Duke) - Boston Celtic - Projected First Year Salary: $4.704M
Josh Jackson (Kansas) - Phoenix Suns - Projected First Year Salary: $4.241M
De'Aron Fox (Kentucky) - Sacramento Kings- Projected First Year Salary: $3.841M
Jonathan Isaac (Florida State) - Orlando Magic - Projected First Year Salary: $3.488M
Lauri Markkenen (Arizona) - Chicago Bulls - Projected First Year Salary: $3.184M
Frank Ntilikina (France) - New York Knicks - Projected First Year Salary: $2.917M
Dennis Smith Jr. (NC State) - Dallas Mavericks - Projected First Year Salary: $2.681M
Zach Collins (Gonzaga) - Portland Trailblazers - Projected First Year Salary: $2.547M
Source: Statista
The overall pay for NBA rookies may come down, however, when factoring in endorsements. With basketball shoe sales struggling, the major shoe manufacturers appear reluctant to sign rookies for big contracts and are instead opting to try out players with a smaller, shorter-term contracts to see if they can get some traction.
"Over the last few years, the brands have started to back away from the giant rookie contracts that we used to see. Durant was really the last significant rookie contract," NPD Group's Matt Powell told Benzinga.
"Every brand needs players that are playing at a high level wearing their products, the real question is how much is that worth and how do you translate it into sales. Right now nobody is translating it in sales that are meaningful compared to the contracts," said Powell.
Powell isn't to keen on Big Baller Brand's potential either and doesn't believe they have a chance to go up against the sportswear giants.
"I think he is leaving millions of dollars on the table," said Powell.
Related Links:
NBA Draft Recap: Big Baller Brands Scale Back Endorsement Deals While Basketball Slows
The Latest In The Shoe Sector: German Brands Kick Off Industry Growth
Image: ESPN, NBA YouTube
View Comments and Join the Discussion!
Posted-In: LA Lakers Lonzo Ball Markelle FultzNews Sports Exclusives Interview General Best of Benzinga