Grip-And-Grimace Rematch? Trump Heads To Paris To Meet With Macron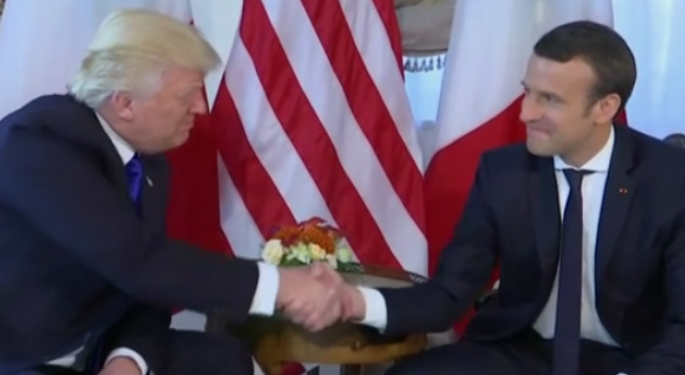 The eyes of the world will be turned toward Paris on Thursday when President Donald Trump and French President Emmanuel Macron square off for The Handshake: Part Deux.
The two leaders engaged in a white-knuckle, teeth-gritting "death grip" instigated mainly by Macron during a May 25 NATO summit in Brussels. Macron later told the French weekly Le Journal du Dimanche that the grip-and-grimace moment was intentional.
"My handshake with him [wasn't] innocent," he said. "It's not the Alpha and the Omega of politics, but a moment of truth."
Trump In Trouble; Macron In Position Of Power
Trump was to depart Washington on Wednesday night, briefly leaving behind the latest revelation over whether his campaign worked in concert with the Kremlin to discredit Democratic challenger Hillary Clinton.
The Dow Jones Industrial Average initially plunged more than 127 points Tuesday after Trump's son, Donald Trump, Jr., admitted meeting a Russian lawyer for the purpose of getting some dirt on Clinton.
The market soon rebounded on the news that Senate Majority Leader Mitch McConnell, R-Kentucky, convinced his colleagues to cut two weeks off the traditional August recess to work on a health care bill, noted political economist Mark Y. Rosenberg, CEO of GeoQuant, a geopolitical risk-assessment firm.
See Also: Market Volatility? Try Civil Unrest. A Predictive Model For When Nations Go Sideways
The market sensitivity to the two headlines is a reflection that traders are becoming more concerned about the political risk factors in the United States. "I think we're going to see more of that going forward."
Rosenberg, whose firm uses predictive models that use politics, population makeup and other factors to predict degrees of risk in regions and countries, said Trump's troubles and an increasingly belligerent Russia show the two countries are in a risky "escalatory relationship."
Soulmates?
Trump, 71 and the oldest man to enter the office of U.S. president, and Macron, 39, the youngest French president, have more in common than one might think, Rosenberg says.
Both men represent a type of anti-establishment populism that eschews orthodox political ideology in favor of overhauling the status quo. But even though the parties of both men control their respective legislatures, Trump's chronic troubles at home make him far less likely to advance an agenda that's comparatively as ambitious as Macron's, Rosenberg said.
The biggest division between the two men is Trump's decision to pull out of the Paris climate accords, a move widely denounced across Europe. In any case, the meeting between them is unlikely to move the needle in either direction for either president.
"I don't see what Macron has to gain by being be cooperative with Trump," Rosenberg said.
Trump is in France for Bastille Day, the national holiday. The two men reportedly will dine on blue lobster at an exclusive restaurant in the Eiffel Tower and hold a joint press conference on Thursday.
Image credit: CNN video
Posted-In: News Futures Politics Events Global Exclusives Markets Interview Best of Benzinga
View Comments and Join the Discussion!