The Latest In The Shoe Sector: German Brands Kick Off Industry Growth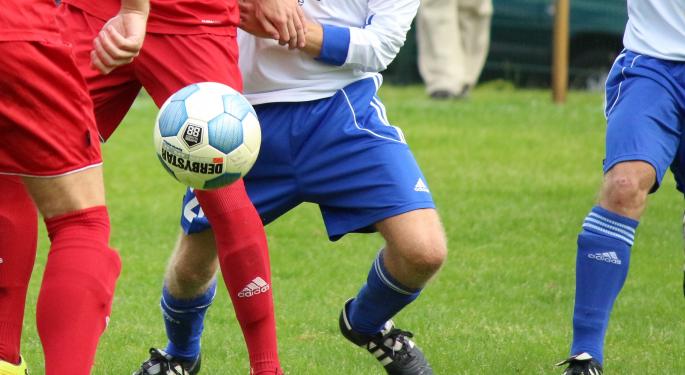 While Big Baller Brand has officially released what their first signature shoe will look like for Lonzo Ball, it likely won't have much of an effect on how the shoe industry will operate moving forward. It did, however; create a massive buzz on social media.
Footwear Sales Growth Origination: German Names
Several of the big-name footwear brands have released their earnings in the past week; with much of the growth in footwear sales coming from the German companies, Puma AG Rudolf Dassler Sport (ETR: PUM) and adidas AG(ADR) (OTC: ADDYY).
Puma is quietly making moves in the footwear business domestically after reporting that the company grew its sales by 17 percent in the first quarter. Under Armour Inc (NYSE: UAA) conversely, reported a quarterly loss, while CEO Kevin Plank publicly addressed Steph Curry's signature shoe line weakness for the first time.
Expert Weighs In: What's Going On?
"What you have here really is two sides of the same coin. We're in a marketplace right now where what is selling is non-performance footwear and Puma is the quintessential non-performance brand, and Under Armour is the quintessential performance brand, it is not surprising that one company is doing really well and one company is doing no so well," said shoe industry expert Matthew Powell in an exclusive interview.
Adidas has been on fire recently, delivering a number of exciting new products and creating a lot of interest with the North American consumer, a goal the company set out for two years ago when Adidas' North American president Mark King took over. Adidas North America grew 36 percent in the first quarter.
"I think with what they are excelling in right now is their non-performance product; they certainly have a history of making performance shoes, but they are not pushing that envelope very hard right now. This is all about exploiting the current fashion cycle that we are in," said Powell.
When asked if Adidas has made a systemic shift in its business model or if they are just the recipients of a favorable trend environment, Powell said, "No, I think Adidas really changed their approach to the U.S. marketplace and they are now reaping the benefits of that. There were nine to 10 years where their business in the U.S. was in decline because they refused to do what they are doing now," he said.
"I do think it is sustainable. Will they continue to grow at the kind of number they are growing? No. No brand can do that, but will they continue to grow? — yes absolutely," added Powell
Puma's Pounce In Fashion
While Adidas seems to have made a solid shift in the business, Puma's outlook has really become more dependent on the current fashion cycle, although Powell sees continued growth from the company in the next 18–24 months.
A potential sale of the company could be in order to help capitalize on the comeback the Puma has experienced to grow the brand further, although parent company Kering (EPA: KER) may be asking for a higher multiple given the company's recent success.
"There clearly are large corporations that are out there that would like to have an athletic shoe brand in their stable and I think it makes Puma an interesting buyout target," said Powell.
Some of the potential suitors that have been named include Wolverine World Wide, Inc. (NYSE: WWW) and VF Corp (NYSE: VFC).
Wait Awhile, Under Armour Isn't 'Doomed'
Although current fashion trends are geared toward non-performance, Under Armour is not doomed, according to Powell. "They really have to embrace the fact that the sports business is a sportswear business, we have data that shows only 25 percent of people that buy an athletic shoe intend to use that for sport. That means it's a sportswear business and it always has been a sportswear business," added Powell.
Under Armour had built its business around that 25 percent of consumers and now has to go after the 75 percent to really make an impact and grow sales.
The industry as a whole is expected to grow in the mid-single digits in 2017 continuing over a decade of steady growth. Powell expects Puma and Adidas to continue their run in 2017, "I think it continues to be Adidas and Puma — they are the hot hands right now."
Related Links:
Lonzo Ball's 'Big Baller Brand' Shoe Is Here And It Costs $495
Anthony Joshua Could Be Just What Boxing, And Under Armour, Are Looking For
View Comments and Join the Discussion!
Posted-In: Emerging Markets Sports Top Stories Exclusives Markets Trading Ideas Interview General Best of Benzinga