Adidas And Arizona State's Cultures Align With Innovative Global Partnership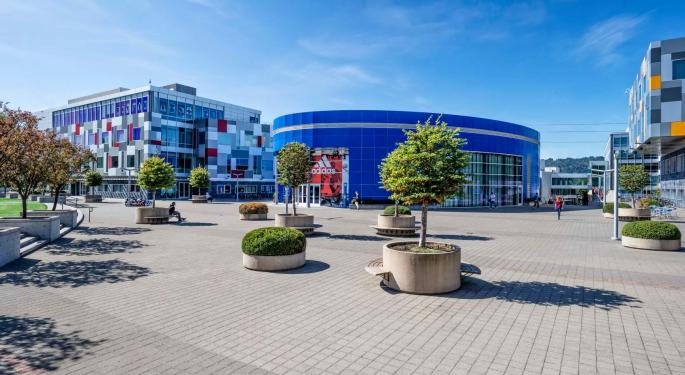 When Adidas AG (ADR) (OTC: ADDYY) and Arizona State University announced the launch of a global sport alliance, some speculated the partnership would make ASU Adidas' flagship school, akin to an Oregon-Nike Inc (NYSE: NKE) or Under Armour Inc (NYSE: UAA)-Maryland agreement.
This isn't the case.
The alliance is an unprecedented collaboration beyond the traditional outfitter relationship that aims to shape the future of sport through academic research and innovation.
"Each university that we have a partnership with, we look at what they bring to the table and we bring to the table for them," Mark King, Adidas North America president, told Benzinga in an exclusive interview. "Three years ago we signed an athletic partnership with ASU to wear all of our gear. Shortly after, ASU President Dr. Michael Crow and I started to talk, and we looked at what else we could do besides athletics."
Adidas and ASU are two organizations that have been on the forefront of innovation in their respective fields over the past few years.
See Also: Adidas' President Mark King Talks About The Company's Comeback, Turning The Corner In North America
ASU & Adidas Cultures Align
Adidas has made quite the turnaround since the company announced it would place a greater emphasis in North America, an initiative that has gained a lot of momentum after growing 31 percent in North America in Q1. The turnaround prompted nearly a direct response from Nike, announcing it was laying off 2 percent of its workforce and undergoing a "reset."
Adidas is nearly cornerning the casual athletic market, a segment that tripled its sales growth in May, according to Matthew Powell of NPD Group.
"The positioning of our brand and the intersection of sport and style, looks like a sweet spot where the market is heading, where some of our competitors have to create, we already have both sides," said King.
ASU has also made big steps in improving its image and reputation, while becoming a leader in higher education.
ASU was a first mover in the shift to online education and was recently named the No. 1 Most Innovative School in the nation by U.S. News And World Report for the second year in a row, beating out Stanford and MIT.
Both turnarounds are largely due to the leadership and culture that King and Dr. Crow had built, with both institutions heading in the same direction in terms of innovation, the partnership was a no brainer.
"If we can bring the two organizations together and look at the world through the lens of sport and apply some basic fundamentals that an academic institution like ASU has," said King, "then maybe we could find some cool things about shaping sport for the future."
The Future Of Sport
Both parties are looking to leveraging each organization's perspective, resources and expertise in their respective fields.
"Few things in life bind people together more than passion for and participation in sport," said Crow. "Adidas and Arizona State University have come together because we have a common commitment to having a real-time, positive impact on the world and we see the power of sport to influence human success. We both seek to empower people, improve health and well-being, and inspire action through teaching, learning and community engagement. ASU, energetically focused on innovation and creative problem-solving, is a ready-made action lab to help extend Adidas' ideas and creative energy."
While it's still unknown what may come from the partnership, Adidas is looking at gaining key insight into specific topics like human potential and sustainability, areas that have become essential to a sportswear company, especially considering the trend of sustainable footwear the market is currently seeing.
Sustainable Footwear Emergence
Adidas has also shown an interest in the study of new materials through the alliance. The company has featured new, sustainable materials in some of its latest footwear releases, like recycled ocean plastic, 3D printing, and Cotton + Corn initiative with its subsidiary Reebok. The company recently announced it's aiming for 5 million pair release of its Parley Ocean Plastic shoe in 2018.
"If there are new innovative products, I think people will buy them. It's the responsibility of the brand to do new innovative and exciting things," King added.
Adidas maintains that the company isn't looking to their competition but is going to continue to create and shape the industry through innovation.
"Both sides are coming to the table with interesting assets and a passion for innovation," said King. "Most higher education institutions are about exclusion but the new American University is all about inclusion. That was really a core value of theirs and a core value of ours."
King has indicated the basis of the company's new strategy is through collaboration with groups outside of the marketplace, and the partnership will ASU seems to perfectly align with that plan.
"Innovation is about diversity of thought, experience, and perspective. The more we bring different groups and different diversities together, more interesting outcomes you have," he said.
View Comments and Join the Discussion!
Posted-In: AdidasEducation Sports Top Stories Exclusives Tech Interview General Best of Benzinga