Steve Ballmer's Rare Pledge: Privately Financing The Clippers New Arena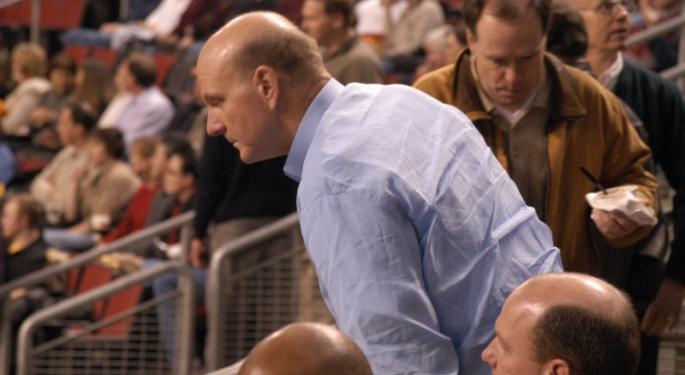 No need to be worried Los Angeles residents, Clippers owner and former CEO of Microsoft Corporation (NASDAQ: MSFT), Steve Ballmer, is taking care of the bill for the Clippers new arena.
"We are expanding that investment by entering into an agreement to explore an opportunity to build a new arena for the Clippers in the City of Inglewood," Ballmer said June 15 in a statement. "I have said from day one that we need to plan for the future. This agreement helps us do that by expanding our options... This new arena would be 100 percent privately funded. No public dollars would be used for this project."
This form of financing is rare, as it breaks an unfavorable trend where billionaire owners ask for millions of dollars from the public to finance new arenas.
How Have The Latest Sports Arenas Been Financed?
Las Vegas Raiders (Las Vegas Stadium, opening in 2020): Received $750 million in public funding.
Golden State Warriors (Chase Center, opening in 2019): Private funding.
Detroit Pistons (Little Caesars Arena, opening in 2017): Mix of public ($250 million) and private funding.
Atlanta Falcons (Mercedes-Benz Stadium, opening in 2017): Mix of public (only $200 million) and private funding.
Minnesota Vikings (U.S. Bank Stadium, opened in 2016): Received $498 million in public funding.
San Francisco 49ers (Levi's Stadium, opened in 2014): Private funding.
Miami Marlins (Marlins Park, opened in 2012): Received $515 million in private funding (a whopping 70 percent of the stadium costs).
The Flawed Argument For Public Funding
Public funding has become the norm for most stadiums, and the argument is clear: the economic gains from building the arena will surpass the costs.
Unfortunately, this isn't usually the case.
Teams argue that building a new arena creates new jobs, generate more spending in the community, and attracts more tourists. However, according to Brookings, "after 20 years of academic research on the topic, Articles published in peer reviewed economics journals contain almost no evidence that professional sports franchises and facilities have a measurable economic impact on the economy."
Detroit's Little Caesars Arena, which opens later this year, is seeking for 38 percent of the arena to be publicly funded, and the decision has faced backlash from both fans and the Detroit city council.
One of the council members, Raquel Castañeda-López, who opposes the funding plans, told Deadspin, "If we're going to have this much public financing we're going to need to have more concrete outcomes for city residents: jobs for Detroiters, schools, libraries, filling immediate needs. I want to see concrete percentages. I like solid commitments that you can measure as opposed to them saying We're committed to hiring Detroiters."
Additionally, Marlins Park, which opened in 2012, has reportedly lost billions of dollars for the city of Miami. The park, which taxpayers were forced to pay nearly 70 percent of the costs, has been classified by Bleacher Report as "the way not to publicly finance a stadium." Forbes contributor Marc Edelman believes "the Marlins stadium situation will serve as a tipping point, making communities rethink the definition of 'public use' in the context of taxing and spending."
Ballmer Helping Reverse This Trend
Ballmer's $2 billion proposed arena would be one of the largest arenas to ever be privately financed. It's a move that follows the pattern of the 49ers, and the NBA Champion Golden State Warriors.
Hopefully, this move will start a pattern that will help prevent the American public from spending more than $7 billion every 20 years to finance or renovate new arenas.
Related Links:
Why Did Michael Phelps Join The Board Of An Australian Health Company?
Floyd Mayweather Issues 'The Mayweather Challenge' On Social Media: Here Are The Most Hilarious Responses
_______
Image Credit: CC BY 2.0, via Wikimedia Commons
View Comments and Join the Discussion!
Posted-In: Clippers Deadspin Little Caesar's Pizza Los Angeles Clippers Marc EdelmanMovers & Shakers Sports General Best of Benzinga