Why Did Michael Phelps Join The Board Of An Australian Health Company?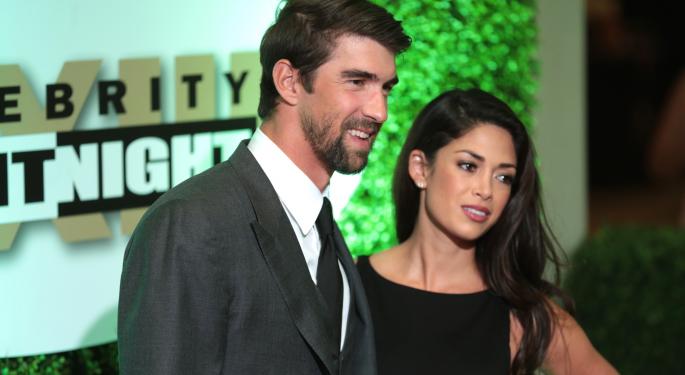 When a world champion athlete joins the board of a micro-cap company, it is sure to raise some eyebrows.
That is exactly what happened last week following news that world-class swimmer Michael Phelps was joining the executive board of an Australian medical technology company, MEDIBIO LTD NPV (OTC: MDBIF).
Phelps, one of the most studied athletes in history, is know for taking a very analytical approach to competition. Once he acknowledged his personal mental health issues merited seeking professional help, the 23-time gold medalist took that same data-driven approach to get treatment, which led him to MediBio's depression diagnostic testing methods.
Bringing Analytics To Mental Health Diagnoses
"I have been somebody who has been about stats my whole life, I'm all about numbers," Phelps told Benzinga. "I think it's really cool to see when I have a mild stress level day, all the different varieties of stress, and be able to go back and say, well why was I having this on this day," he said.
Over 350 million people suffer from depression, but roughly half actually receive a professional diagnosis. Of those diagnosed, 70 percent are correctly diagnosed, and of that 70 percent, only 20 percent are optimally treated — just 7 percent of the depressed population.
Currently, a major problem when it comes to a mental health diagnosis is that the testing is generally subjective. MediBio is taking an objective approach toward mental health, and in doing so, it could potentially disrupt the stigmas that surround mental health treatment.
"Regarding treatment, right now doctors will generally ask a bunch of subjective questions. The DSM-5 is the diagnostic, but there is no objective test to really determine if a patient has a mental illness or not," MediBio Chief Financial Officer Brian Mower told Benzinga. "That is where our technology comes in, to give an objective diagnosis of mental illness."
Biomarkers Move Depression Diagnoses From Subjective To Objective
MediBio has developed a test using biomarkers to help diagnose depression, chronic stress and other disorders, utilizing circadian rhythm, sleep and blood pressure measurements. Studies are show between 86–95 percent accuracy of diagnosis. MediBio expects to submit for 510(K) approval with the FDA in the second quarter of 2018.
"With MediBio, we are able to have a better understanding of what the person needs, where we are able to send that person based off test results that are given. I think that is something that nobody has seen and it is endless opportunity to really be able to pinpoint every single need that everybody has," said Phelps.
Related Links:
Exclusive: Michael Phelps Talks Mental Health Awareness, MediBio's Algorithmic Diagnosis
Michael Phelps Opens Up About Struggles With ADHD, Depression: I Was Constantly Bouncing Off The Wall As A Kid
______
Image Credit: By Gage Skidmore from Peoria, AZ, United States of America - Michael Phelps & Nicole Johnson, CC BY-SA 2.0, via Wikimedia Commons
Posted-In: Biotech News Education Health Care Sports Exclusives Interview General Best of Benzinga
View Comments and Join the Discussion!