Flint's Water Crisis: Involuntary Manslaughter Charges, Governor Snyder And Messages In Bottles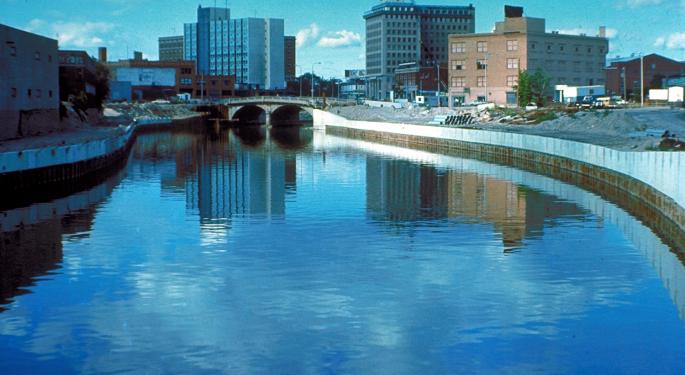 Six Michigan officials are facing charges related to the Flint water crisis, specifically a Legionnaires' disease outbreak in Genesee county tied to polluted water from the Flint River.
Michigan's Attorney General Bill Schuette held a press conference Wednesday announcing the charges, centered resident Robert Skidmore's death in 2015 from the disease.
The Accused
Nick Lyon, the director of the Michigan department of health and human services, was charged with involuntary manslaughter and misconduct in office, making him the highest-level official to be charged.
He is accused of failing to notify the public of the Legionnaires' outbreak and saying he "can't save everyone" and "everyone has to die of something."
Eden Wells, the Michigan DHHS' chief medical executive, was charged with obstruction of justice by threatening to hold funding for the Flint Area Community Health and Environment Partnership if it did not stop investigating the Legionnaires' outbreak.
She is also charged with lying to a police officer about when she became aware of the outbreak.
The other four, all charged with the involuntary manslaughter of Skidmore, are:
Stephen Busch, water supervisor.
Howard Croft, former Flint water department manager.
Darnell Earley, former Flint emergency manager.
Liane Shekter-Smith, drinking water chief of the Michigan department of environmental quality.
Gov. Snyder Responds
Gov. Rick Snyder issued a statement Wednesday in support of Lyon and Wells.
"Director Lyon and Dr. Wells have been and continue to be instrumental in Flint's recovery. They have my full faith and confidence, and will remain on duty at [the Department of Health and Human Services]," said Snyder
The governor also seemed to criticize the attorney general, saying, "Director Lyon and Dr. Eden Wells, like every other person who has been charged with a crime by Bill Schuette, are presumed innocent unless and until proven guilty beyond a reasonable doubt."
"This is not justice," he went on to say, referring to other state employees yet to go to trial for Flint-related charges last year.
Nothing was said on Busch, Croft, Earley or Shekter-Smith.
Calls for Snyder to step down were heard on Wednesday as well.
"Enough is enough. Gov. Snyder needs to resign immediately and the people must know what he knew and when he knew it. Gov. Snyder must not be immune from accountability," said Nayyirah Shariff, the director of Flint Rising, in a press release.
Flint Rising is an activist group under the advocacy fund at the front of the fight for justice and compensation for the Flint community.
Message In A (Thousand) Bottles
Flint Rising also delivered another message to the governor Wednesday, or rather, over 1,000 messages from Flint residents contained in empty water bottles — one for every day since the crisis began.
The message read, "You owe me," followed by demands ranging from reimbursement for water and hospital costs to trust in elected officials.
Snyder did not issue a response to the bottles.
Related Links:
Flint Community Unites To Implement Short-Term And Potential Long-Term Solutions
This Detroit Woman Gave Up Her Twitter Handle To Dr. Pepper For An Awesome Exchange Of Goods
________
Image Credit: "Flint River in Flint, Michigan, USA, in late 1970s during a U.S. Army Corps of Engineering flood control project," By U.S. Army Corps of Engineers, photographer not specified or unknown - U.S. Army Corps of Engineers Digital Visual LibraryImage pageImage description pageDigital Visual Library home page, Public Domain, via Wikimedia Commons
Posted-In: News Eurozone Futures Commodities Politics Legal Events Markets Best of Benzinga
View Comments and Join the Discussion!