Flint Community Unites To Implement Short-Term And Potential Long-Term Solutions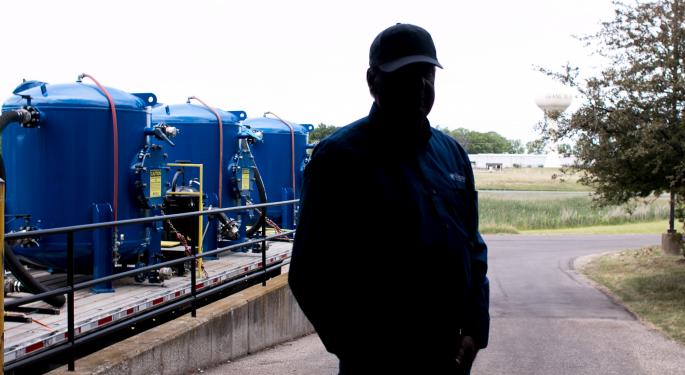 On April 25, 2014, Flint began using the Flint River as its new primary water source. The city didn't provide corrosion-control treatment to prevent lead from leaching into pipes, because the Department of Environmental Quality doesn't require it.
Without proper oversight, the water was declared "safe" in all standards. Shortly after the switch, Flint residents very quickly began to feel the effects from the water.
Two years later, government officials haven't organized a conclusive short-term or long-term solution for Flint residents. Thousands of people in Flint remain frustrated and outraged by the untimely response to this tragedy.
As a result of this untimely response from government officials, members of the Flint community have decided it's time they get involved.
Collaboration
One man who has remained in the shadows helping the Flint community since February is the humble Bill Korreck. Korreck is an environmental engineer, founder and president of Michigan-based Global Treatment Solutions. Global Treatment Solutions is a water treatment facility specializing in the construction and operation of mobile wastewater treatment systems. One of Korreck's facilities is located in Grand Blanc, Michigan, where his journey with Flint water all began.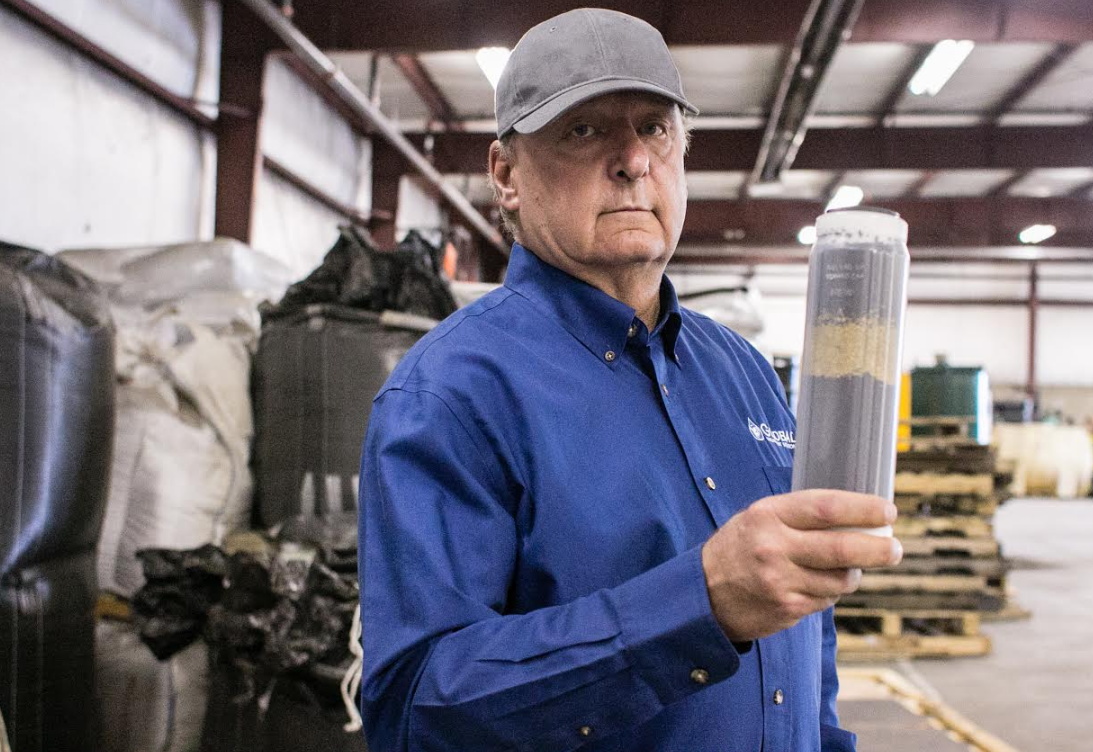 Environmental engineer, Founder, and President of Global Treatment Solutions Bill Korreck holds a filter he created on June 14, 2016 inside his facility in Grand Blanc. Korreck has remained as the man in the shadows since Feburary helping Flint residents get instant relief from shower filters and home filtration systems he designed specifically for Flint. [Photo by Emily Elconin]
The Rev. Jeffrey Hawkins, senior pastor from Prince of Peace Missionary Baptist Church and Harold Harrington and Ben Ranger from the UA Local 370 Plumbers & Pipefitters Union have established a helpful partnership with Korreck sharing a common goal: to help Flint residents get instant relief.
"It's a collaboration of people working in the same direction for short-term solutions," Hawkins remarked. "These are some instant things that people could use that they can benefit from now and that's what the home filtrations systems is about and what the shower filters is all about. Just giving some people some instant relief."
Global Treatment Solutions has been able to utilize the same technology and treatment solutions used to address large scale environmental contamination to develop a residential sized filtration system.
Related Link: Will Water Stocks Continue To Flow Upstream?
How The System Works
Korreck created a shower filter and a home filtration system comprised of a multi-phase treatment train that includes point-of-entry and point-of-use systems. These filters were designed to help give Flint residents instant relief.
"I was curious if the residents just using the shower filter could tell a difference because that's the main issue I see," Harrington said, "My Facebook is public, you can see all the positive responses I have got."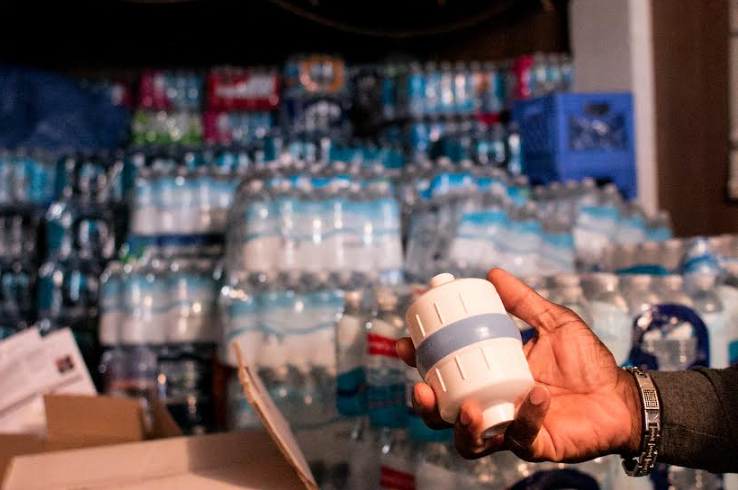 Reverend Jeffrey Hawkins and Senior Pastor of Prince of Peace Missionary Baptist Church holds a shower filter designed by Bill Korreck on June 8, 2016 in the basement of Prince of Peace Missionary Baptist Church. This is where the water bottles the Church distributes is stored.
Activated carbon is the principle treatment technology that Global Treatment Solutions uses. Korreck said this is widely used in the water treatment industry and is known as the best available treatment technology for a whole range of contaminant types.
"The shower filter contains KDF 55 which changes the Chlorine into Chloride. Chloride is harmless and passes through the system and goes down the drain," Korreck commented.
Korreck's shower filters uses KDF 55 to reduce the organics, metals and inorganics, which Korreck refers to as impurities that are in a water supply, to attack each contaminant.
"It's proven technology. We haven't really come up with anything unique. Essentially what we're coming up with is applications of various technologies suitable for a specific use for Flint municipal water," Korreck explained.
UA Local 370 Plumbers & Pipefitters Union bought 1,000 shower filters and installed 700 of them in the homes of Flint residents. The rest of the 300 were donated to Hawkins to distribute through the church. Hawkins also purchased 50 home filtration systems that have been installed in the homes of Flint residents.
Most residents noticed a significant difference in their water and now feel comfortable to bathe in their bathrooms again.
"I think the people who have the shower filters should let people know that they are making difference and they are working," Harrington said, "It's basically just something trying to give people some relief."
Korreck said if the filters are more than free, then it's too expensive.
Put In Use
Flint resident Ira Toy has a complete home filtration system installed his house. Toy said he and his girlfriend are extremely happy with the new system.
"We have a reverse osmosis system for drinking and cooking underneath the sink for drinking water and a point-of-use whole house filtration system. I drink the water now from the RO unit," Toy commented, "My girlfriend Stacey says her skin has felt better being able to shower. We're just happier."
The church handles the registration and application process, while the plumbers go out into the community to install the filters.
"I was very happy to find Global Treatment Solutions is a local company," Toy said, "Bill is a man who cleaned up the Kalamazoo river. He knows about cleaning water. Bill is an asset to Michigan."
Korreck is simply doing whatever he can to help make these filters accessible and affordable for Flint residents.
"I think point-of-use devices are the most effective way that people can protect themselves in the short-term until they solve it on a system-wide basis," Jack Gilron, professor from the department of desalination & water treatment at Ben-Gurion University of the Negev, said, "I think there are a number of materials out there that can adsorb lead ions that can be used for removing lead in the water. KDF 55 is just one of them."
Gilron said the key problem with using filters based on adsorbing metal ions is that they should not be used past their capacity. He said he has heard of this approach before from water treatment developers and feels it's necessary to have an indicator when the filter needs to be replaced.
"The nice thing about these filters is when they start to reach their capacity the flow rate goes down," Korreck said, "When you notice that and you know it's time to change the filter."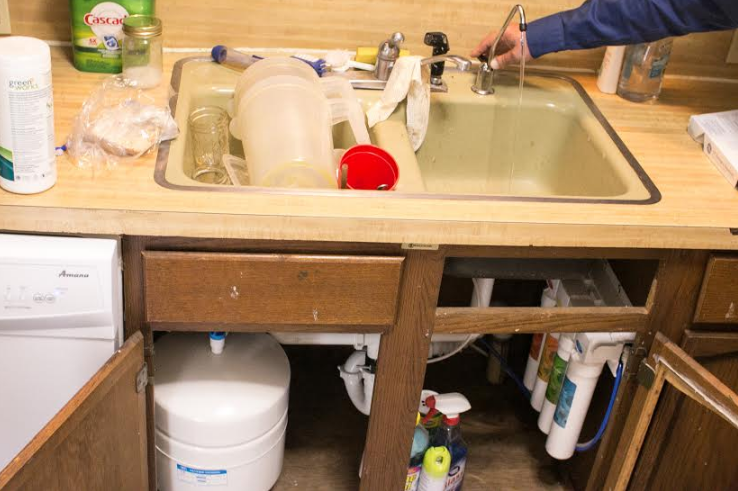 A photo of the reverse osmosis drinking system installed in the home of Flint Resident Ira Toy on June 14, 2016 in Flint, Michigan.
Related Link: EcoloBlue Proposes Big Solution For Flint Atmospheric Water Generators
Korreck said if a smaller size is used, the filter needs to be replaced more often. Medium filters last longer, but the filters are more expensive, and still need to be replaced. Then, there's the larger system, which is regenerable.
"Depending on how long the stakes for the problem to be resolved, the most expensive filter in the long run will be the cheapest because the water system is not going to be fixed for at least a couple more years before this problem is resolved," Korreck said.
Korreck said they have a "Cadillac system "that has a predicted lifetime of tens of years instead of several months. Korreck contemplates how to market a product without an endpoint of time frame.
"The small unit itself is relatively inexpensive but that filter might only last 30 days depending on the usage. Every 30 days you're looking at another 30 to 50 days to replace that filter which adds up to the cost of the bigger filter which is $300," Korreck explained.
Korreck discussed how there's been so much hysteria about what's wrong with the water. Since people are experiencing a wide range of symptoms including rashes, hair loss and scratchy scalps, Korreck believes the problem with the water extends beyond lead.
"Lead is coming from pipes. Chloroform comes from a reaction with Chlorine and organic matter that's in the water. It's a water reaction. It's not related to pipes," Richard Luthy, professor in the department of civil and environmental engineering at Stanford University, commented.
Korreck thinks chlorine is an issue that may be causing some of these symptoms.
"The interesting thing that we're seeing so far is that people notice a huge difference right away as far as the odors and rashes after the shower filters were installed which remove the chlorine and heavy metals," Korreck said.
The issue now becomes if this simple device Korreck has created is making such an improvement, then it's likely there is something in the water that's causing the symptoms people are complaining about. If this solution is effective thus far, then Michigan needs to take a deeper look at implementing certified water filters as a short-term solution.
Posted-In: Ben Ranger Ben-Gurion University of the NegevNews Health Care Top Stories Exclusives Interview General Best of Benzinga
View Comments and Join the Discussion!