Politics Here And Abroad: Muted Market Volume Amid Comey's Testimony And UK's Election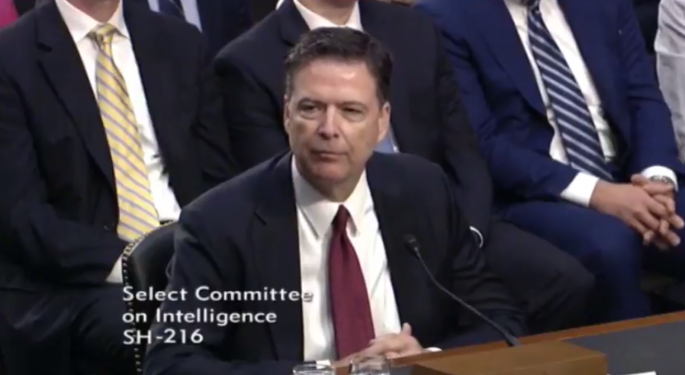 Thursday's trading session is being overshadowed by former-FBI Director James Comey's testimony in front of the Senate Intelligence Committee. The very public profile of Comey's comments on President Donald Trump and any potential interference from Russia in 2016's president election appear to be top on investors mind, according to TD Ameritrade's Chief Strategist JJ Kinahan.
Investors are sitting on the sidelines waiting for Comey's testimony to come to an end before doing anything, Kinahan told Benzinga. This fact explains the weak volume being seen across the board.
However, Comey already released prepared remarks and is unlikely to say anything that is off the script, Kinahan added. As such, investors will be watching Comey "talk and talk and talk" only for him not to reveal any surprises.
Impact On Policy
Thursday's testimony can "only hurt" Trump's agenda, Kinahan further suggested (Check out JJ Kinahan's track record). In fact, there is "very little upside" for Trump moving forward and "a lot of downside."
But at the end of the day, Kinahan is assigning the "same probability of the agenda getting done tomorrow as it did yesterday."
Across The Pond
Across the pond, the United Kingdom is hosting a national election, and the polls are calling for the Conservatives and Theresa May to hold onto power. The problem is polls have lost a lot of credibility over the past few years, so investors thinking of making any trades could be akin to "[standing] in front of that potential freight train."
Bottom line, there is currently no catalyst to make people want to take risk at the moment.
Related Links:
Trump Keeps His Promise To Add Coal Jobs, Though Not To The Degree His EPA Head Claims
5 Possible Outcomes From Thursday's UK Election
_____
Image Credit: Screengrab from James Comey Testimony on President Trump & Russia Probe 6/8/17
View Comments and Join the Discussion!
Posted-In: News Education Eurozone Futures Politics Forex Events Global Best of Benzinga