5 Big Takeaways From Comey's Prepared Testimony About Trump: Loyalty, Russia, 'The Cloud' And More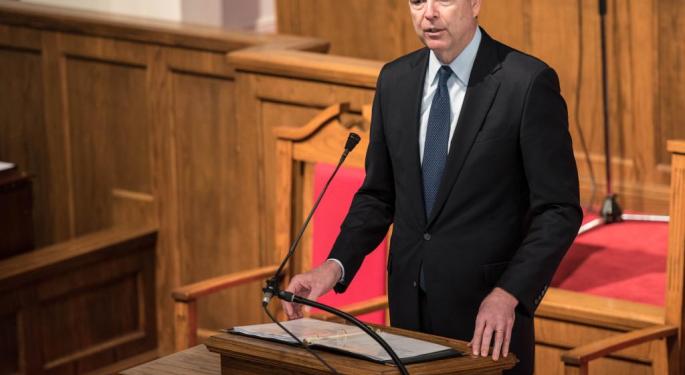 Ousted FBI director James B. Comey, over the course of nine awkard private conversations, said President Donald Trump threatened his job, demanded his loyalty, and asked him to drop the probe into the Trump team's dealings with Russia before ultimately firing him.
Comey's prepared statement was released in advance of his much-anticipated appearance before the U.S. Senate Intelligence Committee on Thursday. Comey was heading up the investigation of whether Trump associates colluded with Russian agents to rig the presidential election when Trump fired him in May.
Here are major takeaways from Comey's seven-page statement.
Demand For Loyalty
Comey wrote a riveting account of a Jan. 27 private dinner at the White House. He said Trump had assured him previously that Comey would retain his position, but then tried to put Comey in a position of asking to keep it.
"My instincts told me that the one-on-one setting, and the pretense that this was our first discussion about my position, meant the dinner was, at least in part, an effort to have me ask for my job and create some sort of patronage relationship," Comey said.
"A few moments later, the President said, "I need loyalty, I expect loyalty." I didn't move, speak, or change my facial expression in any way during the awkward silence that followed. We simply looked at each other in silence."
Toward the end of the dinner, Trump returned to the subject of loyalty.
"He then said, "I need loyalty." I replied, "You will always get honesty from me." He paused and then said, "That's what I want, honest loyalty." I paused, and then said, "You will get that from me."
See Also: As Comey Testimony Looms, Here's Every President Who's Used Executive Privilege To Deny Congress Information
Dropping The Investigation Into Ousted National Security Advisor Flynn
Comey also talked about a meeting Feb. 14 that was part of a counter-terrorism briefing with other intelligence chiefs, and that Trump asked him to stay behind when the others left. He said Trump asked him to drop the investigation of ousted National Security Advisory Michael Flynn.
"The President began by saying Flynn hadn't done anything wrong in speaking with the Russians, but he had to let him go because he had misled the Vice President. He added that he had other concerns about Flynn, which he did not then specify."
Asking Sessions For Help In Keeping Trump Away
Comey said he spoke with Attorney General Jeff Sessions about the Trump's complaints about leaks, and used the opportunity to ask Sessions to keep Trump from seeking out private conversations with Comey.
"I took the opportunity to implore the Attorney General to prevent any future direct communication between the President and me. I told the AG that what had just happened – him being asked to leave while the FBI Director, who reports to the AG, remained behind – was inappropriate and should never happen. He did not reply."
See Also: From J-Edgar To J-Com: The Wild World Of FBI Directors And Their Presidents
Asking Comey To Drop The Russian Probe
"On the morning of March 30, the President called me at the FBI. He described the Russia investigation as "a cloud" that was impairing his ability to act on behalf of the country. He said he had nothing to do with Russia, had not been involved with hookers in Russia, and had always assumed he was being recorded when in Russia. He asked what we could do to "lift the cloud."
"He finished by stressing "the cloud" that was interfering with his ability to make deals for the country and said he hoped I could find a way to get out that he wasn't being investigated. I told him I would see what we could do, and that we would do our investigative work well and as quickly as we could."
On April 11, Trump called Comey and told him to "get out" the information that Trump was personally not under investigation. "I replied that I had passed his request to the Acting Deputy Attorney General, but I had not heard back. He replied that "the cloud" was getting in the way of his ability to do his job."
Salacious Material
Comey first met Trump before the inauguration when he and other intelligence officials met him on Jan. 6 to brief him on unspecified "salacious material."
"The (intelligence community) leadership thought it important, for a variety of reasons, to alert the incoming President to the existence of this material, even though it was salacious and unverified."
View Comments and Join the Discussion!
Posted-In: Donald Trump FBI James ComeyFutures Politics Top Stories Markets General Best of Benzinga