10 Interesting Things You Might Not Know About Pornhub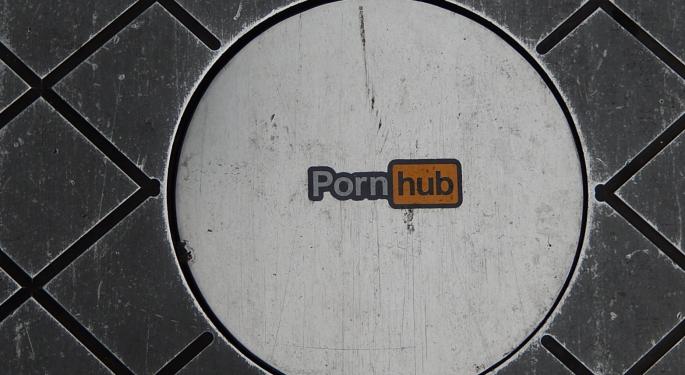 Pornhub, the leading online adult entertainment platform, turned 10 years old Thursday. To celebrate this achievement, the company is launching a social media contest, offering fans a chance to win one of 100, 10-year memberships to its Pornhub Premium service.
Pornhub Vice President Corey Price, in a recent interview with Benzinga, described the Premium service as similar to Netflix, Inc. (NASDAQ: NFLX), allowing users to stream their favorite uploaded and original content on-demand.
Competitors must post pictures and video using the hashtag #PHtaughtme, and a panel of judges will choose winners based on creativity, originality and humor.
To top off the celebration, Pornhub also released a batch of statistics and data on its exponential growth since its inception.
See Also: 10 Years Of Pornhub: VP Talks New Markets, Philanthropy And Creating Original Content
Here's a look at 10 things you probably didn't know about the world's biggest purveyor of pornography, along with some context to help drive home the girth of its accomplishment.
Company Milestones
1) Within seven months of launching on May 25, 2007, the site reached 1 million daily visits. This is just shy of 20 times the number of people said to visit Walt Disney Co (NYSE: DIS)'s Disney World Orlando park each day.
2) In 2008, just three months after launching its mobile site, the company was ranked by Alexa.com as one of the top 100 most visited sites. Mobile now accounts for 75 percent of the audience.
3) By 2010, Pornhub had more than 100,000 videos uploaded, which is 10 times the number of videos produced in YouTube Spaces as of 2015.
4) Grammy-winning recording artist Coolio dropped the official Pornhub anthem in 2014. The song is entitled, "Take It To The Hub."
Size Matters
5) Pornhub boasts more than 22 million registered users - just under half the number of Americans who are registered members of a gym (Statista, 2015).
6) There's about 173 years worth of content uploaded to the site. The average human life span is 79 years.
7) Pornhub Premium launched in 2015, and now has more than 1 million signups. That's nearly the number of people who subscribe to the Showtime channel's streaming service.
8) The site's viewership metrics took a hit over the course of President Obama's time in office. From over 13 minutes in 2007, by 2012 the average time on site hit a low of just under 9 minutes. Pages per visit (PPV) likewise fell from almost 15 pages per visit in 2012 to around 8 pages per visit that same year. Both stats have been on the upswing, however, with 2017 showing average time on site of about 9.5 minutes, and PPV almost at 10.
User Preferences
9) Pornhub users tastes don't change much. Three classifications of video have dominated as most viewed category, with nine out of the past 10 years being led by one of the same three categories.
10) Lisa Ann has been the "hottest" performer for four years of the site's existence. Not only is she the only star to earn that distinction in multiple years, her videos also rank No. 1 as the Most Watched of all time.
The winners of the social media contest will be determined by July 1. Corey Price, in a press release, said, "If you think our 10th anniversary is special, just wait until we turn 25."
Image credit: Michael Coghian, Flickr
View Comments and Join the Discussion!
Posted-In: Coolio Corey Price Lisa AnnNews Movers & Shakers Psychology Tech General Best of Benzinga