Outta Nowhere, Jinder Mahal Becomes First Indian WWE Champion: Smart Business Move?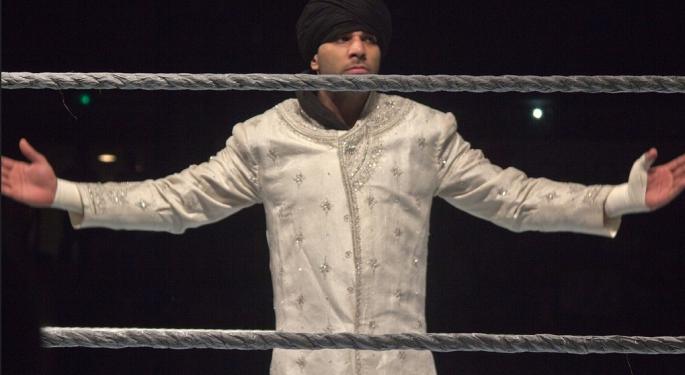 World Wrestling Entertainment, Inc. (NYSE: WWE)'s Smackdown brand crowned a new champion Sunday evening when Jinder Mahal defeated Randy Orton at the company's Backlash pay-per-view event. For WWE investors, the storyline development could have major business implications.
Mahal is the ring name of Indo-Canadian talent Yuvraj Singh "Raj" Dhesi, who speaks both English and Punjabi. While Dhesi was born in Canada, he strongly identifies with his family's Indian heritage. Some WWE fans and investors can't help but wonder if Mahal's victory is a conscious business decision on the part of WWE to target fans and customers one of its highest-growth markets.
WWE launched WWE Shop in India less than two months ago. CFO George Barrios was asked on WWE's Q1 earnings call about whether or not Mahal's storyline was intended to target the Indian audience. After pointing out that a number of WWE superstars, including John Cena, are extremely popular in India, Barrios admitted that fans tend to relate to superstars that share similar cultural backgrounds.
"We're all human beings, and there's a certain level of ethnocentrism, and when a local character's really popular, it kind of pushes up in that country maybe a little bit more. But we let the storyline drive who's hot or not as opposed to one specific geography. But it certainly doesn't hurt in India," Barrios said.
Related Link: The Rock Turns 45: Here's A Look At His Wildly Successful Career
Indeed Wrestling's Chris Harrington pointed out on Twitter that, ironically, WWE Shop India doesn't currently have a single piece of Jider Mahal merchandise available for sale.
Number of Jinder Mahal products available on the WWE India Shop? Zero.https://t.co/86Jm9UkyAA pic.twitter.com/NnM6DPNR6M

— Chris Harrington (@mookieghana) May 22, 2017

Executive VP of Talent Paul "Triple H" Levesque touted the importance of the Indian market during a recent scouting trip to Dubai.
"Not only are the Middle East and India important markets to grow our business and reach new fans, but they are also key regions from which to recruit premier athletes who want to pursue the dream of becoming a WWE superstar," Levesque said.
@voiceswrestling They don't go into detail but I'm pretty sure they've said India is their #1 market for social media. All social media is 70-80% int'l.

— Brandon Howard (@BrandonThurston) May 22, 2017

Mahal's championship victory comes roughly a decade after former WWE performer The Great Khali won the "World Championship" title back in 2007. However, Mahal is the first Indian performer ever to win the "WWE championship" title.
While some investors see Mahal's championship victory as a potentially shrewd business move by the company, others are criticizing WWE for being culturally tone deaf.
"For the record, there are approximately 121 million Punjabi speakers in the world, and only 30 million or so in India," professional wrestling and MMA website Cageside Seats writes. "The notion that Mahal is someone that a country of 1.3 billion people and an enormous number of ethnolinguistic groups can universally identify with is shockingly ignorant."
Speaking in character after the championship victory, Mahal called the accomplishment "honestly the best day of my life."
"I feel proud, very proud to be representing India in the WWE universe. Obviously, India is a huge part of WWE, and I am happy to bring the title back home and will continue to defend the title and make everybody proud," he said.
WWE shares could certainly use a boost from the Indian market. The stock is down 11.2 percent in the past three months.
Image credit: Anton, Flickr
Posted-In: Cageside SeatsNews Emerging Markets Sports Events Markets Trading Ideas General Best of Benzinga
View Comments and Join the Discussion!