Founders Brewing Co.'s Journey From Near-Bankruptcy To Best-Seller: 'Our Investors Thought We Were Crazy'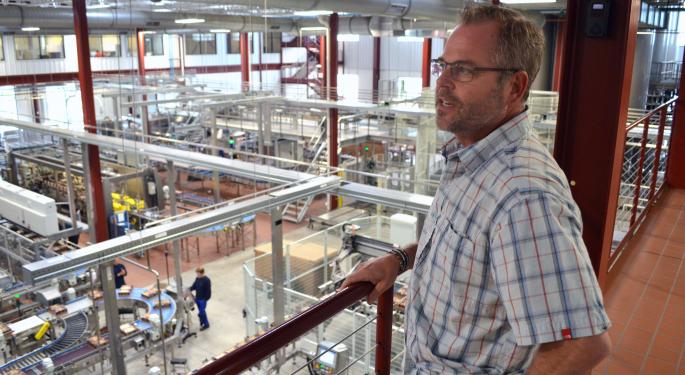 At the Founders Brewing Co. headquarters in Grand Rapids, Michigan, evidence of the craft beer maker's exponential growth is everywhere.
"Six months ago, this was a parking lot," Cofounder and CEO Mike Stevens told Benzinga, while observing a new automated canning line from a walkway in the 200,000-square-foot facility.
Stevens, 49, remembers gluing cases of six-packs shut by hand earlier in the company's history. That's not possible anymore: Founders expects to brew 460,000 barrels of beer in 2017. In 2008, the brewery produced 11,000.
Founders grew out of a partnership between two homebrewers, Stevens and Dave Engbers, and first opened its doors in 1997. The company's founders met while at the small, private Hope College in Holland, Michigan.
In the same time Founders has grown — finding its identity with creative beers, nearly going bankrupt in 2000 and eventually prevailing as one of the largest American craft breweries — the west Michigan city it calls home has transformed into a craft beer mecca.
Founders has opened a second 200,000-square-foot manufacturing facility in Grand Rapids and plans to open its second-ever retail location in Detroit's Cass Corridor neighborhood later this year.
"It's amazing to think about where it came from and where it is today," Stevens said.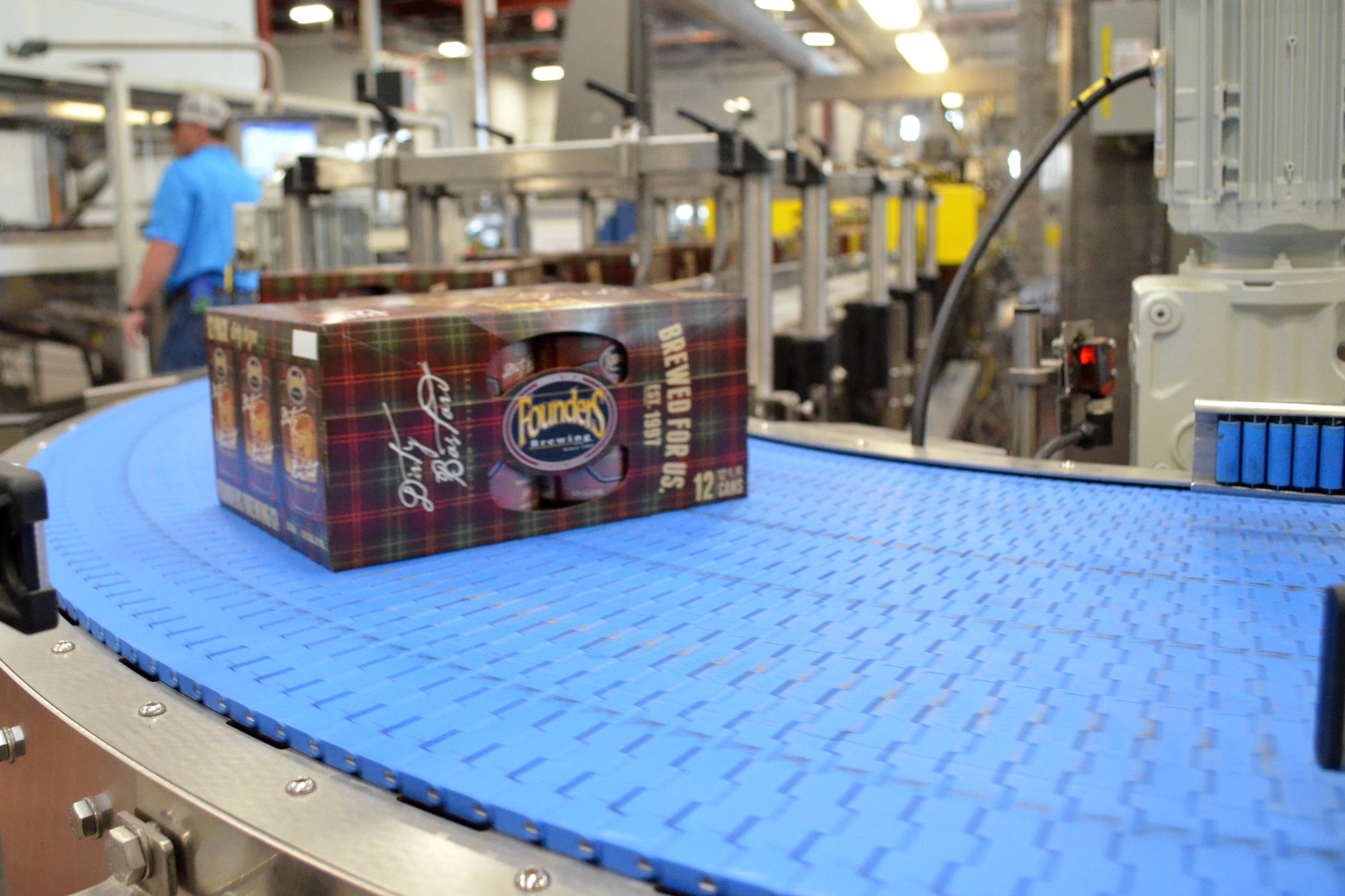 Cases of Dirty Bastard Scotch Ale roll off the automated canning line at Founders Brewing Co. Photo by Dustin Blitchok.
'Our Investors Thought We Were Crazy'
Stevens first wrote a business plan for a brewery in 1993, he said. He and Engbers opened Founders' first location on Monroe Avenue in Grand Rapids in 1997. The first two Founders beers were a pale ale and an amber ale.
"We proceeded to lose money for the next 12 years," Stevens said, laughing.
Before the craft beer boom, Grand Rapids was a place where people drank macro brews like Budweiser, Miller and Coors. Operating a craft brewery at a time when few existed was "a double-edged sword," Stevens said.
See Also: The Story Of Bell's Brewery: Larry Bell Grows From Stoner Beer Baron To Craft Beer Icon
In its early years, Founders floundered. The company went three years without paying federal excise taxes and fell delinquent on rent payments and a bank note, Stevens said.
In 2000, he and Engbers met with bankruptcy attorneys. Their advice: "Come out swinging," Stevens said.
Amber and pale ales were nearly ubiquitous, Stevens said; he and Engbers had to rethink Founders' place in the market.
The business partners decided "if we're going to go down, let's make beers we want to drink."
That's where Founders' slogan — "Brewed For Us" — comes from, and how the brewery's first hit, Dirty Bastard Scotch Ale, came to be, Stevens said.
With an edgy name and 8.5 percent alcohol by volume, "our investors thought we were crazy," Stevens said. But Dirty Bastard was the beginning of a turnaround.
With the release of "envelope-pushing" beers, Founders became known as one of a few breweries nationally bringing excitement to the industry, Stevens said. In 2007, Founders moved to its present-day location on Grandville Avenue SW. In 2008, the brewery broke even for the first time.
"Right when we turned on the creative valve — when we stopped looking outward and started looking inward — that's when the magic started to happen."
While the trend in craft brewing is hoppy beer with malt in the background, "we don't subscribe to that philosophy," Stevens said. Instead, Founders' produces beers that strike a balance between hops and malt, the CEO said.
"We put a lot of focus on balance."
See Also: Beer Is Still The Undisputed Champ Of Alcoholic Beverages
Founders' position in the industry means that its relationship with suppliers has changed as the brewery has grown. Small- and medium-sized breweries use brokers to buy hops, Stevens said.
The volume of beer produced at Founders means "you get to go and sit in a farmer's living room and say, 'I'll buy $10 million worth of hops from you for the next three years,'" Stevens said. "[It puts you in] a better position to control your materials destiny."
Brewing Without Boundaries
During a walk around the brewery, an employee stops and hands Stevens a new beer to sample. The scale of the Founders brewhouse is enormous: it can produce 9,600 gallons every 3 1/2 hours, according to a staffer.
The first step in the development process for a new brew is the "beer team," which includes Stevens and a half-dozen other people.
It's a group that discusses variables such as different yeasts, wood opportunities and barrels that were previously used for anything from bourbon to Tabasco, Stevens said — and dreams up beer ideas without any boundaries.
Of the hundreds of recipe ideas generated each year, about 25 percent are deemed suitable for distribution. Of those, two to six might make it into commercial production.
Founders makes the No. 1-selling canned craft beer, All Day IPA, and falls within the top dozen or so largest breweries in the U.S., Stevens said. He expects the brewery to enter the top 10 this year or in 2018. Founders beer is available in 46 states and 26 countries.
The volume of beer produced at Founders is up 32 percent year-to-date, and the brewery's CEO said he expects 20 percent volume growth this year and in 2018.
Engbers and Stevens sold 30 percent of Founders to Mahou San Miguel, a 125-year-old brewery and the largest in Spain, in 2014.
The partnership cemented the Grand Rapids brewery's legacy, liquidity and international growth, Stevens said.
"I want to know that when I go, when I leave this Earth, that Founders is alive and well."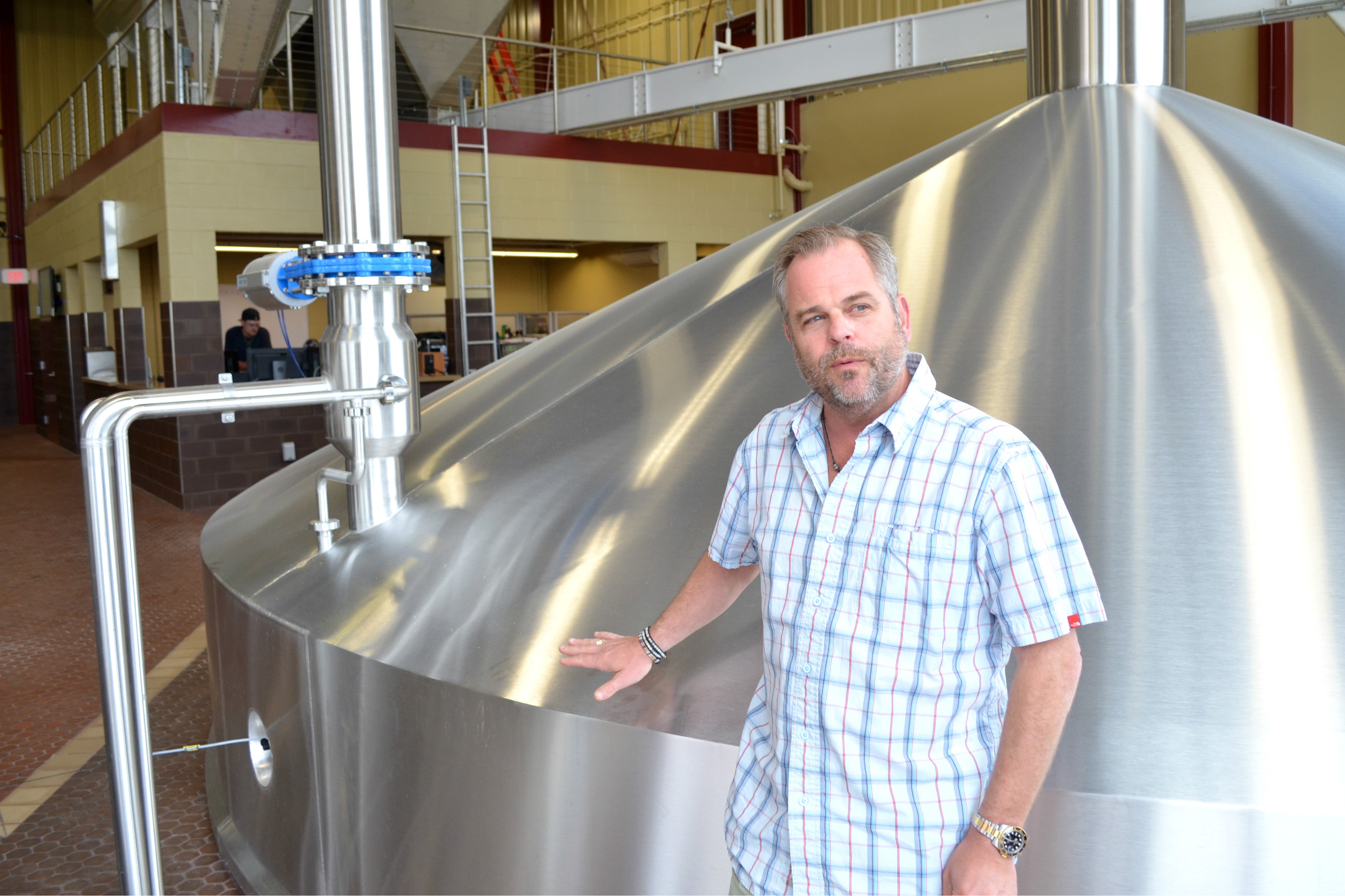 Founders Brewing Co. CEO Mike Stevens in the Grand Rapids company's brewhouse. "We put a lot of focus on balance," Stevens says of the philosophy behind the brewery's beers, which include Dirty Bastard Scotch Ale and All Day IPA. Photo by Dustin Blitchok.
Detroit: 'It's The Right Place For Us To Be'
Founders began exploring a location in Detroit, which is Founders' second-largest market on Michigan's east side, about a year ago.
The taproom location Founders landed on is at 456 Charlotte Street, a few streets north of the soon-to-open Little Caesars Arena. The nearby blocks are still hardscrabble, with vacant lots and blighted buildings, but the area is sandwiched between the white-hot downtown and Midtown neighborhoods.
The brewery's business is 90 percent manufacturing, and Stevens said he's hesitated to change the mix.
"I did not ever want to make Founders' retail arm a cookie-cutter franchise kind of thing," he said. "Our soul would be sold."
When Founders opened in Grand Rapids, there was one existing brewery in the west Michigan city, Stevens said. Now, there are more than 30, and beer has become Grand Rapids' best-known export.
As he spent more time in Detroit, Stevens said he recognized a similar transformational quality in the Motor City as the one he'd seen in Grand Rapids. The city's spirit reminded Stevens of Founders' beginnings in a Grand Rapids building that was boarded up before the brewery moved in.
"I kind of fought doing a second location. The only reason we ended up in Detroit, quite honestly, was Detroit itself," he said. "It's the right place for us to be."
Main image: Founders Brewing Co. CEO Mike Stevens on a walkway above the canning and bottling lines at his company's Grand Rapids, Michigan facility. "Right when we turned on the creative valve — when we stopped looking outward and started looking inward — that's when the magic started to happen," Stevens says of Founders' development. Photo by Dustin Blitchok
View Comments and Join the Discussion!
Posted-In: All Day IPAEntrepreneurship Movers & Shakers Top Stories Success Stories Exclusives Interview General Best of Benzinga