'Pot Baron' Andy Williams Discusses Challenges Of Entering The Cannabis Industry And How To Overcome Them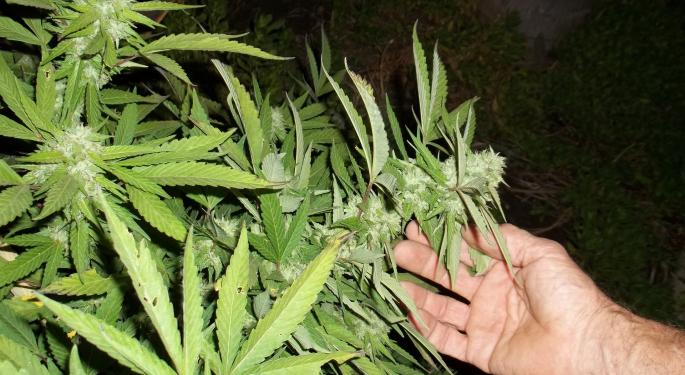 Benzinga recently shared the story of Andy Williams, co-star of MSNBC's "The Pot Barons of Colorado," founder and CEO of Medicine Man Denver, Medicine Man Technologies Inc (OTC: MDCL) and several other companies.
During a conversation after Williams' keynote at Green Flower Media's Cannabis Health Summit, Benzinga asked about the challenges that a businessperson getting into the cannabis industry faces.
The 'Green' Issue
The biggest challenge is capital, the entrepreneur said.
However, in the early days, keeping up with the ever-changing regulation was not easy either. Meeting the demands of the government in order to stay compliant "required amazing gymnastics," he said.
"That was extraordinarily challenging. It still is, but the changes are not as drastic and as quick as they used to be, which I'm thankful for," Williams said, pointing out that uncertainty was a constant in his environment.
"The stigma that you're always fighting through, just getting people to work with you is tough," he explained. "A fencing company would not build a fence for me once, and professional accountants or lawyers wouldn't want to work with me."
It's The Dollar-Dollar Bill
Despite the many challenges a cannabis business has to overcome, baking and access to capital remain the largest of them all. However, Williams' companies now count on two banks that openly work with cannabis companies, following FinCEN guidelines and all other regulations.
"We've been kicked out of more banks than I can remember," he said. "And, paying people with cash, whether it's an employee or a contractor or even taxes, is a real burden and a public safety issue."
Expansion has also been quite tough for Medicine Man. Until very recently when the industry started seeing more investors come in, all the growth relied on operating income.
Nowadays, cannabis businesses can recur to equity and debt raises among retail and institutional investors. Nonetheless, access to cheaper, more convenient, traditional financing (namely, a bank loan) remains unavailable.
"If you saw our financials in a normal business, you would drool over them," Williams said.
The Secret Sauce
Finally, Williams shared some advice for entrepreneurs looking to get into the marijuana industry.
Williams: First, you have to decide if you want to be plant-touching or not.
Do you want to be an ancillary company, in essence selling the picks and shovels to the gold miners? Or do you want to be a gold miner?
If you want to be plant-touching, you have to figure out where you want to do it and analyze the markets that are available. You have to look at the laws and conditions available in each state. Is it medical or recreational? Are there restrictions on the number of licenses?
If you are going to compete for these licenses in states that are coming online, it is extremely expensive. It costs a lot of money to file your application with no guarantees of success.
You have to figure out what market you want to participate in, and then you have to figure out what works: do you want to grow, do you want to sell retail, do you want to manufacture?
My advice to people — always — is, if you can vertically integrated, be vertically integrated. The competitive advantage it gives you over your peers is absolutely great.
With that said, if you don't do it, you are going to be at a competitive disadvantage; and beware, because it is hard to compete over time in these markets as a non-integrated company.
Now, if you choose to go for an ancillary business, then try to find a pain point for the industry, identify it, and then see if you have it within your skill set to fill it.
Note: Direct quotes may have been edited for clarity.
Related Links:
Patent Wars Surprisingly Reach The Cannabis Industry: How Do You Register A Plant?
Banking Problems In The Cannabis Industry Are 'Somewhat Overblown In The Press'
View Comments and Join the Discussion!
Posted-In: Cannabis Entrepreneurship Health Care Top Stories Success Stories Startups Exclusives Interview Best of Benzinga