Meet MSNBC 'Pot Baron' Andy Williams And His Multiple Marijuana Businesses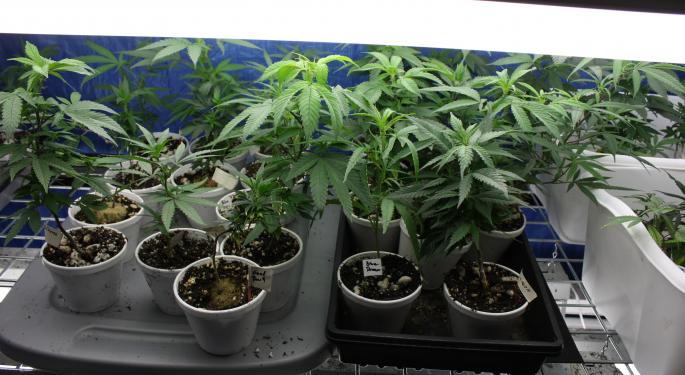 The cannabis industry is creating rapid wealth among investors. However, few entrepreneurs have been as successful as Andy Williams, co-star of MSNBC's "The Pot Barons of Colorado" and founder and CEO of Medicine Man Denver, Medicine Man Technologies Inc (OTC: MDCL) and several other companies.
A few days ago, Williams gave a keynote at Green Flower Media's Cannabis Health Summit, after which he sat down with Benzinga for an exclusive interview.
Becoming The 'Medicine Men'
Andy and his brother Pete grew up in a family of "not even modest" means. Later in their lives, their mother married "a gentleman who was very successful," Williams told Benzinga.
Fast-forward to 2009 when the Ogden Memo came out, stipulating that the U.S. federal government would not allocate resources to prosecuting legal cannabis business in states with marijuana laws.
"I am a serial entrepreneur, and I had failed many businesses throughout my life," Williams said. "When I saw the Ogden Memo, I immediately perceived it as an opportunity for a business that was new and exciting. I had the business side; I'm an industrial engineer and, between my failed businesses, I worked in the corporate world as an industrial engineer and then, in different leadership positions. I had project management skills, and I had my engineering skills that could get through the red tape and the government requirements."
For his part, Pete owned a custom tile company at the time, while simultaneously working as a caregiver for people with physician recommendations for cannabis use.
"Pete is an inventor and invented a phenomenal system to grow marijuana," said Williams. "He was making quite a bit of money as a hobby out of his basement. So, I went to him and said, 'We have a partnership made in heaven here. Let's go into business together and do this big.'"
So, the siblings put a business plan together and took it to their mother and her affluent husband, who heard them out and agreed to invest, even though they had never used marijuana before. At first, they pitched in $150,000. This is how Medicine Man came to be.
The total investment before the company became cash flow positive was of $630,000. But, as they say, it takes money to make money.
The 'Spicy' Origins Of Medicine Man
Medicine Man started as a grow operation in Denver. After months looking for a property to establish in without success, in spite of the high vacancy rates the city boasted at the time, the Williams brothers came across a 40,000-square-foot building situated in an industrial area in Northeast Denver called Montbello.
Half of the property was leased by a spice company, so smells were strong, to say the least. As one can imagine, not many businesses would want to set up shop next to a olfactory-factory. However, the Williams team had no problem with strong smells; they were planning on skunking up the space real quick. Ironically, in no time, it was the spice company that was complaining about the odors the weed grow next door was emanating.
About two years later, the owner of the building decided to run for statewide public office under the Republican Party. Again, quite unsurprisingly, he did not want to be linked to the marijuana industry. So, he helped the brothers get financing and sold them the building.
Once the spice company's lease was over, Medicine Man took over the whole building.
"The state quickly forced us into being retail as well [...] Since, we've grown to be a leader in Colorado, not only in volume but in terms of brand recognition and leadership; actually, not just in the state, but nationally as well," Williams said.
Branching Out
After half a decade of success with Medicine Man, the brothers decided to start another company in March 2014: Medicine Man Technologies.
"Medicine Man Technologies started as a company that did consulting for new licensees in states that either had new laws or new legislation that allowed for a legal cannabis industry at the state level," Williams explained. "We helped people get licensed, design and build facilities, train their employees, get their systems up and running, and get their doors open."
Over time, the offering expanded to include other services like managing a production or manufacturing facility, and helping existing, under-performing cultivators increase their yields or quality. In addition, Medicine Man Technologies offers a cannabis-focused nutrient line called Success Nutrients and has even published a book called "Three a Light."
"Our product and service lines are continuing to expand. As a matter of fact, a press release came out very recently announcing a new acquisition: Denver Consulting Group," Williams added.
On top of the Medicine Man companies, Andy Williams owns an IP holding company and a property holding company, a marijuana-infused products company that ultimately focuses on cannabis research, and a company called Breakwater MB that invests in other companies and helps them go public.
More From Benzinga:
Patent Wars Surprisingly Reach The Cannabis Industry: How Do You Register A Plant?
Jeff The 420 Chef Explains How He Makes Medical Marijuana Edibles That Don't Taste Like Weed
_______
Image Credit: By Cannabis Training University (Own work) [CC BY-SA 3.0 (http://creativecommons.org/licenses/by-sa/3.0)], via Wikimedia Commons
View Comments and Join the Discussion!
Posted-In: Biotech Cannabis Entrepreneurship Health Care Politics Top Stories Success Stories Startups Best of Benzinga