Will The Return Of Biz Stone Alleviate Fundamental Concerns At Twitter?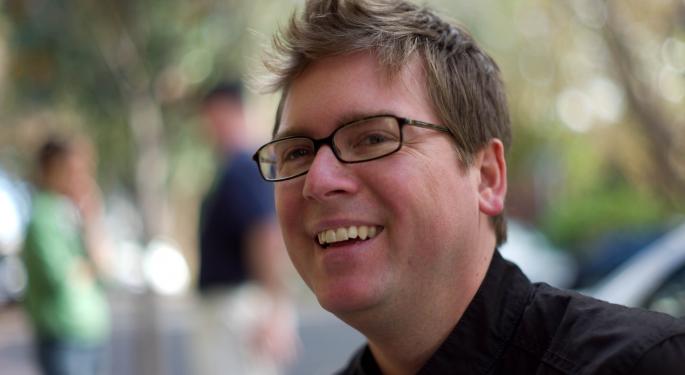 Biz is back, but his excitement to return to Twitter Inc (NYSE: TWTR), a company crippled by public criticism and metric declines, hasn't exactly resonated with investors.
Although Biz Stone's Tuesday announcement initially prompted a 2-percent stock spike, shares ultimately closed down 6 percent on the day.
And the Street's gut instincts are valid. Since fellow co-founder Jack Dorsey reclaimed his leadership in 2015, seven years after relinquishing his first gig as Twitter CEO, the company's stock has fallen 48 percent.
Plagued by diminished ad revenue in spite of peaks in daily and monthly active users, Twitter remains unstable. In February when it posted a miss in fourth-quarter sales, technology expert Sean Udall said its survival now depends on fundamental platform changes.
A Stone Foundation
Stone might be the difference between life or death. After all, creativity is his specialty.
The trained designer has co-founded three ventures apart from Twitter, including his most recent project, Jelly Industries, Inc., which he sold to Pinterest in March. Before Twitter, Stone co-founded and served as chief creative officer for both Medium.com and The Obvious Corporation.
Building something from nothing is a critical startup skill, and it may stimulate the transformation Twitter needs. At least, that seems to be Dorsey's hope. Stone's new role is vaguely to invigorate the company with start-up energy.
PR Power
But he may also prove instrumental in addressing public relations concerns stunting Twitter's popularity. Many users have criticized Dorsey's responses to inflammatory speech and violations of public code on the site, and Stone at least verbally empathizes.
Good work, #FOFA. FYI, Constitutional Exceptions to Free Speech—Child Porn, Hate Speech, and more. Hate can't hide under the Constitution!

— Biz Stone (@biz) February 15, 2017
Stone could also revolutionize the company's image by redefining Twitter's success. A recent retweet laments that performance is measured by DAUs and revenue rather than community impact, and he has long lauded the platform for its role in diplomacy and democracy.
"As I truly believe, and as I've written before, the Tweets must flow," Stone wrote in his return announcement. "Twitter has woven itself into the fabric of our global society. The world needs Twitter, and it's here to stay. I'm so lucky that I get to step back in and help shape it's [sic] future."
When we created Twitter, we did not imagine it being key to international diplomacy. The world needs Twitter. https://t.co/faMHSYOOfq

— Biz Stone (@biz) December 31, 2016
Stone's appearance on TIME's list of 100 Most Influential People in the World, recognition as GQ's Nerd of the Year, acknowledgement as an INC Magazine Entrepreneur of the Decade, and reception of The Economist's Innovation Award may also carry weight among Twitter cynics.
Building Bridges
Even if he can't win brand loyalty from consumers, he might be valuable in improving relations with other players in the social media space. Stone maintains a perspective on the industry that's fairly noncompetitive and openly acknowledges the distinct merits of rivals.
Facebook is stuff that happened, Twitter is stuff that's happening, and Pinterest is stuff that will happen. It's all good.

— Biz Stone (@biz) April 11, 2017
He's even willing to extend an olive branch with a pointer here and there.
Related Links:
Twitter Sues U.S. Government After Agents Demand Info On Anonymous Government Critic
Jack Dorsey: I've Never Been More Sure Of Twitter's Value
________
Image Credit: By Joi - http://www.flickr.com/photos/joi/4020697780/sizes/o/in/photostream/, CC BY 2.0, via Wikimedia Commons
View Comments and Join the Discussion!
Posted-In: News Futures Management Markets Tech Media Trading Ideas General Best of Benzinga