6 Great Things Biz Stone Could Do For Twitter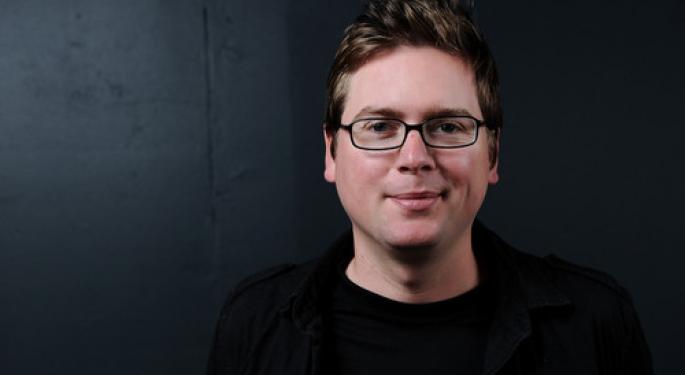 Twitter Inc (NYSE: TWTR) shares jumped 2 percent after cofounder Biz Stone announced he is returning to work for the company full-time. Why are investors so optimistic about Stone's return? Here's a look at a few ways he could light a fire under Twitter.
1. Boost Company Morale
Stone's primary role upon his return to Twitter will be to rejuvenate the company's culture, he wrote in a blog post. "My top focus will be to guide the company culture, that energy, that feeling," Stone said. Morale could use a shot in the arm after the company has struggled to drive user growth and monetize its user base in recent years.
2. Change The Flow Of Management
Twitter has made headlines for laying off workers and losing management in recent years. The company bringing in Stone could be a sign that the tide is finally turning and top-level talent may start returning to the company.
Related Link: Users Take To Social Media To Express Why Twitter Is Great
3. Improve Recruiting
If Stone actually does improve company culture and morale, it could go a long way in recruiting employees. Alphabet Inc (NASDAQ: GOOG) (NASDAQ: GOOGL), Amazon.com, Inc. (NASDAQ: AMZN) and Facebook Inc (NASDAQ: FB) recently topped LinkedIn's list of the most desirable companies to work, but Twitter came in at just 17 on that list.
4. Increase Transparency
One of the major reasons Twitter stock has lagged the market in recent years is because investors don't seem to know what is going on with the company and what exactly the long-term plan is. "It's important that everyone understands the whole story of Twitter and each of our roles in that story," Stone said.
5. Encourage Accountability
In the past, Stone admitted to making a number of mistakes in the early development of Twitter, but he said owning up to those mistakes was a big part of the company's success story.
"It almost became advertising for us," he said. "There's value in being vulnerable."
6. Promote Adaptability
Stone has repeatedly shown a willingness to adapt to changing circumstances when an idea is not working or when an opportunity presents itself. "When I invested in Slack, it was a video game company," Stone said. "Then they realized that all the internal communications tools they had built for their spread-out company could actually be the company."
Twitter has seemingly been testing the waters on a number of potential business arenas recently, such as streaming video. At this point, flexibility and adaptability are keys to choosing which paths are worth pursuing in the long term.
________
Image Credit: By Johncarloshedare (Own work) [CC BY-SA 3.0 (http://creativecommons.org/licenses/by-sa/3.0)], via Wikimedia Commons
View Comments and Join the Discussion!
Posted-In: Biz StoneNews Education Management Tech General Best of Benzinga