Twice As Nice: A Dozen Times When Rock Stars Found Success With More Than One Band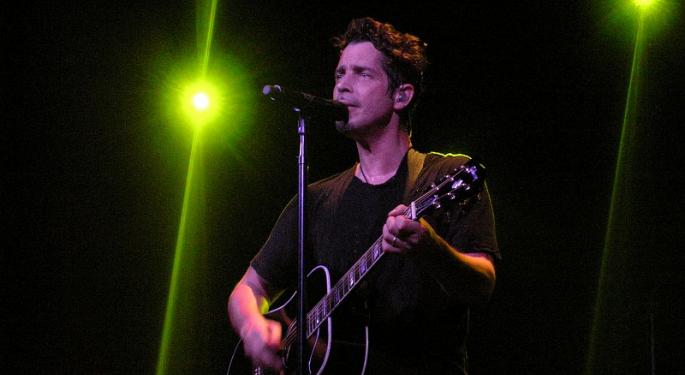 The untimely death of Chris Cornell ends the story of one of the rare rock stars who caught lightning in a bottle twice: finding success in two different bands.
Cornell, 52, died shortly after playing a concert with Soundgarden in Detroit on Wednesday evening. Medical examiners have ruled the death a suicide.
Cornell, frontman and rhythm guitarist, formed the seminal rock band in 1984 in Seattle with lead guitarist Kim Thayil and bassist Hiro Yamamoto. Internal strife and personnel shakeups led to the band's first breakup in 1997.
Their biggest album was 1994's "Superunknown," which debuted on No. 1 on the Billboard chart and featured classics such as "Black Hole Sun."
In 2001, he joined rock supergroup Audioslave, which consisted of Cornell on lead vocals, together with Rage Against The Machine members Tom Morello, Tim Commerford and Brad Wilk. The band lasted six years, releasing three albums and garnering three Grammy nominations.
Cornell also had four solo studio albums. Soundgarden reunited in 2010.
Here's a look at other artists who found success a second time.
Dave Grohl
Grohl became the replacement drummer in the influential grunge band Nirvana in 1990, after the Seattle group had already released their debut "Bleach." With Kurt Cobain on vocals and Krist Novoselic on bass, the band released the huge hit "Nevermind" in 1991, triggering what was in essence a revival of late '70s punk.
The breakout hit and anthem of teen angst was "Smells Like Teen Spirit."
Grohl wrote songs mostly on his own, but did contribute to the band's third and final album, "In Utero." Nirvana folded with the suicide of Cobain in 1994.
Grohl, who played a variety of instruments, had a slew of songs when Cobain died and, despite sitting in as a drummer for such groups as Tom Petty and the Heartbreakers and Pearl Jam, booked studio time six months later and banged out a 15-track demo.
Studio interest led him to form Foo Fighters in 1995, and, though Grohl recruited a band, his original demo was professionally remixed to form the band's debut. The Foo Fighters have eight studio albums and a raft of classics, such as "Everlong," and a global following that arguably rivals Nirvana's.
Paul McCartney
Before fronting the massively successful '70s band "Wings," McCartney was in a band called "The Beatles" with Ringo Starr, George Harrison and writing partner John Lennon.
Actually, Sir Paul probably sets the standard for being in a band considered by many the greatest rock band ever, and a follow-up that had huge commercial success but was essentially McCartney's backing band, consisting of wife, Linda, on keyboards, session drummer Denny Seiwell, and former Moody Blues guitarist Denny Laine.
The band's biggest album was the critical and commercial success "Band on the Run," which spawned two hits: the title track and the song "Jet."
Besides his two bands, McCartney has enjoyed a successful solo career.
Tina Weymouth And Chris Frantz
Frustrated with dominance of frontman and principal songwriter David Byrne in Talking Heads, married bassist Tina Weymouth and drummer Chris Frantz formed a side project of friends and family called the Tom Tom Club and released an eponymous debut album in 1981.
Startlingly, the record produced a slew of dance club hits and the record actually charted at No. 23 in the United States, rivaling or exceeding the four Talking Heads records that had been released since 1977. They released another five albums until 2012 and their best-known, most-covered hit is perhaps "Genius of Love."
The Talking Heads, on hiatus for nearly three years, subsequently moved to more commercial fare and ran off a string of hit albums through the 1980s, including their 1983 commercial breakthrough "Speaking in Tongues," which included the hit "Burning Down the House." The group officially broke up in 1991.
Jack White
White founded The White Stripes garage rock band with fellow Detroiter Meg White — "Seven Nation Army" is a rock standard — in 1997, then had a measure of success with The Raconteurs in 2006.
Kim Deal
A bassist and singer with the alternative rock icons the Pixies, she often clashed with frontman Black Francis (aka Frank Black). She joined the band in 1986 and the band reeled off three terrific albums: "Come on Pilgrim," "Surfer Rosa" and "Doolittle."
The Pixies went on hiatus and Deal formed The Breeders along with identical twin sister Kelley Deal. The Breeders had the platinum-selling album "Last Splash" — which sold better than any Pixes album — in 1993, which contained the hit "Cannonball."
She's bounced back and forth between reunions of The Breeders and The Pixies since then.
Crosby, Stills, Nash & Young
Perhaps the first supergroup, the '60s saw the merger of Graham Nash came from the Hollies ("Long Cool Woman In A Black Dress"), Stephen Stills of Buffalo Springfield, David Crosby from the Byrds ("Eight Miles High") and on-and-off member Neil Young, who had a wildly diverse solo career.
CSNY's hits include the Joni Mitchell cover "Woodstock" in 1970.
Traveling Wilburys
Solo greats Bob Dylan and Roy Orbison joined with the Beatles' George Harrison, Tom Petty of the Heartbreakers and Jeff Lynne from Electric Light Orchestra — ostensibly for the purpose of reviving Orbison's career and featuring his soaring vocals — and enjoyed massive success in 1988–1990, most notably with "Handle With Care."
The five men wrote the debut album, Traveling Wilburys Vol. 1, over a 10-day period. Orbison died of a heart attack two months after record came out. It went triple-platinum.
Joe Walsh
Walsh had considerable success with The James Gang (1971's "Walk Away") and then, following the departure of Bernie Leadon, joined the Eagles in 1975 as the keyboardist and guitarist. He and Don Felder shared acclaimed guitar solos on the title track of "Hotel California."
Eric Clapton
In addition to a stellar solo career, perhaps the king of popular supergroups, from The Yardbirds to Cream to Blind Faith to Derek and the Dominoes, not necessarily in that order. He also played guitar on the Beatles "While My Guitar Gently Weeps." His signature tune is perhaps his work with fellow guitarist Duane Allman on "Layla."
Johnny Rotten/John Lydon
The singer for the infamous and wildly influential punk band The Sex Pistols had a longer, less-controversial tenure as John Lydon, his real name, with the cult band Public Image Ltd., or PiL, which gave the world the legendary "Rise."
Ron Wood
The former Faces, Birds, and Jeff Beck Group guitarist has, since 1975, been plying his trade with the lads known as The Rolling Stones, perhaps best known for "Their Satanic Majesties Presents," a parody of sorts of "Sgt. Pepper's Lonely Hearts Club Band."
Related Links:
Where Can You Stream Music For Less Than $10 A Month?
The State Of Music In 2016: Vinyl Vs. Digital
________
Image Credit: By Ivo Kendra - Chris Cornell, CC BY-SA 2.0, via Wikimedia Commons
Posted-In: Bernie Leadon Bob Dylan Chris Cornell Chris FrantzNews Movers & Shakers Media General Best of Benzinga
View Comments and Join the Discussion!