Where Can You Stream Music For Less Than $10 A Month?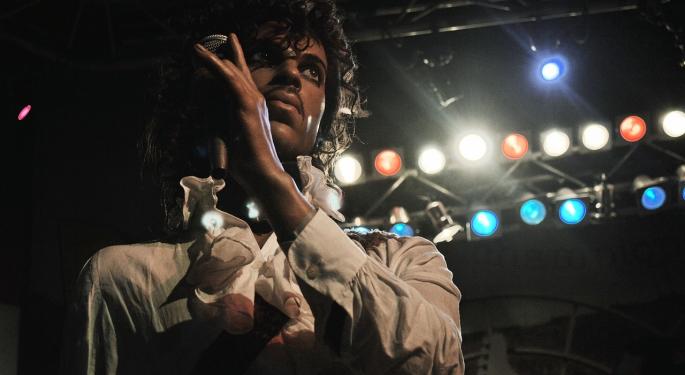 By Doug Sears
Streaming music has been on the rise within the last decade, and so have prices. However, there is demand for affordable, competitive pricing.
For just a Hamilton, the services profiled below offer such musical opportunities.
Google Play Music
Alphabet Inc (NASDAQ: GOOG) (NASDAQ: GOOGL)'s Google put its streaming app on a diet before updating in February, releasing an app that promises to take up less space on your phone than its bloated older versions. Functionality isn't complete yet, but it's also close to integrating with Google Clock to provide users with the musical alarms they have clamored for.
The app includes 40 million songs available for a short-term download or for streaming on any device except a Windows phone, plus a great new "recents" feature if you're looking to replay a song you listened to recently. Uploading your own music to Google Play Music allows you to integrate your music, add it to the library and, if you have a bad file, they'll instantly upgrade you to a better quality version.
Google Play Music costs $10 a month after a 30-day free trial, or $14.99 a month for a family of up to six people.
Spotify
Spotify continues to steer the ship in the streaming service industry, balancing the free radio and downloadable music models with a free and premium version. Spotify Premium costs $10, or $14.99 for a family of six on individual accounts. The service boasts 30 million songs, coming up a bit short of the 40 million boasted by Google Play music.
A recent leak of plans for HiFi capability signals Spotify's intention to elbow its way into a segment that so far has been exclusive to Tidal — premium high quality content. Lossless audio through Spotify HiFi is currently available to a small group of test users and is projected to have a $14.99 or $19.99 price point. Spotify hasn't announced anything about HiFi; so all available information is based on users seeming to discover something on the current app, but if Spotify adds a HiFi element it will serve to increase their already dynamic streaming package.
Amazon Music Unlimited
Amazon.com, Inc. (NASDAQ: AMZN)'s Amazon Music Unlimited, a distinctly different entity than its Amazon Prime Music app, was released in the fall of 2016. The new app offers "tens of millions of songs," which is vague and hard to quantify but certainly a lot more than Amazon Prime Music, which only had around 2 million songs.
Below are the pricing tiers for the service:
$7.99/month, $79/year for Prime members.
$9.99/month for non-Prime users.
$3.99/month on a single Echo, Echo Dot or Amazon Tap.
$14.99/month for Prime and non-Prime users or $149/year for a family plan (for Prime users).
Pricing for Music Unlimited is a moving target, with three different price points. The Echo plan costs $3.99, but is only accessible on an Amazon Echo, Tap or Dot device. If you don't own one of those devices or plan on using another non-Amazon device, you would need a $7.99 Individual plan, and then if you're looking for a family plan, one can be had for $14.99 monthly for up to six family members. Of course, all of these prices are on top of a required Amazon Prime membership, which costs $99 per year, or around $50 annually on a student plan. A non-prime used will pay $10 for the individual plan.
Amazon Music Unlimited does grant the option for downloading tracks as well as access to Android, Apple Inc. (NASDAQ: AAPL), Sonos and BlackBerry Ltd (NASDAQ: BBRY) platforms, but the app has seen some bugs and difficulty finding more obscure artists even though their music is present on the app.
Pandora
Pandora Media Inc (NYSE: P) took the lead in the early days of music streaming, providing a useful function as an internet radio station. Excellent sound quality, lots of options and much needed legality allowed Pandora to make a big statement in the life of internet users after the illegal music heyday finally waned. But a stubborn insistence on the radio model allowed other players to jump past Pandora as consumers demanded the ability to select each song rather than be subject to the whims of an algorithm.
But Pandora has announced a new streaming service on the way next month, set at a $10 a month price point that is familiar to the music streaming market. The new version, Pandora Premium, will finally allow users to make playlists, pick any song at any time and take their music offline. Essentially it does everything that Spotify has been doing for several years, as it and others have eaten at Pandora's market share.
Pandora is relying on its superior interface and larger music catalogue to catch up to Spotify, Google Play Music and others with Pandora Premium, but as it hasn't released yet and is already quite late to the party, it remains to be seen.
Pandora Plus, the ad-free version of classic Pandora that allows users as many skips as they like, is still a great value option at half the cost of most streaming services, but Pandora is still relying heavily on the success of Premium to get back into a race it once led.
Soundcloud
Soundcloud made waves earlier this year with the announcement of a segmented pricing approach to its service. Soundcloud now offers a $5 and $10 price point for monthly fees, as $5 subscribers forfeit access to music considered premium content. The lower priced version will be called Soundcloud Go, and the premium version has been named SoundCloud Go+. Go members will have access to around 120 million songs, primarily the mixtapes and amateur musical efforts Soundcloud is known for. The Go+ level music is not yet fully defined, but major artists' music is almost certainly destined for the premium level.
Tidal
Jay Z's much maligned pet project, the Tidal Music App continues to soldier on despite market scorn. With a narrow vision dedicated to premium and exclusive content, Tidal is attempting to redefine the streaming music game, with varying levels of success.
Tidal hangs its hat on exclusive content from major artists such as Beyoncé and Kanye West selecting new material that won't be available on Spotify or Google Play Music for months after release. Beyoncé's much lauded "Lemonade" series of music videos are still a Tidal exclusive, but the vaunted Prince catalogue, a hot property after his untimely death in April of 2016, returned to Spotify and other streaming devices last month after an extended period of Tidal exclusivity. Still, Tidal continues to push the boundaries of streaming, even showing a live boxing match recently.
Another signature Tidal element, its HiFi capability, has lost some of its sheen. Spotify announced intentions to release their own HiFi capability and bring CD quality sound to their users, and Tidal itself adopted a $9.99 pricing level for their Premium plan, which misses some of the exclusive content as well as the HiFi capability available with the Tidal HiFi plan.
Related Links:
The State Of Music In 2016: Vinyl Vs. Digital
Spotify Vs. Apple: Which Has Ruled During Nearly A Decade Of Competition?
Rebecca Sheppard contributed to this article.
View Comments and Join the Discussion!
Posted-In: Music music streaming Streaming musicEducation Psychology Tech Media General Best of Benzinga