PureFunds Talks WannaCry Fallout, Cybersecurity Stocks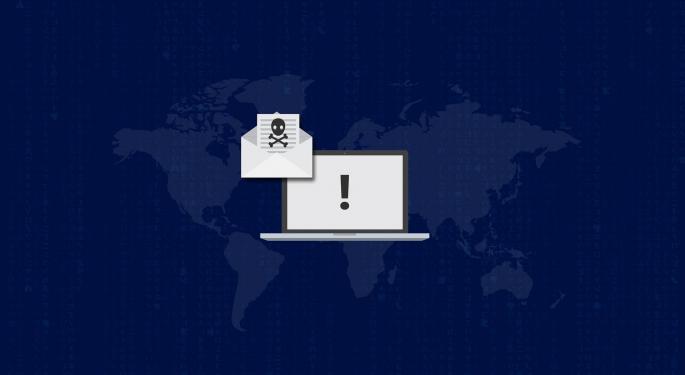 When WannaCry overwhelmed more than 200,000 computers in 150 countries last Friday, global businesses stalled. Companies from PetroChina Company Limited (ADR) (NYSE: PTR) and FedEx Corporation (NYSE: FDX) to Nissan Motor Co Ltd (ADR) (OTC: NSANY) and Telefonica S.A. (ADR) (NYSE: TEF) suffered transaction failure or forfeited profits by preemptively shutting down networks.
But at least one industry flourished by the scare.
PureFunds ISE Cyber Security ETF (NYSE: HACK) spiked 4 percent Monday on 2 million traded shares — the fourth highest volume since the ETF's November 2014 launch.
"On average I always look for HACK to trade in the hundreds of thousands, but never in the millions," PureFunds' Aidan O'Leary told Benzinga. "So, whenever we see something like that, the numbers really speak for themselves."
The Contents Of The HACK Basket
HACK is a package of nearly 40 publicly traded cybersecurity firms, including some familiar names:
O'Leary finds value in each constituent but considers FireEye and its Mandiant Unit, a malware consultant for large-cap companies, particularly interesting amid recent security concerns.
"If you take a company like that, these guys literally are called in to look through all of the disaster and figure out what happened," O'Leary said. "So, I think a company like them are going to be very interesting over the next few weeks as businesses continue to sift through the damage caused by the WannaCry virus."
The WannaCry mechanism, transmitted primarily through email before spreading through computer networks, also lent opportunity for email defense companies such as Proofpoint to prove their merits. O'Leary said the sophistication and variety of cyber attacks could soon yield occasion for other cybersecurity firms to push their threat-specific products.
Risks Of Cyber Investments
While the attacks catalyze business, they alone aren't enough to sustain it. The "emerging" nature and swift evolution of the cybersecurity market pose risks to industry investors, O'Leary said.
"People are constantly creating new cyber threats," he said. "I think some of it, you can almost look at a company like FireEye being up 7 percent yesterday as being a telltale sign that people were definitely looking into it as an investment, but it's one of those things where sometimes I think you want to make sure that you're buying into an industry. Some people, they could be saying, I want to purchase FireEye, but they could be mistaking FireEye as cybersecurity, whenever FireEye is primarily focused on just one part of cybersecurity."
He advised investors to investigate and understand the specialties of the firms they buy into.
Related Links:
New Disney Film May Be In The Hands Of WannaCry Hackers
Posted-In: News Futures Topics Events Global Exclusives Markets Tech Best of Benzinga
View Comments and Join the Discussion!