Fists Fly In Florida, Qantas CEO Takes Pie In Face In Latest Round of Airline Imbroglios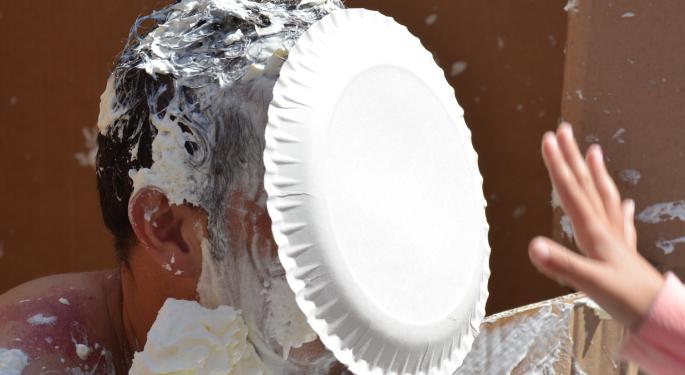 The dispiritedness in the skies between airlines and their passengers is hitting the industry like a pie in the face.
Which was exactly what happened to Qantas Airways Limited CEO Alan Joyce on Tuesday in the Australian city of Perth, where a man approached the executive at a business breakfast meeting and smeared a cream pie in Joyce's face.
The unidentified man, dressed in a business suit, calmly began walking away until he was nabbed by security guards. No motive was given, but there is undeniable anger in the skies.
A composed Joyce told reporters he didn't know the flavor of the pastry aimed at his pie-hole, but that he needed a good dry cleaner.
Fists Fly In Florida
On Monday night, meanwhile, passengers brawled with police and airline employees at the Ft. Lauderdale–Hollywood International Airport after hundreds of travelers were stranded because of a work slowdown by unionized pilots.
Punches flew, hands were cuffed, arrests were made and screams sang out during the melee at the Spirit Airlines Incorporated (NASDAQ: SAVE) ticket counters.
The cancellations were part of a labor dispute with the airline by the Airline Pilots Association, with pilots purportedly turning down fill-in work outside their regular schedules.
The carrier, which says it has canceled more than 150 flights in the last two days, is now asking a court to intervene with the pilots' union.
"Very angry angry angry people — everybody had places to be and couldn't be there," Debbie McGrandy, who was fresh off of a cruise and struggling to get back home to Detroit, told CBS news.
Battered Doctor, Dead Bunny, Anti-Trump Quip, Scorpion in Business Class
The relationship between those who run air transit and the passengers who are sore about soaring prompted a Senate committee to summon airline execs to Capitol Hill on May 2 for a verbal thrashing on shoddy service, overbookings and mounting add-on costs.
"Every time you want to do something you have to pay extra," Rep. Albio Sires (D–N.J.) said. "If you want a window or an aisle, you have to pay extra [...] Pretty soon, you're going to charge to use the restrooms."
Here's a rundown of meltdowns in public relations at the airlines:
On Feb. 26, celebrity dentist Shawn Sadri says his Iranian heritage and distaste for President Donald Trump got him kicked off a flight from Los Angeles to Kennedy Airport on American Airlines Group Inc (NASDAQ: AAL). He said a little boy seated next to him, traveling alone and unable to speak English, suddenly began crying. A flight attendant asked Sadri what was wrong, and he said he quipped, "Maybe Trump is trying to deport him."
On April 9, a doctor suffered a concussion, broken nose and the loss of two front teeth after aviation police violently booted him off a United Continental Holdings Inc (NYSE: UAL) at Chicago's O'Hare International Airport. The airline was trying to find seats for its own employees.
The same day, a scorpion dropped from an overhead bin and stung a passenger on a United Flight from Houston to Calgary.
On April 16, a couple traveling United from Houston to Costa Rica to get married were escorted off the flight after they sat in unassigned seats within the economy cabin after they found a man sleeping across their assigned seats.
On April 19, United Airlines took another hit after a giant, apparently healthy rabbit died following an intercontinental flight. Simon, a 3-foot-long, 10-month-old Continental Giant rabbit — destined to become the world's largest rabbit — flew in from London's Heathrow Airport and was later found dead at O'Hare.
On April 23, Delta Air Lines, Inc. (NYSE: DAL) booted a family of four off an overbooked flight from Hawaii to California after threatening the parents with arrest and implying their children would wind up in foster care. Airline employees insisted that the 2-year-old had to sit on one of his parent's lap to make room for another passenger, even though the parents had paid for the seat.
Meanwhile, Southwest Airlines Co (NYSE: LUV) issued a recent travel advisory saying it was moving to a new reservation system and advised passengers to get to the airport early, print their tickets in advance and have a nice flight. What could possibly go wrong?
Related links:
Passenger Ejection From Flight Raises Questions About Overbooking
Posted-In: Airline Pilots Association Alan Joyce Albio Sires American AirlinesNews Travel Events General Best of Benzinga
View Comments and Join the Discussion!