Unfriendly Skies: Passenger Ejection From Overbooked Flight Raises Questions About Bumping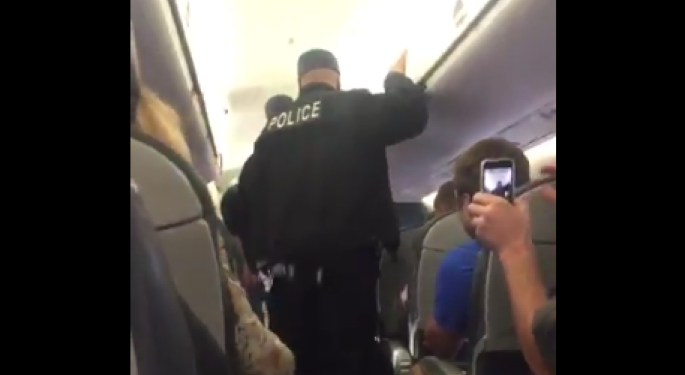 A bloodied passenger who was dragged screaming from a United Continental Holdings Inc (NYSE: UAL) aircraft at Chicago's O'Hare International Airport has raised questions about passenger rights, airline employee perks and the practice of "bumping" people on overbooked flights.
Not to mention police brutality.
The incident was heating up on social media after outraged passengers such as Audra D. Bridges posted video of the unidentified traveler, who was bleeding from the lip during an intense scuffle with security personnel.
Media Making Things Worse? Just More Visible
"United Airlines overbooked the flight," she wrote of the Louisville, Kentucky-bound flight Sunday evening. "They randomly selected people to kick off so their standby crew could have a seat. This man is a doctor and has to be at the hospital in the morning. He did not want to get off. We are all shaky and so disgusted."
The clip shows three men wearing radio equipment and security jackets speaking with a man seated on the plane. After a few seconds, one of the men grabs the passenger and drags him by his arms toward the front of the plane.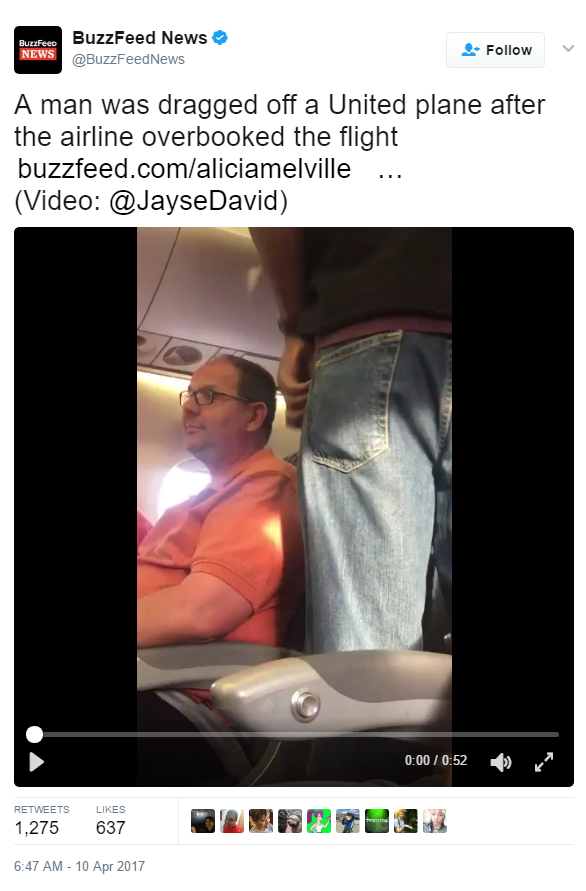 Source: @BuzzFeed News
A United spokesman initially said that Flight 3411 had been overbooked, and directed any inquiries about the incident to unspecified authorities.
But, as outrage spread across social media, United CEO Oscar Munoz said on Twitter that the airline was reviewing the incident. "This is an upsetting event to all of us here at United," he said. "We are also reaching out to this passenger to talk directly to him and further address and resolve this situation."
The U.S. Department of Transportation has specific rules governing overbooking and bumping and requires airlines to compensate passengers who are involuntarily bumped.
"Overbooking is not illegal, and most airlines overbook their scheduled flights to a certain extent in order to compensate for 'no-shows,' the department says on its website.
United reportedly was making room for four airline employees returning to Louisville and subsequently asked for volunteers, offering a free night in a hotel and $400, Bridges told the Louisville Courier-Journal after the flight landed at its destination. When nobody volunteered, the offer was raised to $800.
After that, four people were selected, and the imbroglio with one of the passengers ensued. Bridges said the man was able to get back on the plane after initially being taken off.
Deadheading And What A Paying Passenger Can Do
The American Society of Travel Agents offers a list of tips to avoid getting bumped. Interestingly, it notes that airlines instruct employees to lowball people who voluntarily sell back their seats.
"The airlines give employees guidelines for bargaining with passengers, and they may select those volunteers willing to sell back their reservations for the lowest price," the trade organization said.
The incident raised additional ire because the passengers were booted off in favor of airline employees. Employees often get free status on standby as perks, though United was among airlines curtailing the practice.
The practice of "deadheading" is commonplace, however. A deadheading pilot or flight attendant is one being repositioned as part of an on-duty assignment.
Related Links:
ICE Prison Bed Shortage Could Be A Private Prison Catalyst
Tesla's Irreplicable Panache Merits An Upgrade
_______
Image Credit: Still from Jayse David Anspach's video of "a man [...] dragged off a United plan after the airline overbooked the flight," via BuzzFeed.
Posted-In: Audra D. Bridges Louisville Courier-Journal Oscar MunozNews Travel Media General Best of Benzinga
View Comments and Join the Discussion!