#CincoDeFallo: 4 Of The Worst Marketing Fails To Capitalize On Cinco De Mayo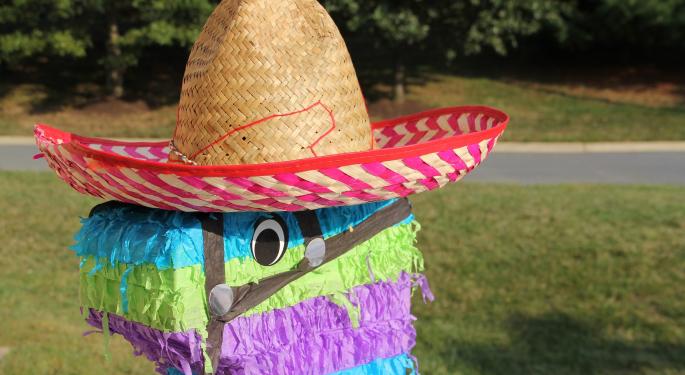 Thousands of Americans celebrate Mexican heritage every year on Cinco de Mayo. Mexican Americans know that the holiday commemorates the Mexican army's defeat of the French back in 1862.
Plenty of Cinco de Mayo celebrations across the U.S. include tequila, sombreros and few Mexican Americans. However, it's even more tacky when companies try to take advantage of the holiday to sell products using stereotypes.
In 2015, Cuban American advertising executive Michael Calienes came up with the hashtag #CincoDeFallo, or "Cinco de Fail," to call out companies on social media that completely missed the mark. Here's a look at four examples.
1. Comcast Corporation (NASDAQ: CMCSA)'s 'Way Too Early' Show
In 2014, the anchors of the MSNBC morning show celebrated Cinco de Mayo on air in a predictably cringe-worthy way. With a graphic on the screen that read "Cinco de Mayo Mexican Heritage Celebration," they all proceeded to chug tequila while wearing sombreros and ponchos.
2. Walt Disney Co (NYSE: DIS)'s "Good Morning America" Show
MSNBC wasn't alone in embarrassing itself on Cinco de Mayo in 2014. On ABC's 'Good Morning America,' Lara Spencer donned a (you guessed it) sombrero and enthusiastically declared it "Cinco de drinko" while sipping on a margarita.
3. Alaska Air Group, Inc (NYSE: ALK)'s Virgin America
In 2015, Virgin America decided to put both feet squarely in its mouth when it sent out an email advertisement urging customers to "grab their amigos" and "flyo de mayo." The cherry on top was a cartoon that included a greatest hits of Mexican stereotype s— sombrero, thick mustache and margarita in hand.

4. Unilever Plc (ADR) (NYSE: UL)'s Hellman's Mayonnaise
You may already have guessed where this one is going. In 2015, Hellman's decided to take the most obvious angle and tweet out that it is "putting the mayo in #cincodemayo." Hellman's also included a recipe for "EXTRA tasty" guacamole that predictably contained a generous amount of mayonnaise. Conspicuously absent was any reference to Mexican culture or history.
Related Link:
Fox's Fake News And 6 Times Corporate Marketing Campaigns Went Wrong
Posted-In: ABC Cinco de Mayo MSNBC Virgin AmericaNews Education Events General Best of Benzinga
View Comments and Join the Discussion!