Fox's Fake News And 6 Times Corporate Marketing Campaigns Went Wrong
There's an old adage that says there's no such thing as bad publicity. Unfortunately for Twenty-First Century Fox Inc (NASDAQ: FOXA), the company seems to have drummed up some legitimately bad publicity for its new movie "A Cure for Wellness." In an effort to raise awareness about the movie, 20th Century Fox created at least five websites that were designed to look like local news outlets, including The Houston Leader and the NY Morning Post.
On the sites, Fox published admittedly fake and controversial news stories with headlines such as "California Legislature to Consider Tax Rebates for Women Who Get Abortions" and "LEAKED: Lady Gaga Halftime Performance to Feature Muslim Tribute."
Fox placed ads for the new movie on the websites and was hoping the outrageous fake news would go viral and raise awareness about the movie.
"As part of this campaign, a 'fake' wellness site, healthandwellness.co, was created and we partnered with a fake news creator to publish fake news," Regency Enterprise and 20th Century Fox said in a joint statement.
Related Link: Twitter's Role In This Political Cycle Was Complicated
Predictably, many readers and consumer advocates were not pleased. "Using a fake news site to lure consumers into buying movie tickets is basically a form of deceptive marketing," TruthinAdvertising.org executive director Bonnie Patten said of the campaign.
The "A Cure For Wellness" campaign may have missed the mark, but it's certainly not the first time an online ad campaign has backfired. Here are six other times marketing campaigns may have done more harm than good.
1. Spirit Airlines Incorporated (NASDAQ: SAVE) "Oil Spill" Ad (2010)
Spirit Airlines may take the prize for the biggest whiff on a topical ad campaign. Back in 2010, the Deepwater Horizon oil spill killed 11 rig workers and devastated wildlife populations in the Gulf of Mexico. Somehow, Spirit thought is was a good idea to run the following ad making light of the topic. Understandably, the campaign didn't go over well on social media.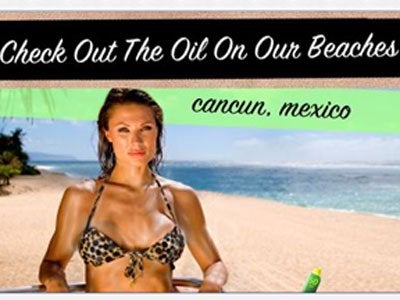 (Other versions of the ad can be seen by clicking on the above image).
2. The Economist 'They Shouldn't' Ad (2011)
Only about 13 percent of the Economist's readership was female in 2011, but its attempt to lure more women readers ended up a major marketing blunder. In an attempt to convey that the magazine should appeal to both genders, The Economist ran an ad that said the following:
"Why should women read The Economist? They shouldn't. Accomplished, influential people should read us. People like you."
Obviously, the seemingly sexist message was not well-received on social media.
3. Anheuser Busch Inbev NV (ADR) (NYSE: BUD) 'Up For Whatever' (2014)
Budweiser was hoping its #UpForWhatever campaign would resonate with the care-free spirit of its younger customer base. Budweiser even claimed that its beer was perfect "for removing 'no' from your vocabulary for the night." The campaign received a flood of criticism that it was an endorsement for date rape, and Budweiser quickly apologized and dropped the campaign.
4. Malaysia Airlines 'My Ultimate Bucket List' (2014)
When is comes to self-awareness in marketing, airlines seem to struggle. Incredibly, after one of its flights disappeared and one was shot down resulting in a total of 537 deaths, Malaysia decided to launch a campaign that involved customers submitting travel destinations that were on their personal bucket list. Of course, many customers were appalled at how insensitive the "My Ultimate Bucket List" campaign may have seemed to the victims and their families. The airline apologized and quickly scrapped the campaign.
5. Victoria's Secret 'The Perfect Body' (2014)
Body image has become a hot-button topic in recent years, one that clothing retailers must be overly sensitive to. L Brands Inc (NYSE: LB) certainly missed the sensitivity mark when Victoria's Secret launched its "The Perfect Body" campaign in 2014. The company's website included a number of thin models along with the text "The Perfect Body."
The campaign was apparently referencing the company's "Body by Victoria" brand and not the body shape of the models pictured. Regardless, the message didn't sit well with critics, and the company quickly changed the slogan to "A Body for Every Body."
6. SeaWorld Entertainment Inc (NYSE: SEAS) "#AskSeaWorld" (2015)
A number of companies have had "ask me anything" (AMA) campaigns go off the rails in recent years, but SeaWorld should have seen the train wreck coming a mile away. For years, SeaWorld has been a target for PETA and other animal rights activists. These critics took the opportunity to hijack the #AskSeaWorld hashtag and flood the company with critical comments. In the end, the campaign likely hurt SeaWorld's image more than it helped.
View Comments and Join the Discussion!
Posted-In: 20th Century Fox Fake News Houston LeaderEducation Politics Top Stories Media General Best of Benzinga