Centrist Macron, Right-Wing Populist Le Pen Advance In French Presidential Contest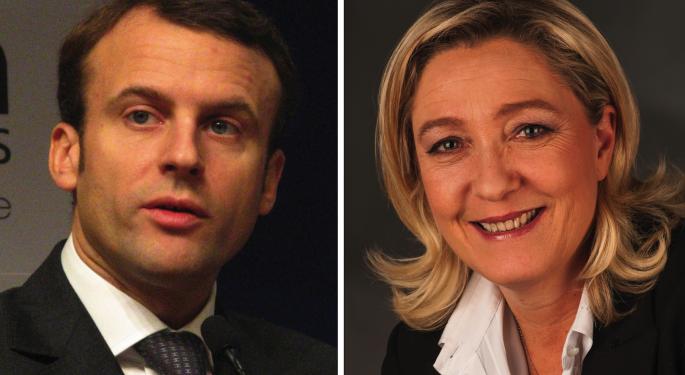 The markets are reading centrist Emmanuel Macron's lead in the first round of voting in the French presidential election as a victory after a potential face-off between hard-left and hard-right candidates was avoided Sunday. Macron, a 39-year-old former investment banker and French government bureaucrat, took 23.9 percent of the vote in what became a four-way race. The National Front's Marine Le Pen, 48 — a right-wing, populist critic of the European Union and open immigration — followed closely behind with 21.4 percent of the vote. The two will now appear on a May 7 runoff ballot.
Macron's strongest support bases in Sunday's vote were large cities and "economically dynamic" areas," while Le Pen proved popular in areas of high unemployment and low pay, according to The New York Times.
Jean-Luc Mélenchon, the hard-left candidate with Communist Party support who shares Le Pen's aversion to the EU and NATO, trailed in fourth Sunday with 19.6 percent of the vote. Former Prime Minister François Fillon, who is under investigation for allegations he paid his wife public funds for doing little work, received 19.9 percent.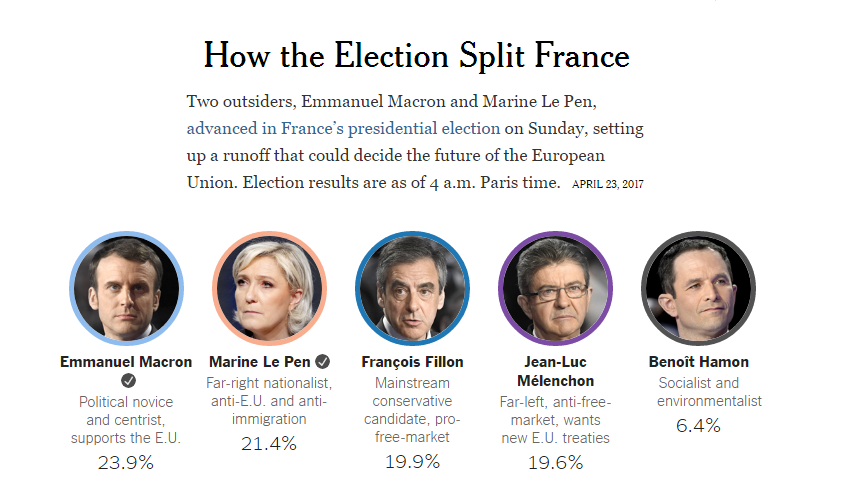 Macron, Le Pen Far Apart On Policy
The two have little in common on the policy front. Macron backs spending cuts, economic stimulus and a continued French membership in the EU, and is pro-immigration. While it wasn't termed an endorsement, Macron received a phone call from former President Barack Obama Thursday.
"Let's keep defending our progressive values," Macron tweeted after the call. "Thank you for this discussion @BarackObama."
Let's keep defending our progressive values. Thank you for this discussion @BarackObama. pic.twitter.com/8rhNdHkLo8

— Emmanuel Macron (@EmmanuelMacron) April 20, 2017
Perhaps Macron's most controversial positions among French liberals are his support of tax cuts and potential tweaks of the country's 35-hour work week. "To be a progressive, you need to know how to produce before redistributing," Macron was quoted by Bloomberg as saying in a radio interview earlier this year.
A Bloomberg analysis of the election results released Sunday said a Macron victory next month would prevent further market turmoil.
"If this scenario were to be realized, markets would do more than avoid an upfront shock," writer Mohamed A. El-Erian said. "They also would take France off the list of possible sources of systemic shock."
A Polling Risk Reminiscent Of Trump?
The positive market reaction to the election results may be driven by the idea that the global populist movement has at least temporarily crested, said RSM chief economist Joe Brusuelas.
"The risk to the EU and the euro from the French election have diminished somewhat and forward-looking investors are pricing in Macron's victory in the May 7 runoff," Brusuelas told Benzinga Tuesday.
The risk, the economist said, is a come-from-behind Le Pen win in the vein of the American vote for Trump or the Brexit vote.
"It's that individuals who would otherwise support Le Pen are not willing to endure the social approbation that comes with that stance and are simply not going to tell that to public polling firms."
Conservative Politics With A Populist Streak
Le Pen's politics share some similarities with those of U.S. President Donald Trump: conservatism with a populist streak. Le Pen is in favor of tough immigration policies, including a potential reduction of France's immigrant inflow to 10,000 people per year.
The National Front party founded by Le Pen's father Jean-Marie has a history of anti-Semitism. The elder Le Pen once called the gas chambers used by the Nazis during the Holocaust a "a point of detail of the history of the Second World War," and repeated the remark as recently as two years ago. Le Pen's daughter booted him from the party in 2015.
Trump hasn't technically endorsed Le Pen, but said in a recent interview that she's "strongest on borders, and the strongest on what's been going on in France."
After Thursday's terrorist attack in Paris that left a policeman dead, Trump tweeted: "Another terrorist attack in Paris. The people of France will not take much more than this. Will have a big effect on presidential election!"
Another terrorist attack in Paris. The people of France will not take much more of this. Will have a big effect on presidential election!

— Donald J. Trump (@realDonaldTrump) April 21, 2017
Le Pen has expressed a willingness to hold a referendum on a "Frexit" from the EU if the relationship can't be renegotiated, a move that some say could lead to the EU's collapse in the wake of Britain's vote last year to exit the union.
At the same time, Le Pen supports some social welfare policy planks that are more historically associated with left-wing candidates, including a lower 60-year-old retirement age for French workers. The country's minimum retirement age is presently 62.
Related links:
Macron, Le Pen Push Global Markets Higher
Citi Sounds The Alarm Over Owning French Bank Stocks
__________
Image Credit: By 1. Copyleft, 2. Foto-AG Gymnasium Melle [GFDL (http://www.gnu.org/copyleft/fdl.html) or CC BY-SA 4.0 (http://creativecommons.org/licenses/by-sa/4.0)], via Wikimedia Commons
View Comments and Join the Discussion!
Posted-In: News Emerging Markets Eurozone Politics Events Exclusives Markets General Best of Benzinga