February Auto Sales Flattish Amid Copious Incentives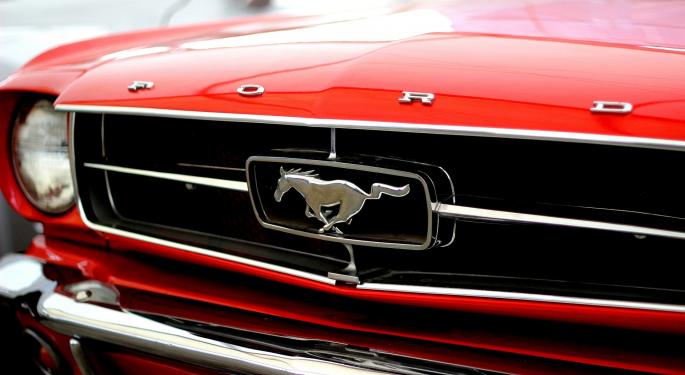 U.S. auto sales came in mixed, with strong performances by trucks helping to offset weak passenger car sales, rendering the overall volumes flat. The lukewarm performance came amid companies doling out incentives and the bump up provided by the President's Day holiday weekend.
This follows a weak January, when sales suffered as buyers were weaned off the incentive-frenzy in December.
The showing has come amid worries concerning the Trump administration's clamp down on automakers for killing jobs in the U.S. by shifting manufacturing overseas.
Flattish Overall Showing Forecast
Forecasts released by Edmunds.com on February 23 showed U.S. auto sales were likely to come in at a seasonally adjusted annual rate of 17.6 million units, down 1 percent year-over-year but up 17 percent month-over-month. The forecaster estimated February sales of 1,331,787 vehicles.
Despite a slow month, February got a nice bump from the President's Day weekend, when auto sales were 20 percent higher than an average February weekend, Edmunds said.
Meanwhile, JD Power estimated flat year-over-year performance in February, with incentives remaining at record levels. The firm noted that incentive spending for the first 12 days of February was $3,748, the highest levels ever for February.
Toyota estimated industry sales in excess of a 17-million unit pace for the eighth straight month in February.
Related Link: Automakers Shift Lanes As Disruptive Technologies Take Over
General Motor Gets Life from Retail Sales
General Motors Company (NYSE: GM) sales were up 4 percent year-over-year to 237,388 units in February, while it estimated a 1 percent decline for the industry. The company said its market share edged up 0.9 percentage points to 17.5 percent.
Retail sales, accounting for 80 percent of the total sales, rose 5 percent.
The company attributed the strong showing to record sales of crossovers, large SUVs and pick-ups. Average transaction prices at $34,900 set a record for February, the company added.
Looking ahead, GM said it intends to grow retail sales and share, while reducing daily rental deliveries and maintaining its operating discipline.
Ford Slips
Ford Motor Company's (NYSE: F) February sales fell 4 percent year-over-year to 208,440 vehicles. Retail sales contributed 64.5 percent to total sales and were down 3 percent. Fleet sales fell a steeper 5 percent, with the company blaming the downside on tougher comparison.
The company's performance was stymied by weak car sales, down 24 percent, as customers gravitate toward trucks and SUVs. SUV sales climbed 9 percent, F-series truck sales were up 9 percent and Lincoln sales climbed 9 percent.
Fiat Chrysler's Weak Drive Continues
Fiat Chrysler Automobiles NV's (NYSE: FCAU) sales fell 10 percent to 168,326, with fleet sales slumping 26 percent and retail sales slipping 3 percent.
Mixed Showing By Japanese Automakers
Meanwhile, Toyota Motor Corp (ADR) (NYSE: TM) said its U.S. sales fell 7.2 percent to 174,339 vehicles. Toyota division's sales declined 5.4 percent and Lexus recorded a 20.6 percent plunge.
However, Honda Motor Co Ltd (ADR) (NYSE: HMC) ringed in sales of 121,686 for February, up 2.3 percent. The company indicated that the number was a new record for February. Truck sales were up 12.2 percent, helping to offset the 6.9 percent drop in car sales.
Nissan Motor Co Ltd (ADR) (OTC: NSANY) reported 3.7 percent higher sales in February, propped up by a 32.5 percent jump in Infiniti sales. Nissan division sales were up a more modest 1.2 percent. Truck sales rose 21.5 percent but car sales were down 13.6 percent.
View Comments and Join the Discussion!
Posted-In: auto sales BZTVNews Retail Sales Trading Ideas Best of Benzinga