8 Things We Like About The New Samsung Galaxy S8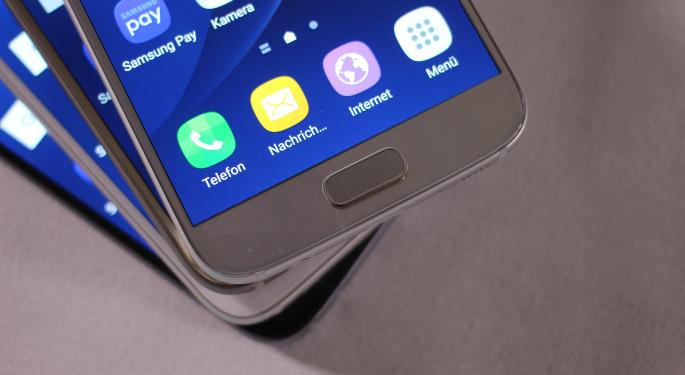 SAMSUNG ELECTRONIC KRW5000 (OTC: SSNLF) has extricated itself creditably, with its newest iteration of its flagship Galaxy smartphone. This should come as no surprise, as the Note 7 fiasco would have prodded the company to give its all to make the product a grand success.
The Grand Launch
The S8 was unveiled in a media event in New York city Wednesday, with the U.S. availability scheduled for April 21, 2017. With S8 being the first major smartphone launch of the year, Samsung has the first entrant advantage. And the most successful features face the risk of being aped by competition.
8 Things We Like About The S8
1. The Infinity Screen
This is the nomenclature Samsung has given for its 5.8-inch Super AMOLED curved display. The Verge in its review termed the phone as having a clean, unbranded face; a bright, fluid-looking display; and a mirror-like glass back.
2. Camera
The front facing camera, used to take selfies, captures 8-mega pixel photos with an f/1.7 lens and has auto focus capabilities. The camera has easy-access filters and image decorations.
3. Dex Dock
The Dex feature, standing for Desktop Experience, is a plastic bowl-like stand with a USB-C prong, a couple of ports and a fan, according to The Verge. This feature gives a PC-like mobile desktop on a display.
"Resembling a hockey puck when closed, the DeX opens up to reveal a USC-C port where you will plug in the smartphone. It also has an HDMI port, two USB 2.0 ports, an ethernet jack and the ability to connect a standard keyboard and mouse via Bluetooth," a report in Silicon Angle revealed.
4. Bixby
Samsung is finally out with its own digital assistant, named Bixby, which can perform tasks such as setting up reminders, search through photo galleries and cast your phone screen to your Wi-Fi connected TV. CNET sees it as a mishmash of voice assistant, Google Now cards and Google's optical recognition.
5. Headphone Jack
The phone also features a 3.5-mm head phone jack. It also supports Bluetooth 5.
6. Face Scanning
For the first time, Samsung has tried out authentication through facial recognition, although the feature has been a part of Android phones and laptops for some time now. Trial by The Verge showed that the scanning is fast. There is also a fingerprint scanner, which is at the rear of the device. CNET said based on its hands-on trial that the feature could not be hoodwinked by showing a photo.
7. Force Touch
The Verge also noted that the S8 incorporates a feature resembling Force Touch in the bottom half of it, which can give haptic feedback in response.
8. Gigabit-Class LTE
The S8 is capable of hitting gigabit LTE at least theoretically. The phone uses QUALCOMM, Inc. (NASDAQ: QCOM)'s Snapdragon 835 chip, which supports gigabit speeds due to its new X16 LTE modem.
Over above all these, battery safety is the primary concern. The company has stepped in to quell doubts by stating that it has implemented an eight-step battery check process. It has been priced at $850 for the S8 plus and $750 for the S8. For those of you looking to upgrade or make a shift, it could be a three-week wait before you can lay your hands on the product.
Related Links:
New Data Show Why Smartphones May One Day Dethrone TV As The Supreme Screen
Every Company Exposed To The CIA Cyberhacking Scandal, So Far
Market Share Isn't Everything; Samsung's Mobile Biz Revenue Is Half Of Apple'
__________
Image Credit: By Maurizio Pesce from Milan, Italia - Samsung Galaxy S7, CC BY 2.0, via Wikimedia Commons
View Comments and Join the Discussion!
Posted-In: Bixby Galaxy Samsung Galaxy Samsung Galaxy S8News Events Tech Trading Ideas Best of Benzinga