Study: Despite Fiery Controversy, 89% Of Americans Would Still Consider Samsung For Their Next Phone Upgrade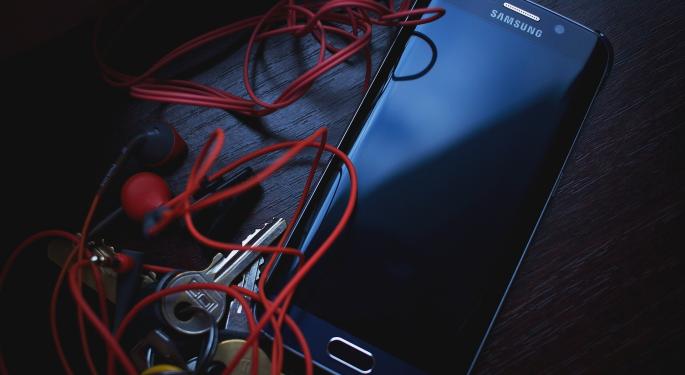 Samsung (OTC: SSNLF) is set to launch its newest Galaxy smartphone model, dubbed the S8.
Samsung is undoubtedly sweating this one out after the Galaxy Note 7 ordeal. The South Korean electronics giant was forced to pull the plug on the phablet after a string of battery fires.
A new study's findings should sound like music to Samsung: 89 percent of the company's customers who were surveyed said they would return to the brand the next time they upgrade their phone.
Unflinching Loyalty
ReportLinker, which surveyed 502 online respondents, representative of the U.S. population and owning a smartphone between March 23 and March 24, found that Samsung customers were extremely loyal, as nine out of 10 customers indicated they would consider the brand for a next purchase.
Sixty-six percent of Samsung customers said they were very likely to buy a Samsung phone, up from 51 percent in October, a 15 percentage point-improvement. Twenty-three percent of the respondents said they were somewhat likely, taking the cumulative percentage in favor of a Samsung phone to 89 percent. About 7 percent said they were unlikely and 4 percent said they were very unlikely, thus rendering the numbers for likely defectors to 11 percent.
Perceptions Of Phone Safety
A majority of smartphone owners think it's still safe to use a smartphone, with 81 percent positive on safety versus 19 percent who were apprehensive about smartphone safety.
Although one would expect the perception of Apple Inc. (NASDAQ: AAPL) to be unaffected by Samsung, the study may prove otherwise. In March, about 79 percent of Apple customers were confident in the safety of the smartphone, a dip from 91 percent in October 2016.
The Perceived Quality Of The S8
About 52 percent of all respondents think the S8 will be of better quality than the one they currently possess, with the percentage increasing to 63 percent when Samsung customers alone were considered.
Reportlinker's analysis attributed the positive perception to Samsung's worldwide PR campaign quelling anxiety about quality and restoring lost confidence.
While 40 percent think the quality of the S8 will be the same, 8 percent said the S8 would be inferior in quality to their current phone. Fourteen percent of Apple customers rate the quality of S8 as inferior.
Buyer Intentions
The study revealed that 56 percent of smartphone users said they would be very interested in buying the S8, with 29 percent of them being very interested and 36 percent somewhat interested. The percentage of very interested respondents increased to 37 percent when only Samsung customers were considered. The 44 percent who were not interested were predominantly Apple customers.
Related Links:
New Data Show Why Smartphones May One Day Dethrone TV As The Supreme Screen
Samsung Is Looking To Sell 60 Million Galaxy S8 Smartphones
Samsung Introduced 10 Times The Number Of Models In 2016 Than Apple; Did It Translate To Market Share?
Posted-In: Apple Galaxy S8 ReportLinkerPsychology Tech Media Trading Ideas General Best of Benzinga
View Comments and Join the Discussion!