High Ambitions And Free Promotions: The Slow Growth Of WWE Network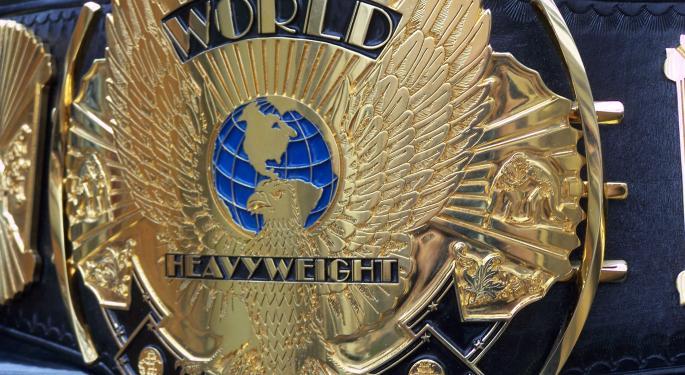 World Wrestling Entertainment, Inc. (NYSE: WWE) is holding its biggest event of the year Sunday: WrestleMania 33. WWE management is reportedly hoping that this year's event and the company's monthlong free promotions will push WWE Network subscriptions above 2 million for WrestleMania.
Unfortunately, WWE doesn't have the best track record when it comes to predicting network subscriber growth. WWE launched the network back in 2014 in the face of fears concerning a secular decline in traditional TV and the overwhelming success of other over-the-top services such as Netflix, Inc. (NASDAQ: NFLX).
Update: On conference call Monday afternoon, WWE said it reached a new record of "nearly 2 million subscribers." The network averaged 1.49 million paid subscribers in Q1.
Fighting For Subscribers
At a presentation in January 2014, the company discussed a one-year subscriber count goal of 2-3 million. Just 42 days after its February launch, WWE reported the network had reached 667,287 subscribers and was "well on its way to reaching its goal of 1 million subscribers by the end of 2014." The target change was certainly not subtle.
By June 30, 2014, the updated subscriber count stood at just 699,750, and by September 30, 2014 it reached only 731,000. By the end of January 2015, WWE managed to reach the low end of its adjusted one-year subscriber goal by the narrowest of margins, reporting 1,000,648 subscribers.
See Also: Vince McMahon's 5 Biggest Business Flops
Even after a number of free one-month subscription promotions and international expansion into countries such as the U.K., India, Japan, Germany and Italy, the most recent network subscriber count stands at only 1.40 million, meaning WWE would need to up its count by more than 40 percent to reach 2 million subscribers following WrestleMania.
Shares Recover After Network Launch
Citi estimated earlier this week the network will at least need to reach 1.76 million subscribers to fully replace revenue lost by switching from a pay-per-view model.
Citi and WWE investors are hopeful the network will eventually pay off big for WWE. Citi is bullish on WWE stock and believes the network has the company well-positioned for long-term growth through at least 2020.
WWE stock initially crashed in the first several months following the launch of the WWE Network in 2014, but it has since recovered in a major way. Since the beginning of May 2014, WWE shares are up 97.6 percent.
Image: Tony, Flickr
View Comments and Join the Discussion!
Posted-In: Citi WrestleMania WWE NetworkEducation Events Tech General Best of Benzinga