Vince McMahon's 5 Biggest Business Flops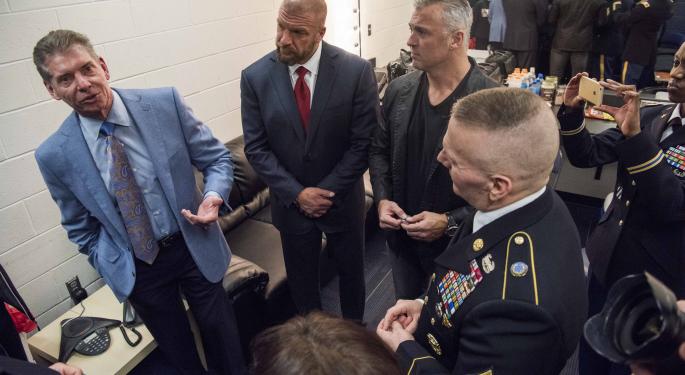 World Wrestling Entertainment, Inc. (NYSE: WWE) fans and investors are gearing up this week for the company's biggest event of the year: WrestleMania. On Sunday, wrestling fans will be treated to a spectacular show headlined by a main event championship match between Bill Goldberg and Brock Lesnar.
This year marks the 32rd anniversary of the first WrestleMania back in 1985. The WrestleMania franchise has unquestionably been one of the biggest financial home runs of WWE CEO Vince McMahon's career. However, as many wrestling fans already know, not all of McMahon's ideas have been so successful.
Here's a look at five of Vince McMahon's biggest business flops.
Related Link: Citi Recommends WWE's Stock On Network Subscriber Projections
5. WWE Fan Nation
Fan Nation may have been a terrible idea, or it may have simply been before its time. WWE launched the Fan Nation social media website back in 2008 and marketed it as a place where fans could blog, share photos and chat with other fans. The platform never gained much traction, and WWE shut down the site in 2011.
4. WWE Niagara Falls
WWE opened this merchandise mega-store back in 2002. In addition to retailing merchandise, the store also had a theme park ride called ThePile Driver, hosted WWE events such as autograph signings and held screenings of pay-per-view events. After less than a decade, WWE Niagara Falls closed up shop for good in 2011.
3. WWF New York
WWF New York was a wrestling-themed restaurant and nightclub in Times Square. The odd concept opened in 1999, but was closed by 2003.
2. World Bodybuilding Federation
McMahon tried to branch out from the wrestling business back in 1990 when he launched the World Bodybuilding Federation (WBF). Pay-per-view sales were terrible, and the WBF lasted for just two years.
1. The XFL
Perhaps McMahon should have learned to stick with the wrestling business after the WBF debacle, but he decided to branch out into the world of football in 2001. Not only does the XFL top almost all online lists of Vince McMahon's worst ventures, it's among the most notorious business flops by any celebrity in history. The league lasted just one season, and the WWE and partner NBC reportedly lost $35 million each on the project.
Image: Chairman of the Joint Chiefs of Staff, Flickr
View Comments and Join the Discussion!
Posted-In: Vince McMahon World Bodybuilding Federation WrestleMania WWE Fan NationSports Events Top Stories General Best of Benzinga