With Confidence In AWS Shaken, Who Could Benefit?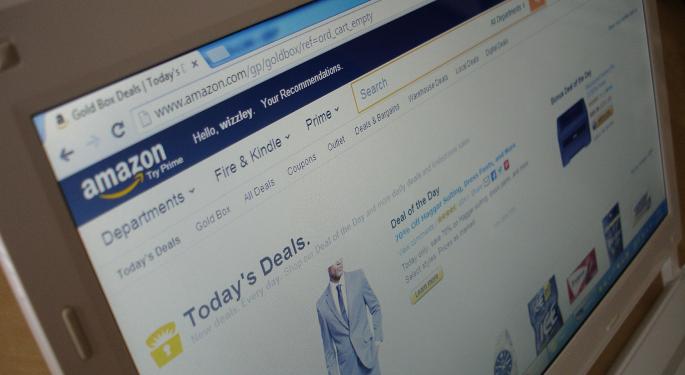 Amazon.com, Inc. (NASDAQ: AMZN) faced a setback Tuesday due to an outage at its cloud computing platform — Amazon Web Services, or AWS.
Does this development open a window for competing platforms to pick up market share?
Outage Brings Down Internet Services
Amazon said its cloud service was hit by a partial failure of a hosting platform. The widespread outage affected a number of Internet services, including Slack, Trello, Splitwise and Medium, and numerous media outlets.
Related Link: Amazon Web Services Is 'Destroying' Its Competition
"We continue to experience high error rates with S3 in US-East-1, which is impacting various AWS services. We are working hard at repairing S3, believe we understand root cause and are working on implementing what we believe will remediate the issue," Amazon said in an update on the outage midday Tuesday.
By late-afternoon Tuesday, the company said its S3 service was operating normally.
AWS' Strong Financial Showing
AWS, officially launched in 2006, has been a highly profitable business for Amazon, fetching $12.22 billion in revenue and $3.11 billion in operating profit for the company in 2016. So, a far-reaching outage is a concern for the business.
On the day AWS suffered the outage, its uptime — the amount of time the service is functioning — stood at 99.59 percent, according to Forbes. It's a solid number, although it falls beneath the company's 99.95 percent target.
Hybrid IT — A More Measured Approach?
Tuesday's outage led Forbes contributor Patrick Moorhead to question the faith companies place in public cloud services at the expense of in-house IT.
Public cloud platforms do offer the advantages of agility, a metered business model, robust toolsets, endless innovation and more. Moorhead instead recommends a hybrid IT approach, where some IT services are in-house and some are in the cloud.
Amazon's competitors
Against the backdrop of the AWS outage, Benzinga looked at which other cloud computing platforms stand to benefit now that Amazon's vulnerability stands exposed.
Though Amazon's AWS, with its first entrant advantage, is the leader of the pack, it's not without competition. Microsoft Corporation (NASDAQ: MSFT), Alphabet Inc (NASDAQ: GOOGL) and International Business Machines Corp. (NYSE: IBM) are all breathing down Amazon's neck.
All of these providers offer two layers of cloud: namely, Internet as a service, or Iaas, and Platform as a Service, or Paas. The former allows virtual servers and storage to be set up in someone else's data center, while the latter allows developers to build applications.
Amazon's AWS held a 33.8 percent global market share in cloud computing as of the fourth quarter of 2016, as opposed to a 30.8 percent share for Microsoft, Google and IBM combined, according to ZDNet.
Microsoft's Answer To Cloud Services
Microsoft had launched a competing product, Azure, by 2010. The company won points on its enterprise know-how and established customer base, and businesses can easily transfer their Windows apps to the Azure cloud, according to Business Insider. Microsoft's Enterprise Agreement with clients translates into discounts on Microsoft software, too, the publication said.
Google's Modest Showing
Google's entry into cloud computing started in 2008 with the Google App Engine, whichallowed developers build their apps. Google later added many features and renamed the service as the Google Cloud Platform in 2013. Google's advantage in the arena is the trust developers have with the company due to its allegiance to open-source philosophy.
Fringe Competition
Other players in the sector include IBM and Oracle Corporation (NYSE: ORCL). IBM promotes hybrid cloud and hasn't found much traction with small- and medium-sized companies.
Oracle has pushed its cloud product largely only to existing customers, according to Business Insider.
Other competitors have simply tried and then given up. Rackspace Hosting, Inc. (NYSE: RAX) sold its Cloud Sites business unit to hosting company Liquid Web last August. A report in the IT publication The Register suggests Cisco Systems, Inc. (NASDAQ: CSCO) will shut down its Cisco Intercloud Services public cloud in 2017.
Wide Competitor Landscape
Amazon may have taken a hit from the outage, but its dominant presence means the hit is unlikely to be crippling. The rivals have a lot of catching up to do to make a dent to Amazon's positioning in the market. That said, the recent outage could reignite corporate discussions concerning hybrid IT environments.
View Comments and Join the Discussion!
Posted-In: Amazon Amazon Web Services AWS cloud computing GoogleNews Tech Trading Ideas Best of Benzinga