Bill Gates Talks AI, Universal Income, 'This Is Us' On Reddit AMA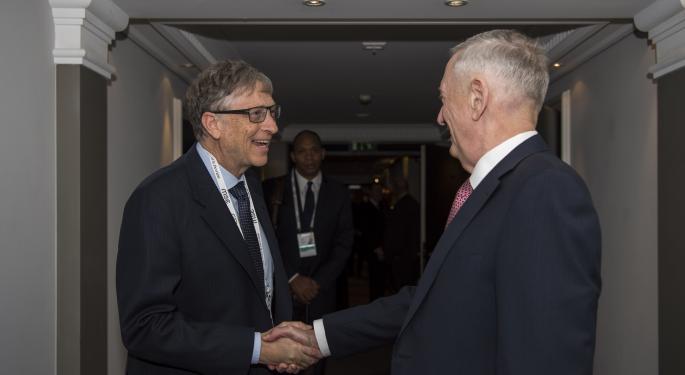 In case you ever wondered, Bill Gates fancies himself something of a "Richard" character from the HBO series, "Silicon Valley."
"I can relate to Richard," Gates wrote during his Monday Reddit Ask Me Anything (AMA) session. "Silicon Valley captures a lot of how crazy it is to start a new company and the dynamics of success. All the employees of Pied Piper remind me of people I have known."
Throughout his fifth Reddit appearance, Gates opened up about his favorite TV shows, including "This Is Us" and "The Crown," as well as a host of other topics — personal, scientific and political.
He debuted his rendition of Saturday Night Live's "David Pumpkins" sketch; opined on the need to address community division propagated by communications media; settled the age-old debate over the hotdog's "sandwich" status; encouraged involvement in philanthropic activities; and revealed his preferred sandwich (cheeseburger), method of exercise (tennis) and vacation spot (Australia).
Here are some of the other topics and questions he touched on throughout his hour-long session (answers have been edited for clarity, grammar).
On Politics
Any thoughts on the current state of the U.S.?
Overall, like Warren Buffett, I am optimistic about the long run. I am concerned in the short run that the huge benefits of how the United States works with other countries may get lost. This includes the aid we give to Africa to help countries there get out of the poverty trap.
How do you feel about President Trump and his views on global climate change?
I hope his administration will decide that funding R&D to invent the next generation of energy (clean, cheap, reliable) is a good deal for the United States and for the world. Climate change requires cooperation between countries over a period of decades but we don't have much time to waste.
Related Link: What The World's Richest Person Thinks Of Bitcoin
What do you think about Universal Basic Income?
Over time, countries will be rich enough to do this. However, we still have a lot of work that should be done — helping older people, helping kids with special needs, having more adults helping in education. Even the United States isn't rich enough to allow people not to work. Some day we will be but until then things like the Earned Income Tax Credit will help increase the demand for labor.
On Success And Self-Development
Was there any book that helped you through your career?
I have recommended a book called "Business Adventures" that chronicles some big successes and failures — I learned a lot from that.
What is your idea of success?
Warren Buffett has always said the measure is whether the people close to you are happy and love you. It is also nice to feel like you made a difference — inventing something or raising kids or helping people in need.
If you could give 19-year-old Bill Gates some advice, what would it be?
I would explain that smartness is not single dimensional and not quite as important as I thought it was back then. I would say you might explore the developing world before you get into your forties. I wasn't very good socially back then but I am not sure there is advice that would fix that — maybe I had to be awkward and just grow up....
What do you personally find as your greatest achievement?
Although the Foundation work is super promising and will be the biggest thing over the decades ahead I still think the chance to be part of the software revolution empowering people was the biggest thing I have gotten to do.
On Technology
What kind of technological advancements do you wish to see in your lifetime?
The big milestone is when computers can read and understand information like humans do. There is a lot of work going on in this field — [Alphabet Inc (NASDAQ: GOOG) (NASDAQ: GOOGL)] Google, Microsoft Corporation (NASDAQ: MSFT), Facebook Inc (NADSAQ: FB), academia, etc.
Right now, computers don't know how to represent knowledge so they can't read a text book and pass a test.
Another whole area is vaccines. We need a vaccine for HIV, Malaria and TB and I hope we have them in the next 10–15 years.
Related Link: The World's Elite Made A Cool $237 Billion Throughout 2016
Apart from a killswitch, which other precautionary measures we could take to ensure that AI behaves well and doesn't wipe us out?
One thing: to make sure the people who create the first strong AI have the right values and ideally that it isn't just one group way out in front of others.
If you could create a new IP and business with Elon Musk, what would you make happen?
We need clean, reliable cheap energy — which we don't have. It is too bad the sun doesn't shine all the time and the wind doesn't blow all the time — So we need some invention — perhaps miracle batteries or super safe nuclear or making sun into gasoline directly.
On The Unknown And The Unsolved
What are you most curious about?
I still find the creation of life and the way the brain works the most fascinating areas — It is amazing how little we know about the brain still but I expect we will know a lot more in 10 years.
What do you think is the most pressing issue that we could feasibly solve in the next 10 years?
A lot of people feel a sense of isolation. I still wonder if digital tools can help people find opportunities to get together with others — not Tinder but more like adults who want to mentor kids or hang out with each other. It is great that kids go off and pursue opportunities but when you get communities where the economy is weak and a lot of young people have left then something should be done to help.
Image Credit: By Jim Mattis - 170217-D-GO396-0147, Public Domain, via Wikimedia Commons
View Comments and Join the Discussion!
Posted-In: Bill Gates Elon Musk HBONews Education Tech Media General Best of Benzinga