The World's Elite Made A Cool $237 Billion Throughout 2016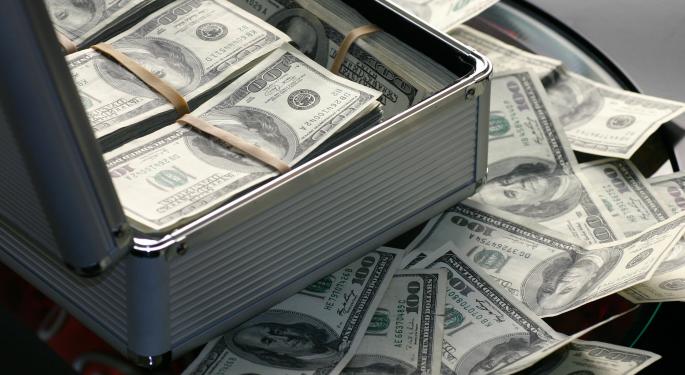 2016 was a good year for the world's richest, who collectively made $237 billion throughout the year.
According to the Bloomberg Billionaires Index, the total net worth of the world's 200 richest rose 5.7 percent to $4.4 trillion through the end of trading on December 27.
Leading the charge was Berkshire Hathaway Inc. (NYSE: BRK-A) (NYSE: BRK-B)'s Warren Buffett who made $11.8 billion during the year due to strong gains from his holdings in airline and financial stocks.
In fact, Buffett's strong 2016 resulted in him reclaiming the title as the world's second richest person. He is still $17.4 billion shy of Bill Gates.
Americans Winning
According to Bloomberg, American citizens dominated the Bloomberg Billionaires index. Ironically, most of the gains were attributed to the "Trump Rally," and billionaires who opposed President-elect Donald Trump cashed in big.
Amazon.com, Inc. (NASDAQ: AMZN)'s CEO Jeff Bezos feuded with Trump during the campaign trail, but the billionaire founder of the e-commerce empire added $7.5 billion to his net worth throughout 2016 to end the year valued at $67.2 billion.
Facebook Inc (NASDAQ: FB)'s CEO Mark Zuckerberg committed $20 million to help Democrats defeat Trump, yet the co-founder of the social media empire added $5.4 billion to his net worth and is valued at $51.2 billion.
Index's Top 15
Here is a rundown of the index's top 15 billionaires, sorted by net worth as of December 27, 2016:
Bill Gates (American): $91.5 billion.
Warren Buffett (American): $74.1 billion.
Amancio Ortego (Spanish): $71.2 billion.
Jeff Bezos (American): $67.2 billion.
Mark Zuckerberg (American): $51.2 billion.
Carlos Slim (Mexican): $49.2 billion.
Charles Koch (American): $46 billion.
David Koch (American): $46 billion.
Larry Ellison (American): $41.9 billion.
Larry Page (American): $40.7 billion.
Sergey Brin (American): $39.9 billion.
Ingvar Kamprad (Swedish): $39.6 billion.
Bernard Arnault (French): $38.9 billion.
Liliane Bettencourt (French): $35.8 billion.
Rob Walton (American): $34.7 billion.
View Comments and Join the Discussion!
Posted-In: Bill Gates billionaires Bloomberg Billionaires Index Donald Trump Jeff Bezos Mark ZuckerbergMedia General Best of Benzinga