Drones, Distribution And The State Of Shipping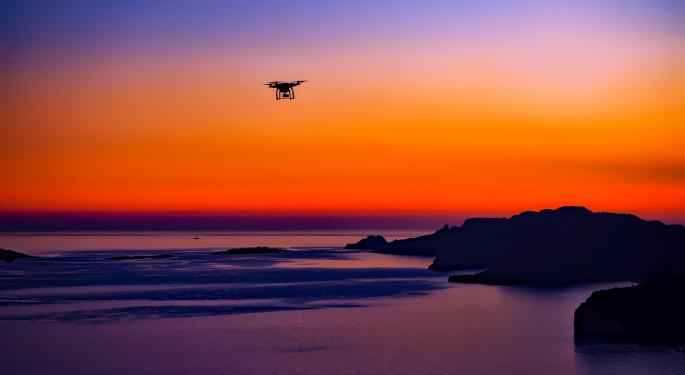 Amazon.com, Inc. (NASDAQ: AMZN) has come to pose a serious challenge to companies spanning across sectors. Even as big box retailers reel under competitive threat from the online retail behemoth, shipping companies are also seeing hard times, as Amazon ups the ante in the shipping arena.
Testing Waters In Shipping
A Wall Street Journal report from last September suggested that Amazon might soon be starting its own shipping service. This would mean snapping ties with its longtime associates United Parcel Service, Inc. (NYSE: UPS) and FedEx Corporation (NYSE: FDX).
In the eventuality of the plan coming to fruition, Amazon would be pitched against UPS and FedEx, given that the shipping service would allow it to have more control over its packages and also allow shipping packages from other retailers.
Related Link: Amazon's Investment In Growth Has Worked And Should Continue To Work
Rising Shipping Costs Forced The Foray?
The Wall Street Journal report also said Amazon could save about $3 per package or $1.1 billion annually, if it manages to have control over its shipments over long distances. Amazon is estimated to have spent roughly $14.4 billion on shipping costs in 2016, with the shipping cost outpacing the shipping revenue growth.
Signaling its intention to plunge headlong into the shipping arena, Amazon has taken several steps. The company has hired FedEx and UPS executives and it recently rehired Uber executive Tim Collins, who earlier had a 16-year stint at Amazon. In order to facilitate shipments per se, Amazon has purchased long-haul trucks and Amazon Prime Boeing airplanes.
The company has made small acquisitions outside of the U.S. After picking up a 25 percent stake in French delivery company Colis Prive' in May 2014, Amazon bought the remaining stake it does not already own in it in 2016.
Shipping companies not only get a substantial chunk of revenues from Amazon but also get to maintain cost effectiveness, as the numerous packages due for delivery to the same area at the same time would help to trim costs. Therefore, Amazon's foray into the shipping business can severely impair these companies. That said, one relief for the shipping companies is that it could several years for Amazon to make a mark as a full-fledged delivery company.
Drooling Over Drones
Amazon's push toward autonomous delivery technology such as drones and self-driving trucks is a move toward lowering its personnel and fuel costs. Amazon has detailed its Amazon Prime Air drones, meant to deliver small packages to customers in 30 minutes or less. The company has even tested this out in the U.K., although it is constrained by FAA regulations in the United States.
Meanwhile, UPS showcased its drone recently. The UPS octocopter, named "The Horse Fly," was docked in a delivery truck. The demo showed the truck driver placing a small package in a cage when the drone is still attached to the truck.
With the roof of the truck sliding back, the drone takes off, flies a few hundred feet, delivers the package and returns back to the truck. However, Gizmodo reported that the second time, a demo was done, it aborted the launch and fell to the side of the truck and was nearly crushed by the still-closing lid of the vehicle. This was speculated to have been caused due to radio interference.
Competitive-Induced Shipping Cost Cut
Meanwhile, competition has forced Amazon to lower the non-Prime free shipping minimum order size to $35, a year after it was raised to $49. Apart from helping to reign in on shipping costs, the move is also seen as an attempt to make Amazon Prime more attractive on a relative basis.
Wal-Mart Stores Inc (NYSE: WMT), which aborted an Amazon Prim-like service it was testing, is now following a simpler method of offering free two-day shipping on orders over $35, with millions of eligible items and no fees. Amazon's rollback of the hike may have been forced by Wal-Mart's move.
Will Amazon make a serious splash in the shipping space? It all hinges on the infrastructure in place, including the drones currently being tested. That said, it may not be a tall order for Amazon, with its accent on innovation and investment.
Posted-In: dronesEducation Topics Top Stories Tech Media Trading Ideas General Best of Benzinga
View Comments and Join the Discussion!