Look At How Macy's And Amazon Have Changed Over The Past Decade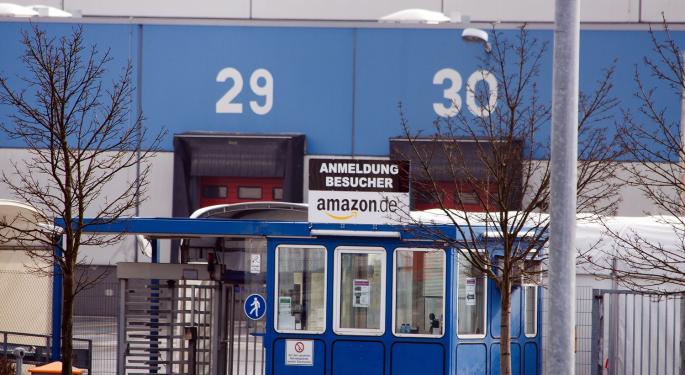 A decade or a 10-year timeframe is when seismic changes can happen, especially as technology and consumer needs, tastes & preferences keep evolving. The U.S. economy entered a recession exactly 10 years ago and emerged out of it two years later, helped by the handholding offered by the government and the Federal Reserve.
Amazon's Astronomical Valuation Growth
A look at how two retailers operating on two different platforms can help us gauge the sea changes a decade can ring in. Online retail behemoth Amazon.com, Inc. (NASDAQ: AMZN) and department store Macy's Inc (NYSE: M) have diverged radically over this period and a study of the different paths they traversed makes an interesting read.
Amazon's market capitalization has grown to $413 billion currently from $17.11 billion as of Feb. 21, 2007, an increase of over 24 times. In the same time frame, Macy's market capitalization as of Feb. 21, 2017, stood at $9.93 billion, down about 55 percent from $21.85 billion in as of Feb. 21, 2007.
M
Source: Y Charts
Amazon's stock has generated a positive normalized return of 1970 percent compared to a negative 25.9 percent for Macy's.
Related Link: 4 Reasons To Buy Amazon, According To Victor Anthony
Amazon — Fundamentally Superior
From around $14.84 billion, Amazon has grown its revenue to $135.99 billion in 2016, an 800+ percent increase in ten years. Amazon's net profit has also surged up to $2.477 billion in 2016 from $482.49 million in 2007.
In comparison, Macy's annual revenues have been holding steady, with the revenues for the fiscal year ended January 2017 at $25.78 billion compared to $26.31 billion for the fiscal year ended January 2008. Net income has declined to $619 million from $893 million.
Fundamentally and stock price-wise, Macy's is no comparison to Amazon, which has steamrolled past the former.
What Has Catapulted Amazon To Stratosphere?
A host of factors could be attributed to the success story that Amazon is. Innovation, executive, customer service, diversification and the management team are all behind its success.
Meanwhile, Macy's stagnation or rather deterioration is a function of competitive threat from Amazon, as it sees demand for clothing and accessories wane. In a bid to revive its fortunes, Macy's has sold underperforming stores and announced plans to separate its real estate assets from its retail business.
Amazon, therefore, is in a league of its own and it doesn't look like its rivals, either online players or big box retailers, can pose a serious challenge to this retail behemoth.
Image Credit: By Dirk Vorderstraße - Eingang Amazon Lager, Werne, CC BY 2.0, via Wikimedia Commons
Posted-In: Education Top Stories Movers Trading Ideas General Best of Benzinga
View Comments and Join the Discussion!