General Mills: What Went Wrong?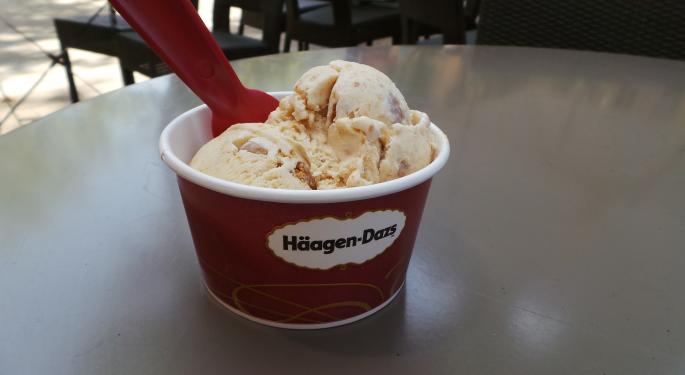 Yogurt has been the source of great misfortune for General Mills, Inc. (NYSE: GIS), according to a Wednesday note by Credit Suisse.
After U.S. sales fell 10 percent last quarter, vice president David Clark attributed a 3-percent overall decline in the category to weaker volume and pricing, lost interest in yogurt on the part of retailers, and a failure by General Mills to match rival product innovations.
Consumers have bypassed Yoplait to stock up on the trending Dannon, Chobani, Siggi's and Noosa brands.
"The company's calorie-positioned products Greek 100 and Yoplait Light ended up on the wrong side of consumer health and wellness trends," Credit Suisse wrote.
But General Mills has its pulse on the industry and is adjusting product offerings accordingly.
The company plans to launch Yoplait Dippers and an entirely new yogurt line this summer. It's also expected to relaunch custard and revamp the Greek recipe, as well as push the Liberte brand in the premium market and Annie's brand in the children's market.
Still, cuts in advertising and manufacturing appear to signal a lack of conviction in a complete bounceback. And Credit Suisse said General Mills' continued emphasis on flavor over quality ingredients puts the company at a disadvantage among competitors.
Compounding Issues
Management also has other problems on its plate. While yogurt has triggered most of the company's pains, U.S. retail's aggressive, across-the-board cut in trade spending hasn't help.
Credit Suisse is concerned about the company's decision to change its strategies for so many brands simultaneously.
"While we continue to believe that management did the right thing by 'ripping off the Band Aid' of unprofitable trade spending, we question whether it should have done it in so many categories at once," the firm wrote. "It simply did not have sufficient resources and coordination to pull off such a radical change."
Tentative Hope In A Turnaround
While General Mills expressed disappointment in its 2017 start, company leaders anticipated a positive long-term run to boost margins.
Their strategy includes continued global restructuring and emphasis on revenue management, including prioritization of brands such as Häagen Daz and Old El Paso. Throughout the next year, General Mills will launch new products and strategically increase trade spending for specific brands throughout the year.
Based on these actions, management expects U.S. Retail spending to pick back up in the second half, but Credit Suisse said the trends will remain negative. The firm predicted a 1-percent decline in growth for fiscal year 2018.
Still, Credit Suisse maintained a neutral rating on General Mills with a target price of $65.
"Despite significant topline challenges, the company appears to have enough flexibility to achieve the EPS target it reiterated on its December earnings call," analysts wrote.
At time of writing, shares were trading at $61.73 — about 1.2 percent down on the day.
Image Credit: By Gtx5841 - Own work, CC BY-SA 4.0, via Wikimedia Commons
Posted-In: ChobaniNews Price Target Commodities Reiteration Markets Analyst Ratings Movers Best of Benzinga
View Comments and Join the Discussion!