From Nixon To Trump: How Markets Respond When A Cabinet Member Is Fired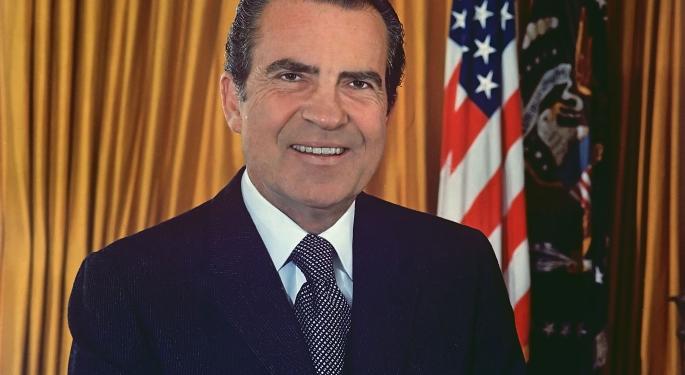 President Donald Trump's firing of Acting Attorney General Sally Yates late Monday shares some similarities with the actions of another president who tested executive powers — Richard Nixon.
Yates was fired after directing her department not to defend Trump's executive order on immigration, which temporarily restricts entry for citizens of seven predominantly Muslim countries, blocks refugees for 120 days and freezes all entry of Syrian refugees indefinitely. A portion of the order was stayed by a federal judge Saturday after the ACLU filed suit.
Perhaps the most remembered change of the guard at the Justice Department came on October 20, 1973, when Attorney General Elliot Richardson and Deputy Attorney General William Ruckelshaus resigned in what became known as the "Saturday Night Massacre" after refusing to fire Watergate Special Prosecutor Archibald Cox at Nixon's direction.
Market Stable Despite Political Uncertainty — For Now
The Dow Jones Industrial Average hit the psychological 20,000 threshold on January 25, just days after Trump's inauguration, and was hovering about 175 points down from that high as of Tuesday afternoon.
Yates's firing has been termed the "Monday Night Massacre" by Sen. Chuck Schumer and others in a reference to the Watergate scandal. While Trump's actions may be drawing comparisons to the Nixon era, the market of today is not.
The Saturday Night Massacre — and the Watergate scandal as a whole — coincided with one of the deepest bear markets in modern history, one that lasted from January 1973 until December 1974. In those two years, the Dow Jones Industrial Average lost 46 percent of its value, according to Fox Business. The Watergate-era crash can be traced to events such as the end of the gold standard for the dollar and the OPEC oil embargo.
What's Next?
The Saturday Night Massacre was termed a "Constitutional crisis," one that ended when Solicitor General Robert Bork fired the Watergate special prosecutor at Nixon's direction.
Yates' firing is certain to tip the balance of how the Justice Department will handle Trump's executive order in court — her replacement, Dana Boente, has said he'll defend the order.
While Trump's immigration order and Justice Department shakeup don't appear to have caused a knee-jerk reaction on Wall Street, Bloomberg columnist Matt Levine suggested Monday that Trump is at risk of crossing lines the market can't ignore.
"The reason the U.S. is a good place to do business is that, for the last 228 years, it has built a firm foundation on the rule of law," Levine said. "It almost undid that in a weekend. That's bad for business."
Image Credit: By White House Photo Office - NARA National Archives and Records Administration, Public Domain, via Wikimedia Commons
Posted-In: Archibald CoxNews Politics Legal Events Markets Movers General Best of Benzinga
View Comments and Join the Discussion!