17 Financial Twitter Names To Follow For 2017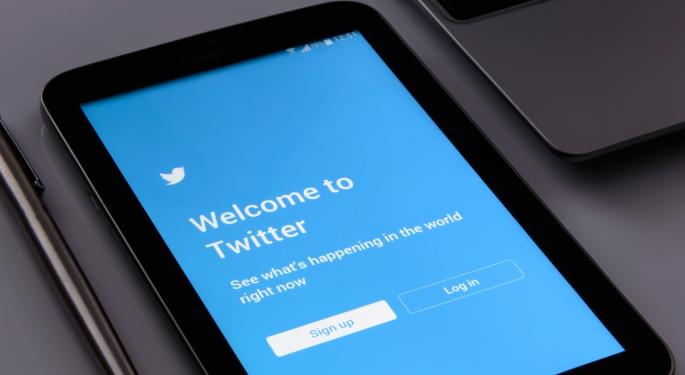 With 2017 fast approaching, it is time to reassess your Twitter Inc (NYSE: TWTR) follows and make room for some good insight at a critical point in the global markets.
Twitter's power to move stocks cannot be discredited, especially with the incoming president's affinity for the social media platform. President-elect Donald Trump's recent tweet about Lockheed Martin Corporation (NYSE: LMT) sent the stock down sharply on Monday.
17 Financial Twitter Names To Follow In 2017
1. Sam Ro — @bySamRo
The managing editor of Yahoo! Inc. (NASDAQ: YHOO)'s Yahoo Finance regularly passes along information from one of the most influential financial news platforms on the web.
2. Liz Ann Sonders — @LizAnnSonders
The chief investment strategist of Charles Schwab Corp (NYSE: SCHW) is a must follow for anyone interested in finance. Sonders regularly tweets relevant and informative charts and infographics related to the market.
3. Nicole Sherrod — @TDANSherrod
Sherrod is the managing director of trading at TD Ameritrade Holding Corp. (NASDAQ: AMTD). She regularly posts about top trades, charts on sector performance and other relevant market data.
4. Brian Sozzi — @BrianSozzi
Sozzi is a senior correspondent for @Thestreet. He regularly covers top stories and is an outspoken, sometimes controversial writer with an influential take on the market.
5. Wu-Tang Financial — @Wu_Tang_Financial
Wu-Tang Financial is probably the most entertaining financial humor follow out there. The parody account is a perfect example of where financial/pop culture humor intersects.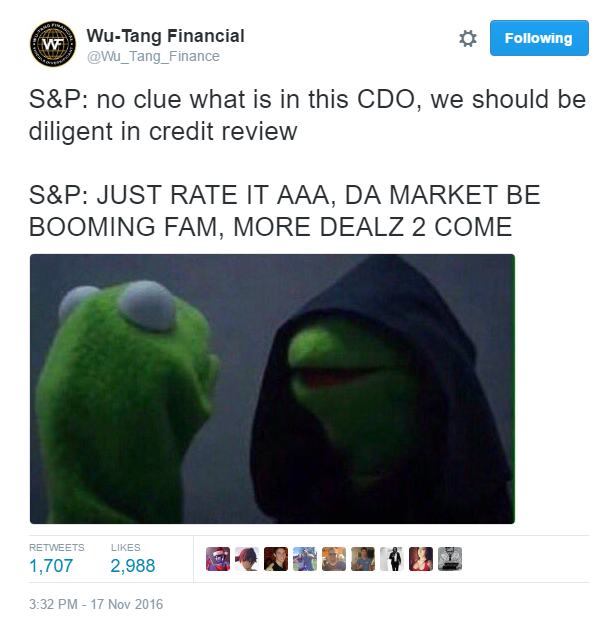 6. Jeff Macke — @JeffMacke
Macke is an investor, writer and self-proclaimed destroyer of share buybacks. He is a certainly one of the most unique personalities in finance.
7. Joe Weisenthal — @TheStalwart
The BloombergTV editor regularly posts about the top stories in finance. He is considered one of the kings of Twitter finance.
8. Ryan Detrick — @RyanDetrick
The senior market strategist for LPL Financial Holdings Inc (NASDAQ: LPLA), Detrick is always good for a statistical analysis tweet on the market.
9. Raoul Pal — @RaoulGMI
Pal is the founder of Global Macro Investor, a newsletter for the world's biggest hedge funds.
10. Zerohedge — @zerohedge
Zerohedge is a controversial financial news outlet for global finance, economics, market and political analysis.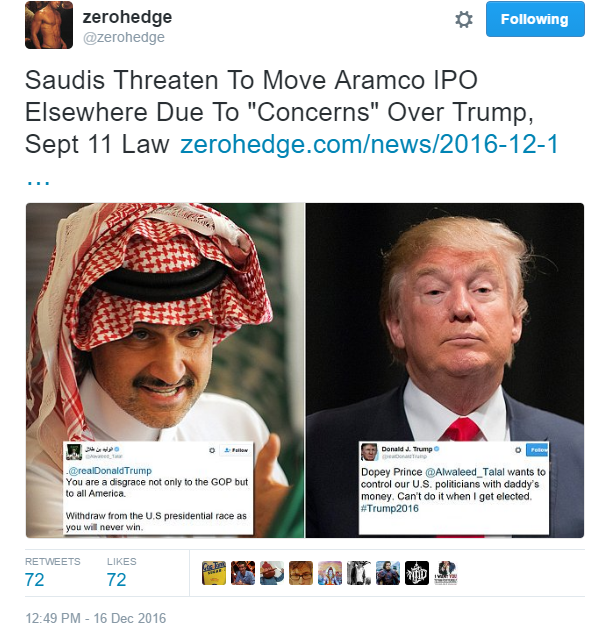 11. Amena Bakr — @Amena_Bakr
Bakr, a gulf energy correspondent at Energy Intelligence Group, is a good follow for anyone interested in OPEC news and oil industry insights.
12. Cullen Roche — @Cullenroche
Macro investment manager Roche always has some interesting commentary on the market.
13. Kit Juckes — @Kitjuckes
Global strategist at Societe Generale is a good follow for a macro outlook in the market. Juckes lives in "macro-land."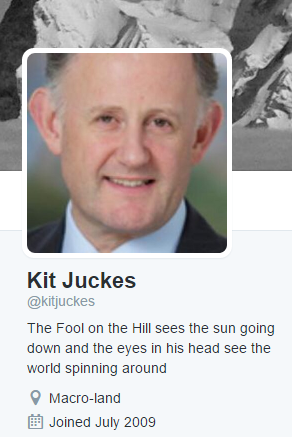 14. Mark Yusko — @MarkYusko
Founder and chief investment officer at Morgan Creek Capital Management, Yusko has a pulse on the market and is a bit of a Ferris Bueller fan as well.
15. Keith McCullough — @KeithMcCullough
McCullough is the CEO of Hedgeye Risk Management, an independent investment research platform. He is a good follow to get live updates and insight throughout the trading day.
16. Dana Lyons — @JLyonsFundMgmt
Lyons is a Yahoo Finance contributor and partner at J. Lyons Fund Management. He provides no shortage of technical market analysis on his twitter feed.
17. Benzinga — @benzinga
No list would be complete without the revolutionary financial news outlet. Benzinga's disruption in the way investors receive their information was enough to attract notable billionaire investor Dan Gilbert in the latest funding round.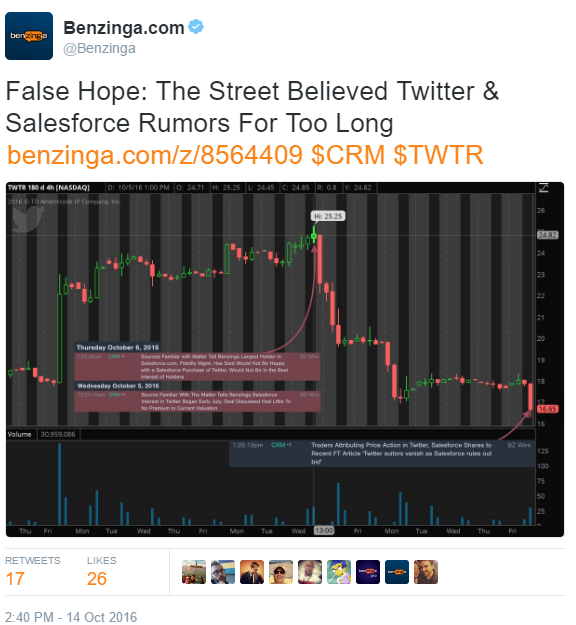 Bonus: Brett Hershman — @brett_hershman
This compilation would likewise be incomplete without mentioning a follow of this piece's author @brett_hershman. Hershman is a contributor to Benzinga and TheStreet and provides tweets on the market, sports and current events.
Let's make 2017 the most profitable one yet.
View Comments and Join the Discussion!
Posted-In: @BrianSozzi @bySamRo @JeffMacke @lizannsondersNews Education Tech General Best of Benzinga