420 Property CEO Talks Marijuana Industry Financing, Real Estate Opportunities And A Republican Government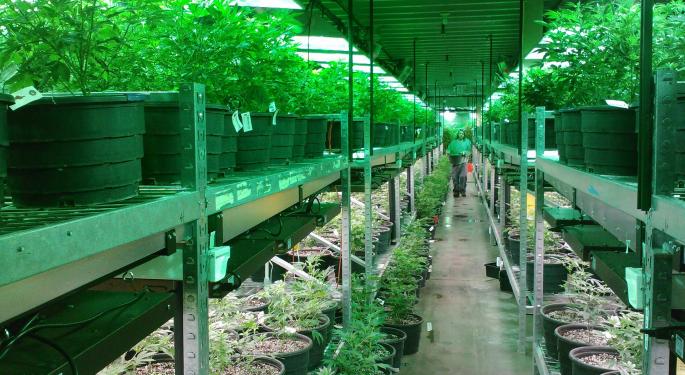 People familiar with the cannabis industry might have heard about 420Property.com, an online marketplace that focuses on "420 friendly" real estate, financing and professionals, often dubbed the Zillow Group, Inc. (NASDAQ: Z) (NASDAQ: ZG) for the marijuana industry.
Benzinga had the chance to chat with the company's CEO Ryan R. George, who shared further insight to the financing side of the business.
High Financing
420 Property Financing offers "niche lending solutions for property owners and prospective buyers seeking access to private funds to operate in the cannabis industry," a company email explained.
"We are currently in the process of assembling a private fund. Right now, most of the funds are coming from private investors," George added. "Because of the federal laws, institutional financing is — to the best of my knowledge — not readily available. I hope maybe to see that change over the next year to five years. I know it's a pretty big range, but it's just so unpredictable at this industry."
The idea behind this fund is to create mortgage products for the cannabis industry specifically, and only for commercial buildings, he supplemented. "Maybe by the end of 2017 we'll have that out and active, ready to start lending."
"It's hard to find the financing," the CEO went on to explain. "The investor wants to see a minimum of 2 points, usually. So, we give them those 2 points, on top of the 4 points for brokering the loan to them. Then, they want their money to be paid back within two to three years, at a 12 to 18 percent interest rate [...] So, the terms are kind of astronomical. So, what we are looking to do is offer something that's a little bit better on the terms, but also have a longer period of time, give the people the ability to pay back the loan over five to seven years."
"What makes us different [from other financing companies in the cannabis industry] is that we offer all those options. We work with everybody that offers financing in the industry, we know what everybody has to offer [...] We take a loan inquiry, analyze it internally, and then decide: Should we place this with one of our investors, or should we refer this out to somebody else?" – George said.
The exec then went on to explain that the biggest problem in the cannabis financing space right now is that lenders know how difficult it is to find financing, and "they use that to their advantage." In this context, they can charge 15 percent interest rates and expect 8 points in the back end when borrowers pay the loans off. Financers also go for profit or equity participation, he assured.
"We don't do any of that. We'll consider joint ventures and we'll consider purchasing equity, but we're not going to take the borrowers to the creamer," he concluded.
Expansion Plans
"Our website is already live in all of the states that have cannabis memorandums," George continued, assuring he expects to get into the Canadian market soon. "We are still researching that one internally, but I have received a significant number of requests coming from the Canada market."
Dealing With Scarcity
Benzinga moved on to ask about deficits in the business.
"The biggest deficit right now –of anything- is available [compliant] properties," because owners are not especially inclined to renting to the cannabis industry, fearing asset forfeiture and other penalties.
The Real Estate Boom
Finally, Benzinga inquired about a possible real estate boom in California following legalization — like the one seen in Colorado.
"California is considered to be the largest cannabis market [in the United States], and is also one of the most expensive real estate markets in the country. So, with those two combined factors, I would expect that we're going to see a massive 'land-rush' for available properties to grow on and cultivate, and available properties that are compliant for dispensaries," George argued.
"I am not worried at all [about a Republican government]. I think everybody has somewhat spoken, and they want this industry to bring more jobs into the economy [...] If you look at the map of the United States [...] more than half of the states have cannabis laws," he ended.
As stated in a previous article, companies poised to benefit from a marijuana-industry-driven explosion in real estate in California include Kalyx Development and First Industrial Realty Trust, Inc. (NYSE: FR).
View Comments and Join the Discussion!
Posted-In: Cannabis News Emerging Markets Financing Politics Topics Small Business Markets Best of Benzinga