Jeff Bezos On Space Exploration & Life On Mars: Dreamers Come First, Builders Come Second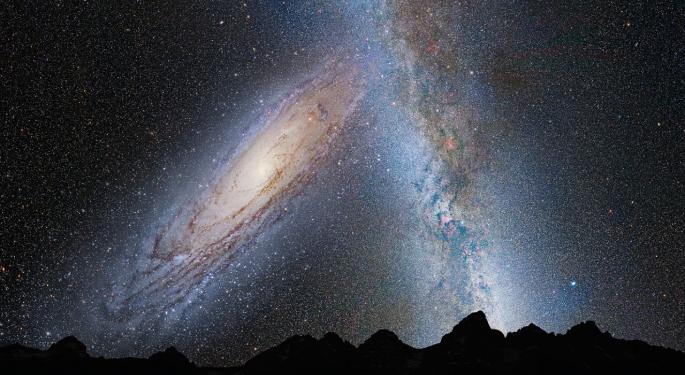 Elon Musk and Richard Branson aren't the only large company execs with a penchant for space exploration. Amazon.com, Inc. (NASDAQ: AMZN)'s Jeff Bezos publicly joined this race with his company, Blue Origin.
It's been reported that Blue Origin is getting closer to its aim of "millions of people living and working in space." The company said it plans to fly tourists beyond the edge of space by 2018, and that it expects to send a large rocket to orbit by the end of the decade.
After being awarded the Heinlein Prize on Wednesday, Bezos shared some insights into his space exploration ambitions.
Related Link: Jeff Bezos Has A Bigger Rocket Than Elon Musk
Talking about an increasing population, dynamic civilization and the Earth's resources, Bezos said we would "have to figure out how to safely move around and use resources that you get in space."
However, deep space exploration isn't an easy task.
"NASA should work on a space-rated nuclear reactor," Bezos said. "If you had a nuclear reactor in space-- especially if you want to go anywhere beyond Mars, you really need nuclear power. Solar power just gets progressively difficult as you get further away from the sun. And that's a completely doable thing to have a safe, space-qualified nuclear reactor."
Life On Mars
When asked about living on Mars, Bezos hinted humanity wouldn't be dancing to "Uptown Funk" any time soon.
"Think about it: no whiskey, no bacon, no swimming pools, no oceans, no hiking, no urban centers. Eventually Mars might be amazing. But that's a long way in the future. This planet is incredible. There are waterfalls and beaches and palm tress and fantastic cities and restaurants and parties and events… And you're not going to get that anywhere but Earth for a really, really long time."
However, competition might get us there sooner than we expect.
"I believe the dreamers come first, and the builders come second," Bezos concluded.
View Comments and Join the Discussion!
Posted-In: Blue Origin Elon Musk Jeff Bezos SpaceXTopics Travel Tech General Best of Benzinga