How Much Money Did Delta Lose Because Of Today's Power Outage?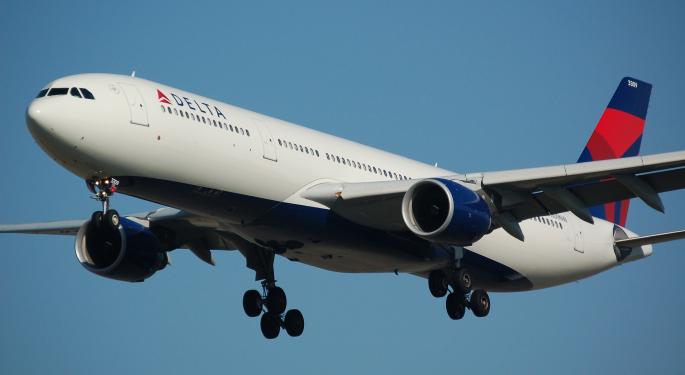 Shares of Delta Air Lines, Inc. (NYSE: DAL) are trading down 0.4 percent on Monday afternoon, driven by the cancellation of more than 400 flights earlier today. A power outage in Atlanta caused chaos as global computer systems crashed, leaving thousands of passengers stranded. Even though flights have been resumed, cancellations and delays will continue throughout the day, the carrier said.
Delta already went through a similar experience last year, when a major outage at New York's La Guardia Airport led to the cancellation of 168 flights, and the delay of many more. However, the second largest carrier in the U.S. is not the only one that has faced this kind of trouble. Last month, Southwest Airlines Co (NYSE: LUV) had to cancel more than a thousand flights due to a power outage, and last year American Airlines Group Inc (NASDAQ: AAL) underwent a connectivity flaw that forced it to halt flights at Chicago, Dallas and Miami.
The Cost Of Disruption
Bob Mann, the Principal of R.W. Mann & Co. and a former airline executive, said today's problem will probably not be especially costly to Delta, both in terms of revenue and brand strength, because the issue was addressed relatively rapidly. However, he added, this event "should cause the organization to review how this sort of single-point failure could occur and what didn't work as anticipated," as a problem like this "shouldn't have taken down the entire network."
Over the last fully reported quarter, Delta said its total passenger revenue was $8.97 billion. This means that, on average, the company made $98.57 million per day. Given than Delta operates about 5,400 flights per day, and only 451 (8.3 percent) have been cancelled at time of writing, the loss in revenue should amount to less than $8.2 million (give or take)) or about 0.07 percent of last quarter's total revenue.
To establish some comparison, Southwest Airlines' 12-hour July outage cost the company between $5 million and $10 million in lost booking revenue, CEO Gary Kelly said in its latest earnings call. Research firm Gartner has estimated that IT problems can cost companies $5,000 to $10,000 a minute.
Confusion
"I don't understand what is going on here. It's just a mess," Nyasha Arthur, a 39-year-old AT&T Inc. (NYSE: T) employee told Reuters.
"They are telling people every 30 minutes there is an outage and if they want to switch they'll give them a refund," another passenger said, talking to Benzinga's newsdesk.
Disclosure: Javier Hasse holds no interest in any of the securities or entities mentioned above.
Posted-In: News Travel Movers General Best of Benzinga
View Comments and Join the Discussion!