What Does Trump Think About Janet Yellen, Interest Rates And The Fed?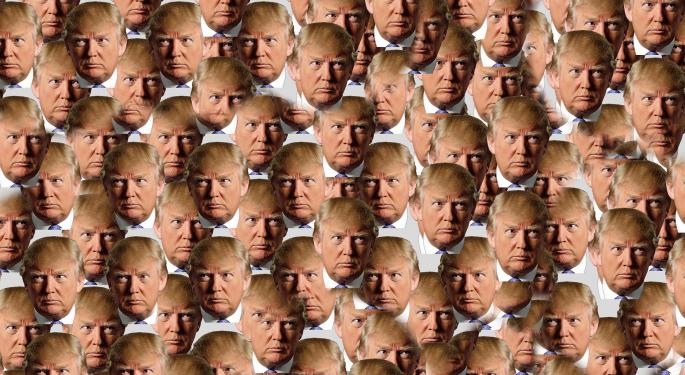 Presumptive Republican nominee Donald Trump, in an interview with Reuters, said he "would rather have a Republican" in the place of Federal Reserve Chairman Janet Yellen, and would take steps to audit the Central Bank of the United States.
On Yellen
"I'm not a person that thinks Janet Yellen is doing a bad job. I happen to be a low interest rate person, unless inflation rears its ugly head, which could happen at some point. It doesn't seem like it's happening any time soon. I don't think I want to at this point — I mean, number one, she's got time left," Trump told Reuters.
Trump's remarks come as recent comments from Federal Reserve officials signal a rate hike in June. Fed officials have held their benchmark short-term interest rate between 0.25 percent and 0.50 percent since December.
Related Link: How Trump Could Cause A Recession, Even If He Loses The Election
On Interest Rates
Trump said the businesses would hurt if interest rates are hiked and dollar value is increased.
"I would rather have a Republican in the position, but I am not the enemy of Janet Yellen. ... Look, if interest rates were raised and if the dollar went up more, we'd be doing no business. We're being killed by other countries devaluing their currencies," Trump added.
On The Federal Reserve
In addition, Trump said he would take steps to audit the Federal Reserve if he becomes president.
"I think number one, the Federal Reserve should be audited. You know, they're not auditing it. And so far not too many people have been able to tell me why. I'm not one that says we should get rid of the Federal Reserve because I think the Federal Reserve has an important function, but it should certainly be audited and ... we should at least watch what they're doing from the dollar standpoint."
Commenting on the timing for audit-the-Fed legislation, he said, "It's not my highest priority. I have other priorities like rebuild our military ... It's not my number one priority. But certainly it's one of the things that we'll be doing."
Posted-In: 2016 Presidential Elections Donald Trump Federal ReservePolitics Economics Federal Reserve Media General Best of Benzinga
View Comments and Join the Discussion!